Organisations ranked as a Best Workplace™ for the first time tell us what lessons they've learned from their journey so far, and what this recognition means for them.
Amid one of the toughest years in our history, Best Workplaces™ enjoyed better business outcomes by focusing on trust and empathy. In other words, putting people first.
It wasn't easy. Businesses in the medical sector faced issues of employee safety and wellbeing. Those in hospitality saw a dramatic loss of revenue, with employees being furloughed and redundancies made. Even companies with staff able to work from home have had to consider employee wellbeing in a new way as their people were suddenly in bedroom or kitchen 'offices' - some with the added responsibility of home-schooling or caring for loved ones.
But like a forest after a fire, for many the pandemic has also brought in light and invigorated growth as old ways of working have been swept away to usher in new ones.
In this Part 1 of our Success Series, we look to some of our first-time Best Workplaces™ to inspire you in your journey towards the post-pandemic world of work:
Communication is Key

With so much uncertainty amid the pandemic, it was up to leaders at HML Group to be a calm voice of reason and reassure employees.
For this leading property management company, regular and open communication referred to both what was being said and how messages were being delivered.
"We adopted a clear but fair messaging system and ensured that all our leaders used communication that was concise, unambiguous, and timely to answer these questions for different stakeholder groups," explains Richard Scott, Head of HR at HML Group.
"Furthermore, we were calm, transparent, and realistic with our timelines. Our biggest positive surprise is the positive results 'swing' on areas that we knew we were good at as a business, but our employees did not think so. The simple power of regular and effective communication to our staffing base led to huge positive swings in our Trust Index© [employee survey] from 2019 into 2020."
---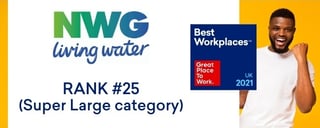 Back in March 2020, Northumbrian Water Limited had sent 1, 745 employees to work from home. Effective communication was vital to keep everyone connected and continue to provide an essential service for their customers.
Being innovative and collaborative in their response to the pandemic allowed the water company to connect leaders with employees, using data and insight to quickly focus their action in key areas.
As Dr Elouise Leonard-Cross, Head of People Strategy & Experience explains:
"Our Chief Executive, Heidi Mottram, has remained connected and accessible to our people and hosts a weekly live broadcast where colleagues can ask their own questions in an online forum directly to her and a range of guests.
"This well-attended event, with 300-400 colleagues engaging each week, has grown to be a fundamental connection point for our business and has made leaders more 'human' and visible.
"We have also invested in improving our approach to Wellbeing, taking a holistic 'whole person' approach using the Danish Hygge concept. This was carefully created and built on our understanding of the demographics and needs of our colleagues and what we created, called 'Living Well' has had a huge impact on colleagues right across the business, who have shared some really positive stories of how it has made them feel."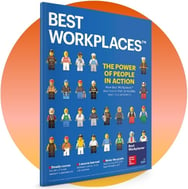 LESSONS FROM THE BEST
Read more best practices and how Best Workplaces™ stay true to their values, even in a pandemic.
A Focus on Trust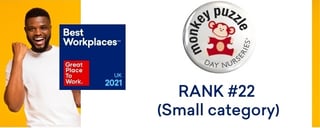 One of the top 5 largest UK nursery groups in the UK, the Monkey Puzzle franchise comprises over 60 Ofsted-approved nurseries. As a first-time participant in the Best Workplaces™ Programme, leaders took the approach to talk to everyone about Great Place to Work® and the purpose for carrying out the survey.
This enabled colleagues to embrace the process so that leaders could get a true reflection of what it means to be part of the Monkey Puzzle family.
When asked about the biggest reason for their success, CEO Richard Blunden emphasised the fundamental importance of trust:
"How a business deals with adversity and treats staff is the most honest reflection of that business and I believe that our true selves have shone through over the last twelve months. I believe very clearly that by putting your people first and looking after them, you can expect that to be reflected in the way each individual deals with and interacts with customers. Fundamentally, trust is at the heart of our relationships internally, and COVID-19 has proven that our foundations are built on solid ground and the cornerstone is trust."
Strengthening Their Employer Brand

In 2020, the main objective for Consultiv Utilities was to identify strengths and weakness within their employer brand in order to adapt and improve this.
The business had gone through rapid growth, a relocation and Covid lockdowns. As a result, the leadership team worked hard to ensure everyone was catered for and no colleagues felt left behind in any way.
"After all, our colleagues are the driving force behind our business and if we are not at the forefront of employee engagement, we wouldn't have a business", says Mark Potts, Recruitment and HR Manager.
"With the results that we managed to achieve, we were thrilled to see that over 97% thought we were a 'great place to work'. It just feels that our efforts are appreciated. It was always going leave us wide open being an independent survey, but we wanted to see a true reflection to allow us to see our improvement areas."
---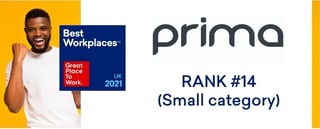 Employer branding was also key for software solutions company Prima, who understood the value of acquiring Great Place to Work Certification™ as well as Best Workplaces™ status to attract top talent.
By earning both accreditations, Prima has validated their great culture to customers, potential candidates, and the wider tech industry.
"We strongly believe that making our employees happy and providing a great work environment will likely show that we operate in an inclusive, ethical way and ultimately have a positive effect on customer experience," says Robert Harper, Marketing Director at Prima.
"The scheme appealed to us as it provided an opportunity for us to learn from 'the best' and benchmark our processes against the standards of larger companies that we admire, sharing their best practises."
Employees' needs and ways of working are ever-changing, and businesses like Prima have displayed a commitment to ensuring their Best Workplace™ award is not a one-off. Robert continues:
"We want to be part of an ongoing campaign which not only recognises our successes, but also our areas for improvement so that as we grow, we can continue providing a happy, positive, environment for all our employees. 11% of our responses stated that it was sometimes untrue that employees were paid fairly for the work that they do. Despite the recent pandemic, we have since issued a company wide pay increase to all employees."
Virtual Working is Here to Stay

Lockdowns accelerated a shift towards remote working. While many employees believe this has been a positive change that has increased their productivity and wellbeing, others crave the face-to-face interaction of pre-Covid office life.
Leaders at The Prince's Trust saw the pandemic as an opportunity to consider optimum future ways of working. Thinking ahead to a post-lockdown environment, managers began to consider early on how they could give employees as much choice and freedom as possible to adopt a working pattern that enables them to deliver their best work.
"The feedback that we have gathered through our Great Place to Work® surveys has highlighted the importance of building trust between leadership and colleagues," says Kim Cleland, Director of People and Learning. "The pandemic really enforced this as a priority and we knew it was important to increase visibility of our leadership even further and provide more opportunities for a two way dialogue between colleagues and leadership. We've been using video updates, Q&As and virtual town halls to respond to questions."
The Little Things Matter

Something as simple as sending a short thank you email to your team at the end of a hard week is a small act that can go a long way to making employees feel cared for and supported by their employer.
Even better if these 'little things' are personal and relevant to individuals rather than assumed by the management team. By surveying their workforce, Xledger Ltd received an honest and candid view of what employees felt leaders were doing well to look after staff and where they could do better.
Facilitating this through the Best Workplaces™ Programme meant staff were reassured their answers were anonymous, which in turn reassured leaders that the results would provide a genuine picture of what it is like to work at the finance software company.
"Throughout COVID we have invested in monthly lockdown gifts for our staff to enjoy at home with their families," says Bex Loveys, People and Culture Manager. "This was raised again and again by staff throughout this process as a wonderful extra something to keep them motivated during lockdown. Ranging from cheese hampers and sweetie jars to baking boxes and plant kits, these little tokens go a long way in helping staff feel valued".
Don't Assume Happiness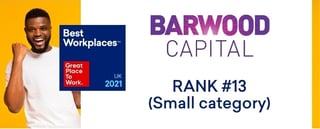 "You can't always assume all your staff are happy at work" – this is what Barwood Capital's Managing Director Hugh Elrington says is one of the most important lessons learnt from participating in the Best Workplaces™ Programme.
By obtaining employee feedback, the real estate investment firm was able to have certainty around what their people really wanted and how they felt about their workplace.
Surveying paid off, with 95% of staff agreeing that their role is "not just a job" and 91% agreeing they "want to work here for a long time".
"Staff feel valued and engaged when their ideas bring about positive change…The Barwood Capital team was close before the Covid pandemic happened, often referred to as a 'family', so it was imperative that when Lockdown 1.0 happened and we all started working from home, that we kept up morale and good communication. We were in a fortunate position that we had already invested in Microsoft Teams, although implementing it was in its infancy, but it meant that everyone was able to 'see' each other daily and it was business as usual.
"We formulated a Social, Fitness and Wellbeing Committee that introduced initiatives such as virtual coffee breaks and exercise challenges, which really helped boost morale, introduce some healthy rivalry and give us all a much-needed break from work chat."
Great Data Leads to Great Results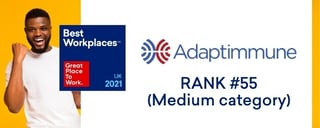 Working towards curing cancer is a motivating purpose that has allowed employees at Adaptimmune to deal with the challenges of the pandemic.
Data is crucial in science, so it's not surprising that the biotechnology company embraced a data-driven approach to assessing and improving their employee experience.
"We are obviously grateful for the Best Workplaces™ designation, but the discussions enabled by the process and data are the most important for us," says CEO Ad Rawcliffe. "The process methodology and grouping into dimensions of a 'great place to work' really resonates and provides a "tractable framework" for the discussions about how we can improve."
COO Bill Bertrand agrees: "This tool will provide us with a wealth of information to continue to work with employees…the level of granularity will allow us to compare different functions in the company to see where we have challenges or issues on which we should focus," he says.
"The areas for action and the custom summary will serve as a roadmap and guidepost to help leaders focus their energies in the most meaningful spots. But as a bottom line, what this all suggests is that engagement with employees is a continuous journey and not something to be done in isolation, or only at certain points in a year."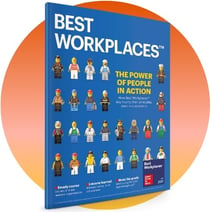 Learn more about all our award recipients in the 2021 Best Workplaces™ publication!
---
For full details on our employer recognition programme, please click here.