We deliver the brand power to attract the right people and the tools to unlock their potential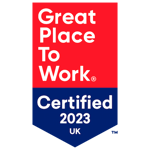 Get recognised for your great culture
Attract top talent and build a strong employer brand loved by employees
Why we're the culture leaders
0.1


Research-backed technology.
Ours is the only employee experience platform built upon 30 years of research and data to take the guesswork out of workplace culture.
0.2


Most robust national recognition programme.
Be considered for more than a dozen Best Workplaces Lists, with one application. All of our lists are published nationally.
0.3


Benchmarking and insights from the best.
Unparalleled benchmarking data and best practices from leading companies around the world.
0.4


Proven model and methodology.
Our Trust Index™ Survey is taken by millions of employees annually, and our Great Place To Work methodology has guided research on workplace culture for decades.
Market leaders trust Great Place To Work®