Poor organisational cultures pose a significant business risk, particularly in a global pandemic. But Best Workplaces™ demonstrated there is an antidote: put your trust in your people, and your people at the heart of everything you do.
Below we share some of the secrets to success by some of our first-time award recipients.
Creating the Right Environment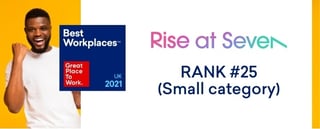 Rapid growth can be an exciting prospect for any small business. But it can also be a challenge to navigate successfully, especially in a pandemic.
The sudden global increase in demand for telecommuting, for example, led to many tech start-ups unexpectedly pressed to adapt their workforce to keep up with existing and new customers' needs.
"Many of our staff started virtually and over half of our team are yet to meet in person," says Thierry Ngutegure, Data & Insights Manager at Rise at Seven. "Yet we have a thriving culture where our employees genuinely love to turn on their laptop in the morning – albeit from their bedrooms."
Despite all the changes their employees experienced during 2020, Rise at Seven earned an overall score of 91% in their employee survey. Top statements centred around workplace pride, being treated fairly and the business going the extra mile.
Thierry continues:
"This level of insight has given us focus points from which we've invested into individual staff training; employee experience programmes and leaders that ensure people feel supported and part of the team; non-graduate work experience programmes; charity funding (whether donation matching or gifting those close to our customers' hearts); unlimited holidays (and we mean it!); and wellbeing consultations to support staff in developing themselves personally for the long-term.
"By creating an environment where everyone is excited to be part of the journey that is Rise at Seven, our productivity is through the roof, and every one of our staff is doing outstanding work."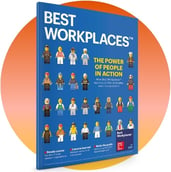 MORE LESSONS FROM THE BEST
Read more best practices and how Best Workpalces™ stay true to their values, even in a pandemic.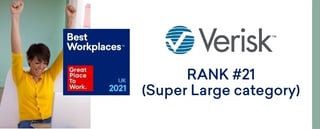 Large multinationals have also focused on sustaining a great working experience throughout the Covid crisis. Leaders at Verisk, for example, made a concerted effort to ensure each office placed employees at the centre of everything they do, no matter their location.
As Vince McCarthy, Chief People and Policy Officer of Verisk explains:
"In less than a year, we've gone from a situation where Covid was a complete unknown, to one where we now have effective vaccines…In the history of science, we've never experienced this kind of rapid development of a nearly perfected solution.
"We know that if we give our people a fantastic experience, they'll do their best work and share their Verisk pride with their teammates, our customers, and other key stakeholders. Our people are our greatest advocates in carrying our brand forward. Achieving recognition from the Best Workplaces™ Programme is an affirmation of those shared values and how we interact, invest in each other's development, and work together to serve our customers."
Empowering the Employee Voice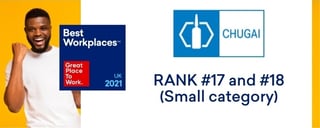 Unlike most unrecognised companies, Best Workplaces™ practice what they preach when it comes to employee feedback. They are masters of follow-through, acting upon key data obtained in their employee survey results.
This ensures weaker areas can be worked on and improved swiftly, while high-scoring initiatives can be celebrated and continued to help employees feel continually supported by their workplace.
Both Chugai Pharma Europe and Chugai Pharma UK Ltd sit within the top 20* rankings of our 2021 UK Best Workplaces™ list (Small category) for their outstanding workplace cultures.
Encouraging openness and approachability from leaders gave Chugai's employees the psychological safety needed to voice their opinions and concerns freely without fear of being shut down, punished or humiliated for speaking up.
"Whilst there are a number of ways within the organisation through which people are able to give their opinions and provide feedback, the Great Place to Work® survey is one in which they have the opportunity to express their thoughts confidentially," says Gill Tanner, Head of HR at Chugai Pharma Europe.
"As a small company, our employees are our biggest asset and the Best Workplaces™ Programme allows us a platform to gauge honestly the employee experience. As part of our continuous improvement philosophy, we embrace the opportunity to assess how well we are doing in terms of our people practices compared to our competitors and organisations of a similar size.
"This level of understanding provides context and helps us to prioritise our actions. The Great Place to Work® portal is a mine of great data which can be dissected in so many ways [and] it also strengthens the message about our culture to the external world in terms of our customers, our patients, and our future talent."
*Chugai Pharma Europe ranked #17, Chugai Pharma UK Ltd ranked #18.
Sharing is Caring

For more than 30 years, our team at Great Place to Work® has seen time and again how leaders who role-model trust and empathy enjoy better business outcomes than those who put profit ahead of their people.
After all, it's how employees feel about their employer, combined with the level of motivation and intrinsic interest they have for their work, which will ultimately either drive higher levels of achievement or pull them down.
At LanguageLine, leaders understood the importance of planning ahead when communicating information to employees. "We believe that sharing information at the right time and in a respectful, empathetic way is key to maintaining a trust-based relationship," says Vanessa Eke, Managing Director of LanguageLine.
"We have learned to always listen and maintain a participatory culture that values two-way communication, trust, and respect. Line Managers have consistently conducted weekly 1-2-1 meetings and team meetings, as well as individual welfare calls to our teams. We have focused on wellbeing by providing a safe platform for employees to raise concerns about all aspects of life."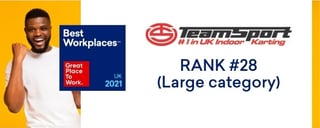 Dominic Gaynor, CEO of TeamSport Indoor Karting agrees:
"Promoting a culture of forensic listening can be massively beneficial to your business. Combining programmes such as the Best Workplaces™ Programme with regular focus groups, informal listening sessions and regular opportunities for crew to feedback provides really rich information that can help develop your people and wider business strategies."
"One of our Values is #StandUp&StandOut, and we promote this at every opportunity, encouraging our crew to share their views and ideas. And we share the results with the whole crew – the team have taken the time to complete the survey, and will all be instrumental in helping to continue the development of our culture into the future. They have a vested interest in being part of any actions needed to make the business an even better place to work."
Practicing Fairness for All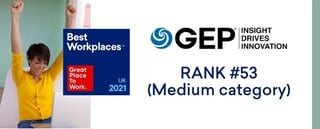 When employees feel they are fairly treated, their performance, helpfulness to colleagues, and commitment to the organisation all improve.
It's not always easy, but the dividends gained from making the time and effort to be seen as a 'fair manager' by employees are well worth the investment.
Just ask GEP Worldwide, whose focus on fairness became one of the key characteristics that earned their business a 2021 UK's Best Workplaces™ award.
"If you treat all people fairly, you create a solid foundation for a positive employee experience," says Gary Kiyou, Senior Director of Human Resources. "At GEP, we want to support and affirm everyone, of all ages, nationalities, faiths, races, genders, gender identities and sexual orientations. It should be fundamental for every company, but unfortunately it is not the norm. I am so proud that the survey results show people at GEP see fair treatment of everyone as a very strong point.
You May Be Doing Better Than You Think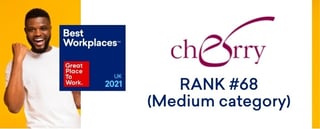 When was the last time you ran a short pulse survey during the pandemic? For some business leaders, this was a regular practice amid the first six months of lockdown in 2020, but has since faded away. For others it may never have happened at all.
And while it is natural to shy away from asking employees for feedback during difficult times – whether that be a pandemic or other periods of drastic change such as a merger or restructuring – it leaves your people strategy at a massive disadvantage because you'll be working solely off assumptions about people's feelings rather than concrete data from the horse's mouth.
Cherry Advertising is testament to this. As Cherry's HR Director, Danni Buxton, explains:
"To be honest, listing as a Best Workplace™ has been a huge surprise to us. We knew we'd worked really hard to develop our employee journey (from entry to exit) but were conscious that there were still areas that we could improve. It's been really positive to see that our employees recognise the work and development that has occurred whilst accepting that we're not there yet!
"We have an incredible team of individuals who had gone above and beyond in 2020. Every single employee has shown resilience in the face of adversity, and we cannot thank them enough for their commitment to Cherry."
Prioritising Employee Wellbeing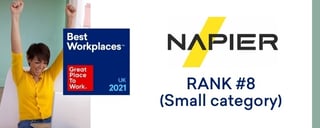 One of the positives to come out of the pandemic has been the pace at which employee wellbeing has risen to the top of the agenda for countless businesses across the globe.
Napier, for example, is a UK's Best Workplace™ who employed a Wellbeing Officer and published its own 'Napier's 6 Steps to Workplace Happiness' as an ongoing commitment to their staff.
Recognising the importance of flexibility also helped managers to allow employees the autonomy needed to feel supported by their employer. "In our 'always on, always connected' world, we realise it no longer makes sense to expect our employees to work a solid 8-hour shift to do their work successfully," explains Napier's COO Greg Watson.
"We have a global team working across different time zones and employees balancing personal and professional commitments. Therefore, we ensure that we can be agile and flexible in our approach."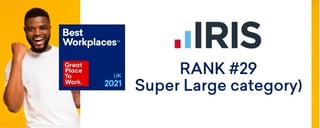 IRIS Software Group are another tech firm who benefited from prioritising the wellbeing of their workforce. "Although Covid-19 posed significant challenges to us as an organisation, it was wonderful to see how our colleagues rallied round each other, built virtual communities, and truly acted as a family," says Stephanie Kelly, Chief People Officer.
Small initiatives such as ad hoc rewards, regular emails sent from the Group's CEO and a 'Thank You Thursdays' campaign all contributed towards keeping Iris' people motivated and view their employer as caring and compassionate during challenging times.
"It was also fantastic to hear how our employees appreciated HR's Covid-19 support initiatives – such as dedicated help for working parents; extensive mental health provisions and charitable activities like our #ActsofKindness campaign."

Learn more about this year's award recipients in our 2021 Best Workplaces™ publication!
---
To learn more about our employer recognition programme, please click here.