Over the past 20 years of recognising UK's Best Workplaces™ there have been some outstanding organisations who have appeared in our rankings many times. Our two Lifetime Masters, Admiral Group and Gowling WLG (UK) LLP, have made the list every year since 2001!
We asked the leaders of some of the best companies to work for in the UK to provide some insight into what makes a great workplace and share with us their secrets to success.
How has the business landscape changed since you first became a Best Workplace™?
Will Butler, UK and Ireland HR country consultant, Cisco UK: If you go back to 2000, around the time of the dotcom crash, we learned that to remain profitable means that the company has to keep changing and evolving. We have to continue to adapt, and that is why we are moving away from being seen as a hardware brand only towards a combination of hardware and software.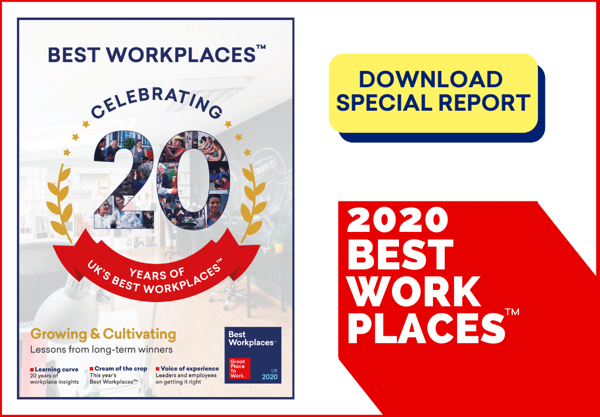 See the full 3-page feature in our 20th anniversary special report here
Tamsin Jones - HR director, Mars UK: We've seen a real shift in what people want from the business they work for – most notably in the areas of corporate social responsibility and flexible working. People want to know that the values of the business align with theirs. They want to know that they're making a difference.
How have your people helped you to meet challenges over the past 20 years?
Will Leonelli, PeopleWorks leader for Europe, Flight Centre Travel Group: They have helped us by being very adaptive. They always go the extra mile in times of the crises that we have seen in the travel industry (whether terrorism-related, environmental, or the demise of Thomas Cook, for instance), helping customers in those types of crisis times, being responsive.
>> Read the full 3-page feature 'Sowing Seeds of Success' in our 20th anniversary special report!
How have your employees helped the business to grow?
John Grimmer, Director of HR, L&Q: The IT team has been of crucial import in ensuring that people can work anywhere, anytime, anyhow. We have put in place more flexible working practices. We have introduced much more flexibility, and have tried to introduce enhanced family-friendly policies as well.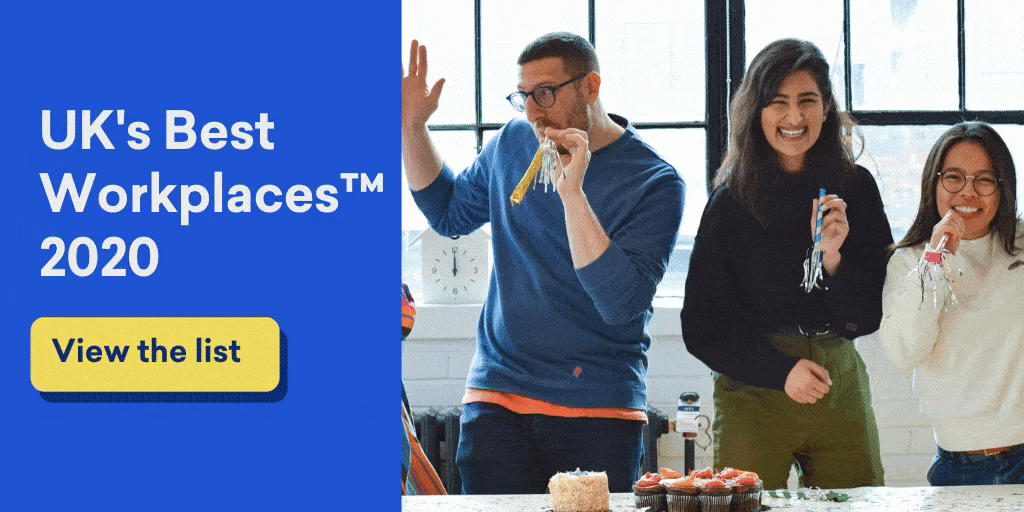 How have you achieved a great workplace culture consistently over the 20 years – how has it been sustainable?
Chris Oglethorpe, HR director, Gowling WLG (UK) LLP: It's been a consistent approach from our senior management team. Over the years, although the people have changed as you can imagine, the philosophy that 'People who like what they do, do it better' hasn't. It has resonated throughout everything we have done. It boils down to a couple of really quite simple things. We are a business where our people deliver the services and solutions, so we are very focused on how we support them in their career development and training, and on improving. We're transparent with our results, and engage our teams around the world in terms of how we might move things forward. We try to keep everybody concentrating on improvement and progression in line with our core values, which always includes striving to do better. Each year, we see higher participation rates in the employee survey and encouraging progress.
What inspires you to keep taking part in the Best Workplaces programme each year?
Richard Thorne, Head of HR governance and complex cases, Admiral Group: Getting a true view from our employees is the most important thing. It's great to learn and listen from other organisations, but to have that objective insight has been really useful for us as an organisation.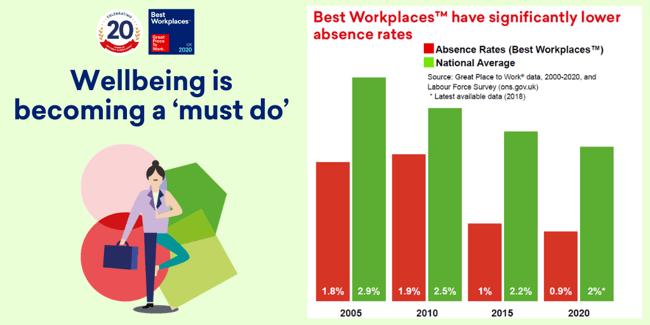 See the full 3-page feature in our 20th anniversary special report here
What have you learned over the years you have been participating in Best Workplaces™?
WB: We have found, throughout the years that we have entered, that the opportunity to really hear our employee voice come through by doing the survey is really, really valuable. We see the opportunities that we have for improvement and are seen to be taking action on those as well.
JG: The survey has been a rich source of information for us in trying to shape what we're doing, in terms of our mission, vision, values, and how those values lead down into the behaviours that we expect to see on a day-to-day basis from our staff.
For the full 3-page feature 'Sowing Seeds of Success' download our 20th anniversary special report here.
---
View our Great Place to Work blog
Dive into the workplace cultures of some of the best companies to work for in the UK: