Companies voted as UK's Best Workplaces™ were already great before their recognition. They never stop learning or adapting; always put their people first; and have managers whose actions match their words.
In this last part of our Success Series, leaders at some of our first-time award recipients share how their organisation has managed to sustain a high-trust culture throughout the pandemic.
1. Don't just assume, ask.
I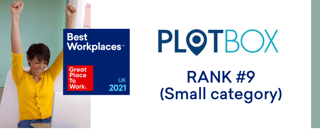 t's natural to be doubtful about conducting an employee survey during challenging times. But being afraid of feedback only holds back the progress your organisation could be making in driving better business outcomes.
"Often what you think motivates people, isn't actually what motivates them," says Jane Askin, Head of Culture and Talent at Plotbox. "What this experience has taught us is: ask the right questions and listen to what your employees tell you. Don't just assume.
"Show your staff that you are willing and ready to accept that things are not perfect. People get it. Even if your processes and systems are 'broken' or need a lot of work, people respect you for acknowledging this and making efforts to make small incremental changes."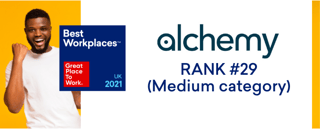 Alchemy Technology Services actively sought to deep dive into the employee experience during the Covid crisis. As John Harkin, Founder and CEO explains:
"In the absence of a physical office and not having face-to-face interactions, it is harder to gauge how people are feeling or catch any early indicators of issues that may be leading to signs of stress. Casual catch-ups are challenging in the age of video calls and instant messaging."
The insurance software company participated in our Great Place to Work® UK Covid Care Survey – a pulse survey conducted with several UK-based organisations between April-June 2020 – to help leaders identify key feelings and priorities within their workforce during the early stages of the Covid crisis.
As a result of this pulse, Alchemy decided to participate in the Best Workplaces™ Programme to gain even more insights and reflect on whether they were meeting the objectives and mission that the company first set out with when it was founded.
"Tech in Northern Ireland is a highly competitive market for recruiting both graduates and experienced employees, [so] we wanted to know that we were doing all we could to create a fulfilling and enjoyable experience for our people and discover where we could make improvements to be known as the employer of choice," says John.
"We also knew we did not want the survey results to be the end of our journey, but just the beginning. The after support from the Consultants and wider team at GPTW would be vital in helping us assess our results in detail and point to where we could make improvements.
We could also use their expertise to explore ideas about how practical changes could be implemented in ways we maybe had not considered. We believe this is a vital step to improving our employee experience and becoming the best workplace possible."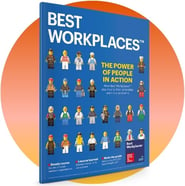 MORE LESSONS FROM THE BEST
Read more best practices and how Best Workplaces™ stay true to their values, even in a pandemic.
2. Foster pride.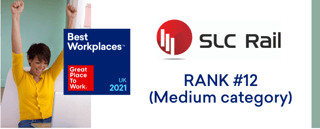 Employee pride is great for business. When employees are proud to work at their company, they're more likely to advocate the brand to friends and family, and deliver great service to your customers.
At SLC Rail, a remarkable 100% of employees said they are proud to work at their company! As Michelle Hocknull, Head of HR and Business Services explains:
"Feeling proud is so important for our success, as this enthusiasm and passion is reflected when clients work with us and it helps us to retain and recruit the best people.
"It has been a difficult period where we have had to adapt to new ways of working, but staying true to our culture and values has been really important for the company.  We've achieved this through strong leadership and through the actions we have taken as a company to put our employees first."
3. Remember, it's a journey.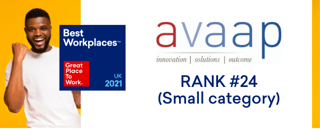 Unlike some other awards, Best Workplaces™ recognition cannot be bought. To earn this award, companies participating in the Programme must first reach the threshold to become Great Place to Work-Certified™ and then go a step further to reach even higher thresholds required to prove that all employees love where they work.
Avaap Europe's leaders saw the value from being on this journey, recognising that the road to achieving a great workplace culture never really ends.
As Robin Irvine, General Manager of Global Manufacturing explained to us:
"This has been an evolving journey that has required us to learn, and to see the good and bad. Our journey so far has shown that it's important to listen to all points of view, and the smallest unassuming idea or point of view can sometimes have the biggest impact.
"Robust communication and transparency were key to [our] success in 2020. The new experience put extreme pressure on employees to remain active, positive, and customer-focused, not to mention the pressure on their personal life. It was extremely important that the team knew Avaap truly cared."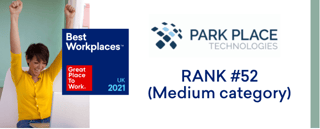 Park Place Technologies is another first-time Best Workplace™ award recipient who recognised the value of continuous learning. "We've long been proud of our global culture, which we see as employee-centric," says Sue Fawzi, Human Resources Manager EMEA.
"Taking part in the Best Workplaces™ Programme was a chance to put that belief to the test. Having Great Place to Work®, an independent organisation, measure employee satisfaction is key to validating our culture, and can help us retain and attract the best talent to Park Place."
So even while celebrating what they do well, top employers like Park Place Technologies refuse to become complacent after winning awards. Instead, leaders remain continuously enthusiastic to understand from their employees the areas where they can improve.
"We plan to benchmark our employee satisfaction score amongst other industry peer organisations to see how we are performing more widely in the industry. This will ultimately enable us to strive for and achieve our commitment of providing all our employees with a great place to work!"
4. Recognise everyone's struggles – even beyond the pandemic.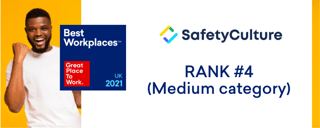 The meaning of 'workplace' has fundamentally shifted as a result of the pandemic – and never before has culture dominated the priority list for candidates looking for a truly 'great place to work'.
"Focus came off our built office environment and it became incumbent on every individual to play their part to ensure we kept tight and thriving as a team," says Dan Joyce, General Manager EMEA at SafetyCulture.
"I couldn't be prouder of how our team has adapted over 2020/21. Entering these awards is just one way to recognise our team and culture – and we could all do with something to celebrate at the moment."
Like many of our Best Workplace™ recipients, SafetyCulture practiced care and empathy throughout the pandemic.
This meant more than simply switching from in-office to homeworking. Employees valued that nobody's struggle was seen as more or less profound than others. Every battle was taken by leaders to be personal, relative and valid.
"Everybody hurts - whether it is our new parents struggling with parenthood in lockdown, or parents having to home-school and manage a workload; single people feeling profoundly lonely…everyone has had to adjust and there is suffering across the board. "[We learnt] you CAN build strong relationships remotely.
"Vulnerability underpins trust, and this year we've seen each other struggle, we've met colleagues' partners, pets and children, and gotten to know each other far more personally. I was concerned that remote working would lead to degenerated work relationships, but I have been surprised. Relationships are strong."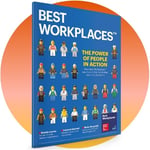 Learn more about this year's award recipients in our 2021 Best Workplaces™ publication!
---
To learn more about our GPTW employer recognition programme, please click here.