We're proud to unveil the companies that have earned a spot on this year's UK's Best Workplaces for Women™ List - based on anonymous feedback from over 70,000 women working across the country.
Keep reading to find out which 3 critical themes have emerged from our extensive analysis of workplace cultures – including key data and actionable insights to help you create a more equitable and supportive place to work for all your employees.
1. Talent Development & Leadership
Skills and labour shortages have emerged as the primary challenge faced by employers in 2022 – surpassing even inflation and wages – according to the CIPD.[1]
Alarmingly, the OECD's Economic Outlook 2023 also suggests that despite being highly educated, women's skills remain underutilised in the UK labour market.
The UK's Best Workplaces for Women, however, are embracing strategies that create a vibrant and inclusive work environment enabling all their employees to have equal opportunity for career progression and personal development.

These organisations exemplify the transformative power of deliberate initiatives tailored to empower and uplift women, and continue to pave the way for a future where every woman's potential is recognised, harnessed, and celebrated.
From mentoring programmes to bespoke development initiatives, e-learning platforms, and shadowing experiences, Best Workplaces for Women leave no stone unturned in nurturing their female talent.
At the heart of these initiatives lies a shared desire to create a culture where every individual, of any gender, feels valued and free to develop themselves in ways that suit their learning preferences and vision of the future.
The Best Workplaces for Women are strategically committed to promoting women into leadership positions, with many setting representation goals and offering dedicated leadership development initiatives to employees.
To ensure fair and transparent career advancement, many implement clear development strategies and tailored succession plans, and involve employees in the creation of these tactics.
These are organisations striving to eradicate biases and provide equal opportunities for all, empowering women to advance based on merit and capabilities.
Currently, there are 10% more women occupying leadership positions among the Best Workplaces for Women compared to 2020, with an impressive 63% of leadership positions at the Top 5 awarded companies being held by women.
What makes our awarded companies truly inspirational is that these efforts go beyond internal progress – Best Workplaces for Women leverage their platform and voice to break barriers and create awareness, dismantle gender stigmas, and inspire change within their industry and wider community.
The benefits of developing women
The impact of gender diversity on organisational success cannot be underestimated.
Research by McKinsey reveals that companies with over 30% female executives tend to outperform those with only 10%-30%, and the latter group outperforms companies with fewer than 10% or no women executives at all.[2]
The report also found that women leaders bring unique perspectives and are more likely than their male counterparts to advocate publicly for equity; mentor and sponsor other women, and champion employee-friendly policies that attract and retain talented female employees.
In the UK's Best Workplaces for Women:
80% of women working in the Top 5 agree that "promotions go to those who best deserve them" – even more staggering when one considers only 47% of women working at an average UK company report the same
85% of women working in the Top 5 believe they are provided opportunities to develop, compared to the UK average of just 61%
9 in 10 women working in the Top 5 feel they have meaningful opportunities to innovate – which in turn

gives their employer the advantage of leveraging increased ideas and innovation from women than most other companies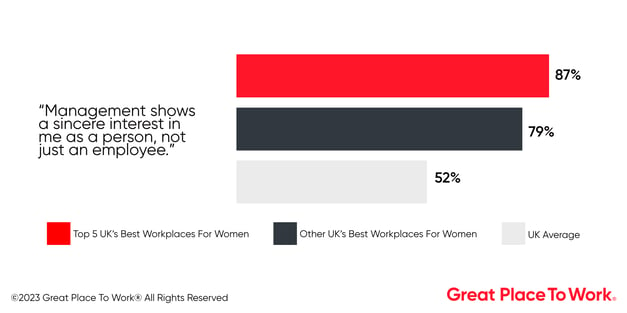 What employees are saying
"Fast progression regardless of age and competitive salary for my age. Top-level management want to hear from junior/younger staff and respect their opinions. Lots of women and working mums in leadership which is inspiring."

– TEAM LEWIS female employee
"As a woman it's unusual to work in a typically male dominated environment [such as STEM] which has female representation in every department, at every level, from junior through to director level, where women empower each other rather than tear each other down. There's no gossiping, we get on, we discuss things when we disagree, I've not worked anywhere like this."

– 383 Project female employee
"The care management put into your self-development is really special. They do their best to craft the most suitable role for you, and encourage projects that support your long-term goals and ambitions. I have such a great relationship with managers at VP level which makes me feel connected to the business overall."

– Braze female employee
Inspirational people practices
Red Hat UK Limited provides career pathways for external experienced professionals looking to permanently return to the workplace after a 1-year+ career break taken for any reason (e.g. childcare, parental care, long illness or recovery, relocation, etc.). Returning hires participate in a 6-month 'Career Re-Entry' programme that offers support and feedback from a hiring manager and a functional mentor, as well as support from the 'Women Back to Work' team to acclimatise to the workforce.
Flight Centre Travel Group's 'Lean into Female Talent' is a one-year global leadership programme empowering women in finance teams, through immersive virtual and face-to-face workshops, with a group of 14 female finance leaders. This includes traveling to learn from colleagues in other countries.
2. Pay & Benefits
Concerns around the impacts of fluctuating inflation and economic uncertainty on salaries and job security are resonating strongly with employees across gender lines.
However, research indicates that women are particularly vulnerable to economic shocks and financial instability, especially when considering "green and digital transitions as they tend to specialise less in scientific knowledge than men, and shoulder a disproportionate share of care for elderly relatives."[3]
Addressing these issues and enabling equitable pay and benefits are hallmarks of the UK's Best Workplaces for Women 2023, who acknowledge the genuine concerns women have, and have taken concrete steps to tackle issues such as the UK's persistent gender pay gap of 9.4%.[4]
Transparency is a core value for these organisations, whose leaders willingly share their gender pay gap information externally (with some companies like Active Prospects going a step further to publish their ethnicity pay gap information as well).
Many Best Workplaces for Women regularly review total compensation packages and continuously benchmark their rewards offerings to remain competitive in the market and promote gender equity at work.
In times of crisis, these organisations have shown bold levels of support for their entire workforce. Amidst the cost-of-living crisis, for example, many offered pay rises, with some matching inflation rates, for all employees. Others offered one-off bonuses to alleviate financial pressures, or access to support such as financial advisors.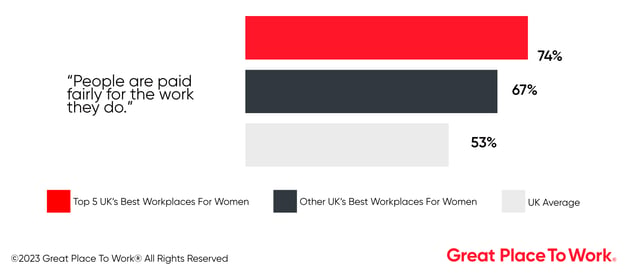 These initiatives have not only improved employees' sense of job security and financial wellbeing, but have also reinforced the notion within employees that they are valued as individuals by their employer.
Moreover, the Best Workplaces for Women prioritise generous, flexible, and relevant benefits that go beyond traditional offerings. This year, there is a notable focus on modern health policies and benefits that address some of women's unique challenges, such as endometriosis, menopause, miscarriage, and infertility support.
Best Workplaces for Women have worked hard to remove the taboo in talking about these issues, and have ensured their female employees feel there is a safe space for women to talk about their experiences and the impacts these have on women's personal and working lives.
Fertility benefits, in particular, have increased for employees going through IVF, with some awarded companies offering contributions towards IVF treatment alongside dedicated time off during the process. These schemes help give people the flexibility to have IVF without it negatively impacting their careers or development opportunities.
When looking at the experiences of working parents, it's typically women who are the primary carer for young children whilst juggling the commitments that come with full-time working. Flexible work arrangements, including on-site nurseries and extended parental leave for both working mums and dads, are some of the ways in which Best Workplaces for Women support and improve working parents' work-life balance and overall wellbeing.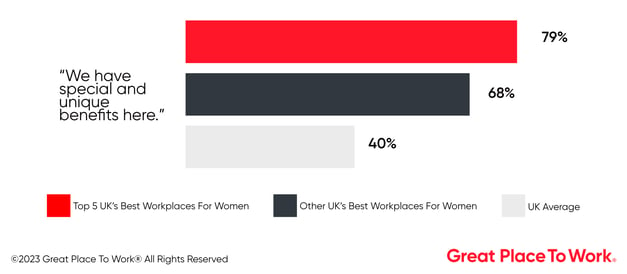 What employees are saying
"Childbase employees are at the forefront of the higher management. They have really thought about the environmental impact and financial challenges and have introduced new initiatives to support everyone. From a pay rise to supplying everyone with 2 meals a day. And also a bonus paid over several months to support with the increased cost of living. This will make a great difference to many people and shows we are all valued and appreciated, which means a lot."

– Childbase Partnership female employee
"The first thing that comes to mind is the highly supportive and friendly culture – everyone who is hired here is made to feel welcome and fully part of the team, whether they come in at entry level or a senior manager. On a more material level, some great perks include free breakfast, and 'payday lunch' where every employee receives £10 towards lunch on payday. Plus, I love our 'Charity of the Year' scheme which encourages us to fundraise for the chosen charity, as well as take part in volunteering opportunities."

– Distinctly female employee
3. Workload stress
The Covid-19 pandemic has dramatically reshaped the work landscape, placing increased responsibilities on managers.
According to O.C. Tanner's 2023 Global Culture Report, almost half of UK managers (46%) say their responsibilities have increased since the pandemic, with nearly a quarter (23%) finding it more difficult to stay positive at work.[5]
New responsibilities and expectations placed on managers over the past few years has resulted in many succumbing to stress and burnout, with the main managerial tasks taking up more time since Covid being: project and team meetings (36% of managers reporting an increase); management meetings (35%), and training and mentoring (32%).
Recognising the unique needs of managers is essential for alleviating burnout and promoting wellbeing.
To address these concerns, Best Workplaces for Women ensure all managers – including women working in non-executive managerial roles – have high levels of workload support to avoid these colleagues from becoming too thinly stretched.
An astonishing 91% of women working in the Top 5 awarded companies say they feel supported overall. And compared with 2020, 5% more women feel supported with the resources and equipment to do their job.
Creating a kind and respectful work environment is a core focus for these organisations, who recognise the significance of treating one another with respect, avoiding the temptation to take out stress on colleagues, and viewing unmet targets as opportunities for reflection rather than blame.
Therapists and counsellors, who are often accessed through Employee Assistance Programs (EAPs), are readily available without any stigma attached, ensuring that employees feel supported in navigating their stressors.
Employees at Best Workplaces for Women often comment positively on the sense of team spirit and strong support network they have at work. Social events and team bonding activities have played a vital role in helping female non-executive leaders to destress and build better relationships with their direct reports and executive leaders.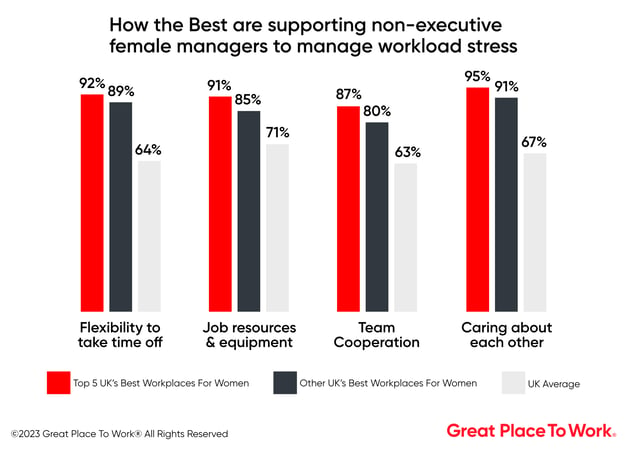 Offering flexibility is another key practice adopted by these organisations, many of whom have embraced flexible working hours and/or hybrid work models that allows all non-executive managers to strike a better balance between their professional and personal lives.
Ensuring that employees have the necessary resources and equipment to excel in their roles is also a top priority for these organisations. Recognising that each role and individual has unique needs, the Best Workplaces for Women generously provide employees with the tools and support required for productivity and success.
What employees are saying
"The culture, we plan social events and mindfulness events monthly to ensure we get the chance to meet in social environments and to relax and destress – we will go from a murder mystery evening one month to office yoga the next – it really is great fun and unusual to enjoy spending your free time with the people you work with. I have genuinely made friends for life here!"

– ResourceiT female employee
"We also have psychologist in the office once per week which are free to use (or you can book a virtual session any other day). This has helped me manage my stress and anxiety better. Also, there is little to no stigma around talking about seeing a psychologist, everyone is encouraging it."

– Baringa female mid-level manager
"The Management seem to actually care about you as a person. They want you to do well. I was very surprised about the 5% pay rise and extra holidays out of the blue, I've never worked anywhere that has done something like that before and I felt valued and appreciated. Sometimes I have unforeseen problems with childcare and I've never felt stressed or worried about leaving work suddenly to pick up my child. In other jobs I would be worried it would negatively affect me but I don't feel like that here."

- xDesign female employee
Inspirational people practices

Egress offers a distinctive eFlex model, broken down into two parts: Bite Size Flex and Supersize Flex. In the former, employees are given two 1-hour flexes to either start work late, finish the day early, or enjoy a two-hour lunch break twice a week (amounting to 12.8 days of additional paid leave per year). Conversely, Supersize Flex offers six additional half days per year that all staff can take at short notice, no questions asked.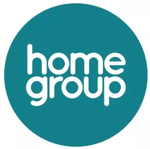 Home Group Limited – ranked No. 1 in the Super Large category – recognises the importance of stress reduction through reading. For National Read a Book Day, employees were encouraged to unwind with a hot drink and a book of their choice from the diverse selection offered to employees.
Key Takeaway
All three of the above areas – talent development & leadership, pay & benefits, and workload stress – are intertwined.
It's vitally important that companies take a holistic approach when attempting to create the optimum employee experience for women (and all employees) to thrive in their organisations where the outcome is of a mutual benefit for all.
According to 70,234 female employees in the UK, a great workplace is one which enables them to receive equitable development opportunities, compensation, and a sense of accomplishment and purpose in the work they do – just like the rest of their colleagues are able to do, too.
For companies, the result is a thriving business that harnesses the creativity, productivity and profitability that inevitably comes with being an inclusive, innovative, diverse, and supportive workplace for all.
See who made the list
See all the companies that earned a spot on the 2023 UK's Best Workplaces for Women™ List
To download the full infographic, please click here.
Authors:
Abigail Animwa, Snr Lists & Organisational Trends Manager
James Bufton, Organisational Trends Analyst
Shalagh Fredericks, Snr Content Marketing Manager
Seema Shah, Principal Consultant
Xanthe Watkins, Snr Consultant
Contributors:
Eduard Berndt, Lead Business Analyst
Mariana Skirmuntt, Head of Analytics
Sources:
[1] CIPD 2023
[2] McKinsey 2020
[3] OECD 2023