See how the UK's Best Workplaces™ in Tech differentiate from the rest in driving innovation, productivity and a great employee experience for all – even amidst a global crisis.
Every year, our team at Great Place to Work® UK conducts a comprehensive audit of workplace cultures at hundreds of tech organisations operating across the UK.
And earning recognition isn't easy.
During this intensive process, employees participate in a detailed confidential survey about their workplace, while managers share with us the specific people practices and policies they believe contribute to making their workplace truly great for all.
The 59 companies on our UK's Best Workplaces™ in Tech 2020 list have all displayed a strong track record of continuously driving innovation, fair treatment of diverse teams, enhanced productivity and an overall great employee experience for all their employees – before and during the pandemic.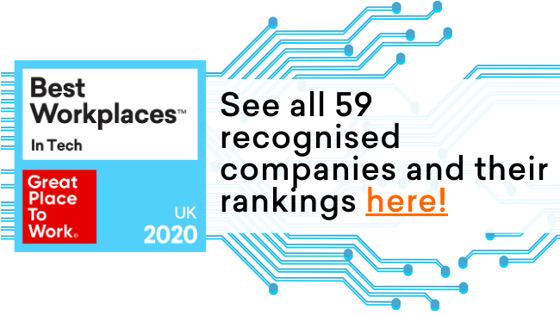 "Especially during these times of crisis and uncertainty, it's incredible to see the number of organisations within UK's tech space that have prioritised building a positive employee experience," shares Benedict Gautrey, Managing Director of Great Place to Work® UK.
"In this, our third year of recognising UK's Best Workplaces™ in Tech, we've seen many organisations find innovative and creative solutions for continuing to drive their great workplace culture remotely. We hope that by highlighting our Tech list recipients, other employers will be encouraged to put their people strategy at the heart of their business, and continue to implement policies, practices and programmes that sustain an impactful and consistently great employee experience for all."
Keep reading for some of the key insights obtained from this year's listmakers:
1. They Exhibit Strong and Transparent Leadership
As the world continues to shift in response to the COVID-19 crisis, managers and senior leadership teams will need to put heightened emphasis on resilience, compassion, trust and communication with their people.
Our Best Workplaces™ in Tech list-makers have been able to excel at this through their impactful people practices. One example of a strong communication strategy has been demonstrated by Madgex – ranked 9th in the Medium size category on our list. Their 'Box of Conversations' programme focuses on the three types of conversations to have with line managers: the 'check in', the 'career conversation' and the 'difficult conversation' if something is going wrong.
By focusing on human conversations, managers eliminate the need for complicated appraisal forms and tedious documents. People feel heard and encouraged to have open and honest communication about their professional and personal needs.
Another best practice example can be found at Red Hat UK Limited (one of the top 3 ranked workplaces in the Large category), whose 'Red Hat Ask Me Anything (AMA)' series encourages communication across levels of seniority.
Through this series, all associates are given the opportunity to ask executives anything they'd like. About two weeks prior to an AMA, these 'Red Hatters' are invited to prepare and submit their questions, either by name or anonymously. Fellow associates vote on the questions they most want answered, and a member of the executive team addresses as many as they can (starting with the most popular first) while Red Hatters follow along on 'memo-list' - their internal discussion board.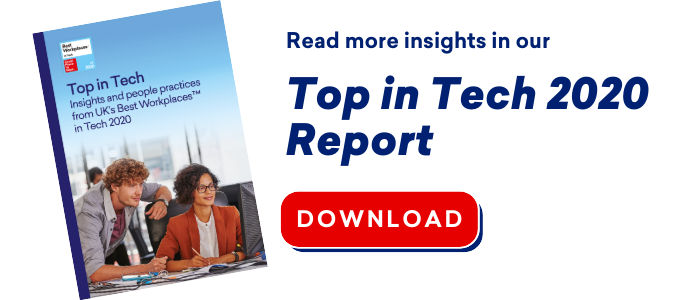 2) Best Workplaces™ in Tech Prioritise Employee Wellbeing
Feelings of isolation, stress and anxiety, burnout and even 'Zoom fatigue' have been key areas of concern for HR leaders in 2020. So how do the UK's best tech companies tackle these critical issues when most of their workforce is remote?
Insight Direct UK Ltd – ranked 8th in the Large category on our UK's Best Workplaces™ in Tech list – provides one example. The company supports mental health initiatives through their Mental Health Awareness Calendar which includes various activities such as:
Mental health awareness pub quiz;
A 'how are you today?' board where teammates are invited to anonymously note their mood;
Stress awareness activity packs and crayons featuring stress-busting colouring and puzzles.
Psychological safety is another aspect of wellbeing that's been top of mind for many HR leaders in recent months. When reviewing survey statements connected to wellbeing, we can see significant differences between employees working at Best Workplaces™ in Tech compared to non-listed organisations:
83% of employees at Best Workplaces™ in Tech agreed that their workplace "is a psychologically and emotionally healthy place to work" (vs. 65% in non-listed companies);
89% say their organisation "actively promotes mental and physical health among its employees" (vs. 71% in non-listed companies);
84% believe that "people are encouraged to balance their work life and their personal life" (compared to only 67% in non-listed companies).
3) They Trust and Empower Their People
Over 30 years of research into the employee experience has taught us that employees who feel empowered in their job roles tend to stay with the organisation longer than others. And when looking at Best Workplaces™ in Tech, it's no different.
When asked whether they agree with the statement "Management involves people in decisions that affect their jobs or work environment", 79% of employees working at the awarded companies agreed, while only 60% of those working at non-listed companies said the same.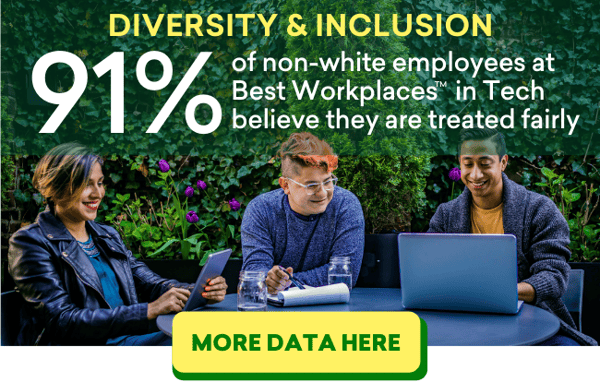 Empowerment also extends to financial wellbeing, which arguably has never been more considered globally than during COVID-19. When it comes to salary and benefits, nearly 3 in 4 (76%) employees at Best Workplaces™ in Tech believe their employer offers "special and unique benefits" (unrecognised companies have only 57% agreeing).
Automation Logic – ranked 16th in the Medium category on this year's list – delivers pay increases with a unique twist that adds value for their people. During a 6-month pay review, in addition to their pay increase for good work and significant achievements, employees at Automation Logic are sent bespoke letters with client feedback incorporated in the pay increase, rather than just a standard letter. As a result, people are rewarded for great work and are given the necessary information to optimise their future performance.
Think your organisation could be a Best Workplace™? Get in touch to learn more about our national, regional and global list programme today.
---
On the hunt for more insights? Click below to download our latest research reports: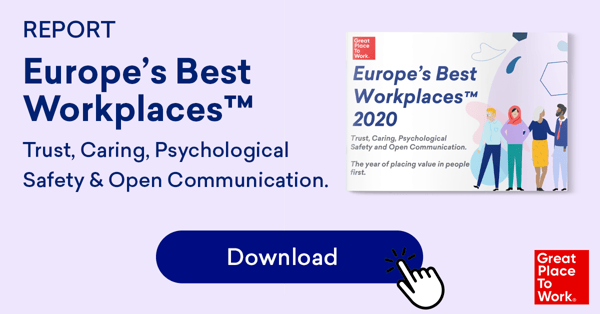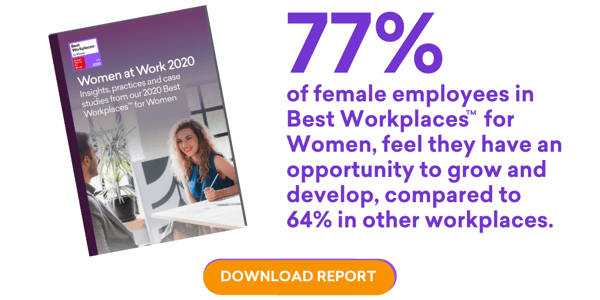 Great Place to Work® specialises in helping organisations build impactful workplace cultures. We are here to help support our clients during this period of uncertainty. If you are a client, please reach out to your Account Manager who can share the tools we have in place to enable workplaces to measure and understand their current employee sentiments. If you are not a current client, stay tuned to our blog posts, Twitter, LinkedIn and publications for people practices, advice and thought leadership on how best to navigate this unprecedented time.
To learn more about our employer recognition programme, please click here.