Organisations who ranked as a UK's Best Workplace™ for the first time share how the progamme has helped their teams to build a better workplace culture for all.
People, systems, technology and entire countries have had to adapt in various ways during the pandemic. At an organisational level, workplaces are also innovating in response to the challenges they've faced.
For our first-timers on the 2020 UK's Best Workplaces™ list, their award is confirmation that they're moving in the right direction. Moreover, the objective insights and data received through participation in the programme empowers their HR teams to develop an even better culture for all.
"Our entire culture has been elevated to provide a unique experience for our employees, suppliers, customers and the communities we work within," explains Helen Grover, Director of Human Resources at GEFCO UK.
"It's very important to us that our employees know we care. The more we support our people when they need it, the more they are prepared to commit to the business."
As an HR leader or member of the people team, it's likely your department is a key driving force behind employee wellbeing, teambuilding, CSR and other people-focussed initiatives. It's also likely that the HR department isn't holding the biggest budget within the organisation – which may have been decreased further due to the Covid-19 crisis.
With the Best Workplaces™ progamme, companies like Simprints were able to arm themselves with the necessary resources, tools and insights into what could bring about the biggest 'bang for your buck' for their workforce. Managers and leaders then get a real sense of their own teams, and are able to assist and support them at a micro-level: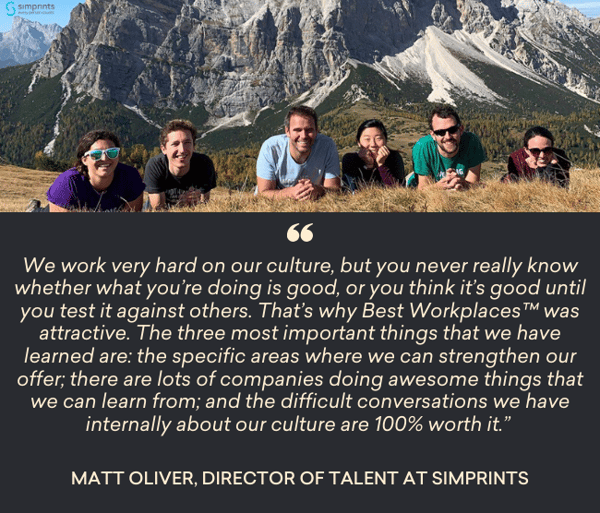 In our 20 years of UK's Best Workplaces™ at Great Place to Work® UK, what we've learnt is that trust is key to every successful business - no matter what size. Our research shows that culture is a driver of better success, and that high-trust workplaces move faster than organisations not built on trust. In creating an environment of transparency, collaboration and innovation, HR teams can sustain trust and enable the business to make quicker decisions – and then act on them.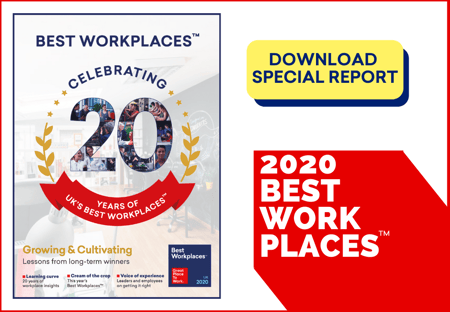 Download our 20th anniversary special report for more great insights
This time of crisis has also made it even more evident that employees are the greatest asset to every business. They are the ones who have taken the organisation to where it is today – and who will continue to drive the business forward in the future. Like all our Best Workplace recipients, our first-timers recognise that where an individual, organisation or culture sits on the scale of 'good to great' is only the start. What really counts is that we all have the potential to improve – no matter how many years you've been in our rankings:
"We know that having great colleagues makes a huge difference in being able to deliver an excellent service for our clients," says Andrew Tucker, Group Chief Executive at Irwin Mitchell LLP.
"Best Workplaces offers us a greater understanding of what our colleagues think about working at Irwin Mitchell, what they are proud of, and, crucially, what we can improve to increase the trust and engagement from our people. Our leaders are passionate about making the experience of working here incredible."
We love celebrating companies who do well by their people.
There's never been a more important time to survey your employees and nurture the culture within your great workplace. Speak to one of our consultants to find out how your organisation can get recognised today.
---
More resources to help you navigate Covid-19: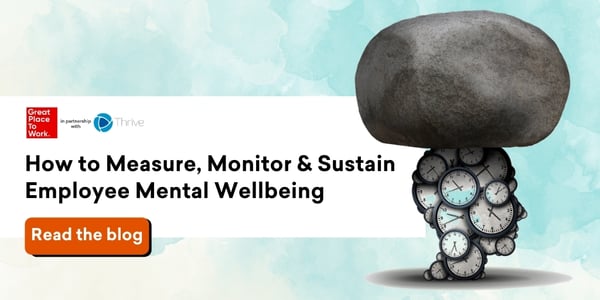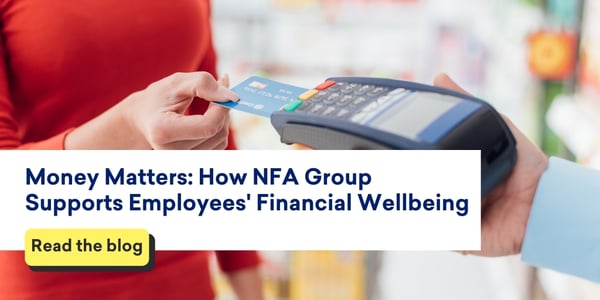 About the author: Mukesh Sachdev is an Account Director and Business Psychologist at Great Place to Work® UK. He has worked for over 12 years with all levels of an organisation – from top down (culture) to bottom up (individuals and teams) to enhance the performance of all – and continues to support people and organisational cultures across the country.
To learn more about our employer recognition programme, please click here.