Find out what makes Best Workplaces™ the world's most prestigious employer award – and why Ryan, Tulchan Communications LLP, The Sovini Group and Hilton were voted the best of the best according to thousands of UK-based employees.
Not all recognition lists are equal.
Unlike many other accreditors out there, at Great Place to Work® all of our Best Workplaces™ lists are directly based on employee feedback.
We first administer our Trust Index© survey to all employees and then further verify the employee experience by gaining an in-depth understanding of the programmes and practices organisations have in place via our Culture Audit© assessment.
Using our For All™ methodology, we set an extremely high bar for company cultures, making sure all employees enjoy working there, not just a few.
The 183 organisations who've earned their place on the 2021 UK's Best Workplaces™ list have proven themselves to be exceptional employers, and the strength of their organisational culture drives their positive employee experience.
When it comes to our benchmarking, size (and context) matters.
As the global authority on workplace culture, we know that every company and it's industry will have nuances based on their culture, size, business needs and capabilities. And these can't be adequately served by a one-size-fits-all approach.
Companies in the running for a Best Workplace™ award know that their survey data is therefore benchmarked in detail, statement-by-statement, against similar previously awarded UK Best Workplaces™. We also benchmark according to their sector, at organisation, overall and function levels.
With the arrival of Covid-19, our For All™ methodology was adapted to ensure an accurate assessment of workplace cultures that considered the vast changes and challenges brought in by the pandemic. By asking the right questions, we obtained data that gave a clear picture of which companies truly put their people first and sustained high levels of trust, engagement and support for their employees amid the crisis.
Below are some of the secrets to success shared by the top-ranked organisations in each size category:
No. 1 Small Size Category: Ryan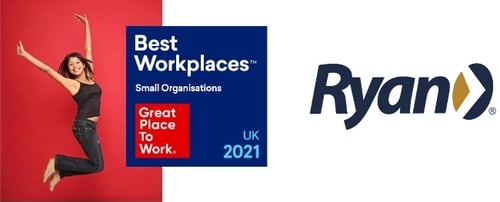 "When you're in the trenches, working every day, producing new initiatives, and you're designing new ideas, you get caught up a little bit in the gradual movement. All of a sudden, we are cast into this gigantic global situation and we sit back and go: 'What we've been doing is actually working really well'."
~ Tony Bridwell, Global Chief People Officer
Part of what makes Ryan stand out above the competition is their understanding of 'culture'. As Tony Bridwell, Global Chief People Officer explains:
"Culture is the way people think, feel and act. Often, we focus only on what people do (the acting part) and we don't pay attention to how they think and feel. That happens through experiences or through stories. We tell three stories every single day - we tell stories when we show up as an individual, non-verbally, we tell stories verbally when we speak up, and then we tell stories through our systems and processes, when we sync up."
By paying attention to the stories around them, leaders at Ryan were able to make sure their strategy was aligned to the needs and concerns of their workforce.
Examples of how this worked in practice:
Management's actions matched their words.

A commitment to leading with compassion and empathy.

Giving people certainty, as well as clarity, throughout the crisis.
Constant introspection and a drive to keep improving their employee experience are further traits that the global tax services and software provider displayed throughout the pandemic.
"People want certainty, but they follow clarity," says Bridwell, whose "show up, speak up, sync up" philosophy focuses on displaying authentic, sincere compassion and maintaining transparency no matter how tough things get.
"While we had a moment to pat ourselves on the back, it was a moment. It was a minute and then we got right back into stretching ourselves, asking this question: 'If we can do this, what else can we do?'. It's been so encouraging along the way."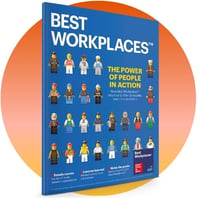 LESSONS FROM THE BEST
Read more best practices and how Best Workplaces™ stay true to their values, even in a pandemic.
Tulchan Communications LLP – No. 1 Medium Size Category: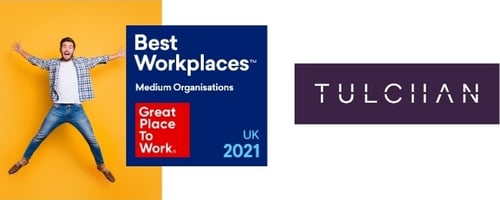 "We instinctively like to empower people to get on with their job; to make decisions about how they do their job and to give people responsibility. But that has been magnified massively by us all working separately and having to give people even more trust in terms of doing what they need to do to get the job done."
~ Andrew Feldman, Managing Partner
"My daughter has a phrase she uses – 'Dad, don't be a dinosaur', says Andrew Feldman, Managing Partner at Tulchan Communications LLP. "We've all got to constantly challenge ourselves not to be dinosaurs, and to be clever and current and flexible."
The multinational communications advisor has been on our UK's Best Workplaces™ lists since 2019, practicing empathy, trust and flexibility long before the Covid-19 crisis.
"None of us could have imagined this pandemic and the implications of it at the beginning, and you are constantly confronted by situations which you can't anticipate. But if you are flexible in your thinking, you will find a way to accommodate the new situation. There is a real lesson in the power of not being a dinosaur and continuing to be flexible. It's just being open to change and embracing it and not being fearful of it."
In leading with empathy, managers at Tulchan considered the challenges and constraints under which their people were suddenly operating early on. This included:
caring responsibilities employees may have;

home-schooling children while working from home;

and understanding the physical situation people are in (such as whether they have sufficient space and office equipment to work comfortably).
Leaders also made time to understand what mental strain individuals may be experiencing during lockdown, offering counselling and support through internal and external resources.
As with all the best places to work in the UK, Tulchan sustains their award-winning culture through trust. Managers trust that people will deliver great work doing it in their own time.
"We have to leave it to them that they will be responsible for getting through their work and contributing to the scene. The empathy and trust are always there, but I think they have been really examined, those values, and they have been helpful because we have been able to be flexible through this process."
The Sovini Group – No. 1 Large Size Category: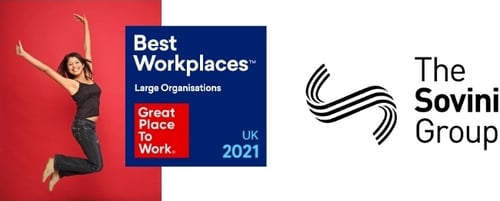 "An organisation is essentially a community. If our people don't come into work tomorrow, we haven't got a business. Recognise that and value them for the contribution that they bring."
~ Dr Roy Williams, CEO
Although many businesses claim to put employees first, only some can prove it. At The Sovini Group, value in people is role-modelled from the top, filtering down into an effective people strategy employees love.
No wonder why this leader in property, construction and facilities management has been a top company to work for 5 years in a row!
Key themes in their people strategy include:
employee engagement

wellbeing (how people feel good)

recruitment

retention
These may not be ground-breaking themes on their own. Some may even seem familiar to your own organisation's strategy! How The Sovini Group brings each one to life, and consistently reviews their strategy to keep improving it year on year through the practices, programmes and policies – is ultimately what makes them stand out above competitors.
Reading through thousands of employee survey responses, we sadly see many people working at large size organisations feeling as though they are just a number or cog in the machine. At The Sovini Group, however, leaders recognise that everyone brings unique value to the same organisation, working on behalf of, for and supporting each other daily.
"We talk about building cathedrals in our organisations, Dr Williams elaborates. "That notion of: It doesn't matter what job you do, you're building a cathedral, you're making a difference, you're changing people's lives and without you then our business wouldn't be the success that it is.
"Everybody has got a role to play, and we are grateful for the roles that they play, as an individual, as a collective, as a team. And we come together as a big family in support and recognition of each other."
Hilton – No. 1 Super Large Size Category: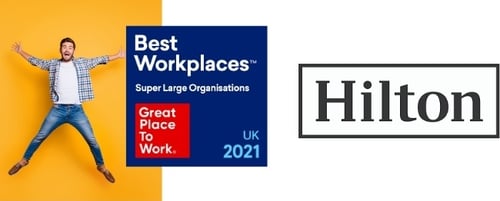 "This past year we have faced challenges never experienced in our 101-year history…We have worked collaboratively to identify solutions for remote working, continued engagement for those on furlough and support team members during this period of uncertainty."
~ Ben Bengougam, Senior VP of HR (EMEA)
There's a common belief that achieving a 'family feel' in the workplace is something only possible at SMEs. Understandably, one would assume that smaller teams are necessary to create such cultures.
Super Large organisations like Hilton, however, are constantly debunking this myth year on year.
Arguably the world's most renowned hotel brand, Hilton has displayed heroism and bravely in their response to the brutal challenges thrust upon the hospitality industry. They did this by playing to their strengths and putting people and culture at the heart of their recovery strategy.
"Regular communications, providing uninterrupted access to critical training and development resources and empowering our leaders to share their learnings have helped us to foster a culture of trust."
With this collaborative approach, Hilton was able to manage the crisis in a way that supported a diverse, dispersed global workforce of employees all experiencing the pandemic in many different ways. Leaders recognised that some would continue working throughout, faced with pressures of being part of a reduced team. Others would need to be put on furlough, experiencing a unique period of uncertainty that could also lead to stress and anxiety.
Some employees would experience illness or, tragically, personal loss during varying levels of lockdown amid the pandemic.
"What was important was trying to understand the needs of every individual and provide the best possible solutions," says Bengougam. "Hilton has always had a strong culture, but the pandemic has brought teams together and amplified the Hilton culture in ways we didn't know were possible.
"It's our Team Members that have acted as enablers to help shape our approach and inform our new ways of working. With this, we leaned heavily into our values to guide our decision making with hospitality and integrity - all the while approaching our teams with empathy, respect and support."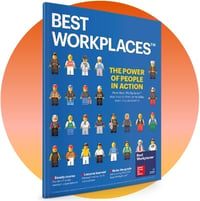 Learn more about this year's award recipients in our 2021 Best Workplaces™ publication!
---
Recommended for you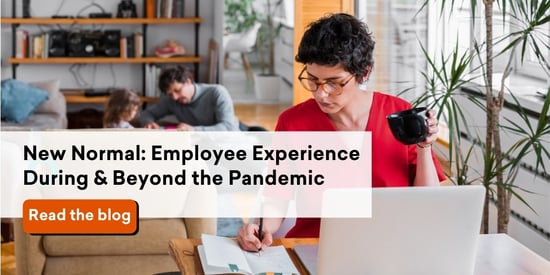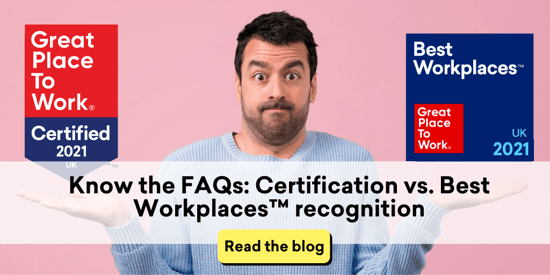 Great Place to Work® specialises in helping organisations build impactful workplace cultures. We are here to help support our clients during this period of uncertainty. If you are a client, please reach out to your Account Manager who can share the tools we have in place to enable workplaces to measure and understand their current employee sentiments. If you are not a current client, stay tuned to our blog posts, Twitter, LinkedIn and publications for people practices, advice and thought leadership on how best to navigate this unprecedented time.
To learn more about our employer recognition programme, please click here.