A diverse workplace is a successful workplace.
Research shows that organisations which embrace diversity, equity, inclusion and belonging (DEIB) have increased revenue, greater readiness for innovation and improved retention.
But improving diversity at work is about more than increased hiring of women, BAME, non-binary or neurodiverse employees.
It's about weaving genuine inclusion into the fabric of your business – not just having diverse people, but ensuring they're involved, empowered and trusted within the business.
Here are 9 ways to improve DEIB within your workplace.


1. Identify DEIB as a strategic priority.
Workplaces can only move the needle if they make DEIB a key organisational strategic priority.
For example, since the murder of George Floyd, more organisations have realised the importance of creating safe spaces to talk about racial equity at work - some appointing a specific person dedicated to promoting equality and diversity in their workplace.

Whatever your chosen strategy, it will only be effective if it has clear goals and performance measures that are reviewed and discussed by the CEO and leadership team regularly.
2. Conduct pay equity reviews.
While gender pay gap enforcement was suspended due to the coronavirus, many of the 2021 UK's Best Workplaces™ for Women remained committed to fighting against unfair practices at work, continuing to collect and report their data.
Other top-performing companies have conducted formal reviews of their pay structure to ensure pay parity, and making subsequent adjustments where gaps are identified.
How the Best Workplaces™ Do It:
For the second year, LGT Vestra voluntarily published their gender pay gap report to be fully transparent about their compensation position and what they were doing to address this.
The wealth management firm acknowledged that, given the general challenges in the financial services industry, there was a more limited pool of female candidates at senior levels. To tackle this problem, they have been committed to nurturing and developing their female employees from entry level to senior positions.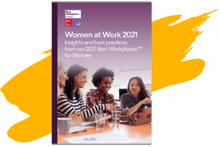 Women at Work
Read key insights and best practices to develop a truly gender-inclusive workplace.
3. Recruit and promote from a diverse POV.
Having a disparate line up of candidates is essential during hiring periods, but it's not enough if you want a truly inclusive workplace that supports Diversity, Equity, Inclusion & Belonging (DEIB).
You also need a varied hiring panel to ensure an objective and fair process. And with 'the Great Resignation' hitting countless industries on a global scale this year, right now is the toughest time to be holding onto existing talent too.
Ask yourself:
Do we need to make any changes to language in our job ads?

Are we sourcing candidates from a variety of places, including internally?

Is our referral programme making use of colleagues' personal networks?

Does our employer brand show employees and candidates how we value diversity and practice inclusion?

What changes do we need to make our policies appeal to a diverse pool of candidates?
How the Best Workplaces™ Do It:
To improve the diversity of the talent they are hiring, Tulchan Communications LLP has made D&I an integral part of the recruitment process and shared their strategies with recruitment partners. The company has also sought the input of new team members, asking them what they feel would have made their recruitment process better. As a result, several practices and initiatives have been introduced, such as a 'blind selection' process for CVs.
4. Create a robust mentorship programme.
The options for providing employees of under-represented groups with greater exposure to mentorship opportunities are endless, from cross-department shadowing to breakfasts with the CEO.
Initiatives such as these boost engagement and prime employees for promotion, no matter where they are in the company hierarchy.
A robust mentorship program sets clear expectations for both mentor and mentee, crosses all levels of the business, and encourages dynamic two-way mentorship – enabling people to learn from each other rather than simply setting up a teacher-student arrangement.



5. Consistently train and engage employees on DEIB.
Diversity and unconscious bias training is required in many workplaces, but do these sessions have a long-term impact? Some studies say no.
The problem is, if DEIB training programmes are presented as lessons to be taken in passively, they may raise awareness but won't necessarily stimulate behavioural change.
To do that, training needs to be interactive, ongoing and part of a broader conversation within the organisation.
How the Best Workplaces™ Do It:
As a pan-European business, Elavon developed a Cultural Awareness Programme to help employees work more effectively together. The programme covered topics like keys to understanding distinct cultural values; preferred approaches in the workplace and how our preferences impact on one another; how to engender collaborative working; building trust in the team and communicating effectively.
6. Make sure benefits and programmes are inclusive.
In our own study of women in the workplace, we found that the pandemic has impacted female employees – working mothers, in particular – much more than men.
In fact:
Working mums were more likely to reduce their paid working hours to accommodate childcare needs than working dads (21% mothers vs. 11% fathers);

On average, women spent around 15 hours per week doing housework while working from home, compared to men who spent only 10 hours;

And women were 8 times more likely to lose their job during the pandemic compared to male employees.
It's vital that every individual is provided equal opportunities for progress and support, regardless of gender or any other aspect of their identity.
Take a moment to evaluate your employee benefits offering to ensure this adequately supports your multifaceted workforce. Flexible schedules and tailored resources (e.g. specific areas in the office reserved as nursing or prayer spaces, or dedicated leave days for working carers) can go a long way in helping employees perform well, while still balancing their work and home needs.



See the full list of 2021 UK's Best Workplaces™ for Women here!
7. Set up your ERGs for success.


Effective Employee Resource Groups (ERGs) need to be developed, encouraged and supported (with time and money) by the organisation.
Our research on ERGs found that while 100% of executive sponsors (senior leaders who pledge to assist ERGs) say the company encourages ERG participation, only 52% of ERG leaders believe that to be true.
Sadly, the majority of ERG leaders we surveyed reported low budgets and a lack of influence within the company.
It's important that leaders participate in and engage with these dedicated groups, and to leverage them to support the organisation's DEIB goals and success.
How the Best Workplaces™ Do It:
Named a 2020 UK's Best Workplace during the peak of the pandemic, Rackspace Ltd have a number of ERGs covering diverse interests (such as LGBTQ+, Women in Leadership and Mental Wellbeing) which are fully funded by the company.
During lockdown, these groups united to combine resources and expertise in launching a series of virtual 'Tea & Talks' designed to encourage sharing between Rackers. These open-to-all sessions typically involved a short presentation followed by regular phases of breakout discussions and regroupings to talk through issues that came up. To support the ramping up of these activities, the business allowed for the re-allocation of budgets that would otherwise have been used to put on in-office events (such as summer or Halloween parties).
8. Scrutinise Board and Executive Team representation
The composition of your Board and C-Suite team should mirror the diversity of the geographical area. And if it doesn't, it's time to take action.
For example, although we see progress in the UK when it comes to the proportion of women in FTSE 350 leadership teams, this only sat at 29.4% in 2020 (compared to 38.2% at Best Workplaces™ for Women in the same year).
Placing employees of a previously marginalised gender (or ethnicity, age, etc.) into leadership roles is indeed a good step towards building fairer workplaces for all. But this can only be successful when the organisation is first fully committed to a culture a belonging – otherwise you just set these leaders up for failure.
In 2020, Julie-Ann Haines became the first female CEO of Principality Building Society in the company's 160-year long history.
The appointment came just 4 years after Principality signed up to the Women in Finance Charter, which has been integral to their ways of working at and helping establish a clear link to the company's core values of 'Taking ownership' and 'Doing the right thing'.
It's also a step-change that's helped to normalise the appointment of women in senior roles in financial services. As Julie-Ann told BBC News:
"Being the first female CEO gives you that licence to challenge and ask questions, to look beyond the skillsets that maybe have been valued in the past. I recognise that I have a platform as the first female CEO to really make some changes, not just in my organisation, but to set the tone."
9. Make leaders accountable.

Any DEIB or D&I strategy will only take hold if leadership holds space and accountability for it.
Once you've set goals and

measured your DEIB results

against them, hold the leadership team accountable to results – good or bad.
After all, while employees look to their workplace leaders to guide them, they will only follow if they genuinely believe their leaders are changemakers alongside them.
Remember, one step at a time.
Best Workplaces™ understand that there are no quick fixes when it comes to creating a genuinely diverse, inclusive and equitable workplace for all.
The list of best practices surrounding D&I can be overwhelming at times. Remember that selecting one thing and doing it well will go a long way towards putting your company on the path to progress.
And if you need help navigating it all, our

Insight Consulting services

can help your organisation dive deeper into understanding your employee experience through post-survey feedback presentations, workshops and focus groups.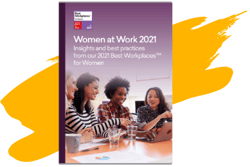 Start Building a Fairer Workplace FOR ALL
Download the 2021 'Women at Work' publication for more data insights and best practices!
---
This feature has been adapted from the original article by Laurie Minott, a Partner at Great Place to Work® in the US. Laurie consults and coaches CEOs, CHROs and executive leadership teams on advancing business performance and culture change through strategies and solutions that create a great place to work for all.
To learn more about our employer recognition programme, please click here.