As work environments become increasingly digital and dispersed due to Covid-19, it is those leaders who focus on trust and the employee experience who will ultimately see more positive business outcomes than their competitors.
Throughout the pandemic, our team at Great Place to Work® UK has read through inspiring survey comments from thousands of employees working for some of the 'best' organisations across the UK. They shared with us how their employers have made extraordinary efforts to keep people at the heart of their Covid-19 response strategy.
Our Covid-19 research report takes a deeper look into how pandemic has impacted the employee experience over the past year.
Below are some of the ways in which 2021 Best Workplaces™ are sustaining their award-winning cultures throughout the crisis.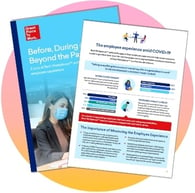 NEW REPORT: Impact of Covid-19
Download your copy and see how Best Workplaces™ are tailoring their employee experience to fit a post-Covid world.
1. Trust is (still) top priority.
Trust should be a no-brainer for every business – no matter what size or industry. But even with decades of research and data proving the value of trust, millions of employees remain unhappy and demotivated at work.
Sadly, in the face of ongoing economic uncertainty and difficult decision-making, many organisations have left employees to fend for themselves, choosing to disregard the necessity of valuing their workforce.
Fortunately, this is not the case at the 2021 Best Workplace™ organisations, who continue to use trust as the foundation for setting the 'new normal'. This means ensuring teams stick together, focus on problem-solving and individuals understand one another's needs. Leadership teams at these people-first companies consistently support their people, providing strong leadership and direction across the business.
All this is not merely a fad which employees experienced early on in the pandemic. Best Workplaces™ are experts at boosting and sustaining trust long-term.
How 2021's Best Workplaces™ Do It: DHL Express

Cultivating a high-trust culture isn't easy – especially during a fast-moving crisis like Covid-19. The pandemic requires agility and the willingness to adjust one's usual operations. At the same time, HR and C-level leaders face the added pressure to come up with initiatives that can ensure people's physical and psychological safety amidst ever-changing government guidelines.
Taking the no. 1 spot on the 2021 World's Best Workplaces™ list, DHL Express entered the pandemic with a foundation of trust and a mission to serve.
A sign of that profound trust between employees and leaders was seen in the way DHL executives decided to conduct a companywide survey during 2020. While some companies had cancelled or postponed employee surveys during the crisis, DHL showed employees that their company respected its people enough to listen to their needs and to learn about their experience.
DHL also acknowledged the emotional burdens of employees who have caregiving responsibilities while working from home. In this flier, we can see one example of internal comms making it clear that family duties come first: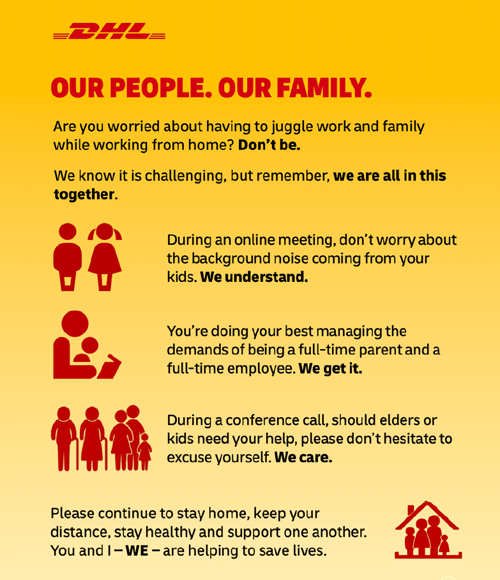 2. Care and camaraderie will sustain productivity.
Productivity of both in-person and remote work are influenced by the same key factors: leadership and a healthy, supportive company culture.
In whatever 'new normal' we experience after the Covid pandemic, workplaces that are strong in both these factors will reap better business outcomes no matter where their desks may be.
Best Workplaces™ are known for actively and regularly addressing the gaps in their employee experience to help ensure every employee can give their best, including during difficult times.
"Employees in great workplaces believe their colleagues see them as whole people, with family, hobbies and passions that they bring to work each day, explains Julian Lute, Great Place to Work® strategic advisor.
"When relationships are strong, employees feel energised and bring their skills to the table to collaborate on organisational goals. Camaraderie is like a secret weapon. When employees experience the nexus of great work, a powerful mission, and shared values, productivity soars."
As a result of supporting employees with work and caring responsibilities, Best Workplaces™ improve employee engagement and reduce stress.
Proof of this can be seen in the way these working carers responded to our 2020 Covid survey, with only tiny differences reported across all care categories in a year that required a lot of juggling: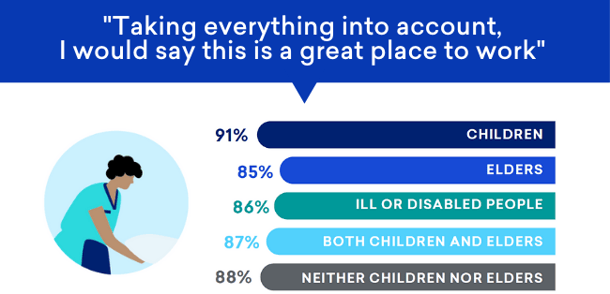 How the 2021 Best Workplaces™ Do It: Rimini Street Limited

While perks may have bolstered employee productivity through the early months of working from home, we've seen positive culture have a far greater influence on longer-term productivity during the pandemic.
In their response to Covid-19, Rimini Street developed an in-house training programme for people managers called "Leading in Times of Uncertainty". The objectives were to provide managers with tools to improve communication, tips on managing virtual teams, guides for regular check-ins, and advice on how to adjust to new ways of working.
The course also stressed the importance of providing all employees with adequate support and flexibility needed to work around family commitments.
3. Protect employees from burnout.
"Consistent communication and supporting people in shifting work arrangements, all while taking care of customers, is a balancing act. But leaders who are vulnerable will help employees to experience the workplace as supportive and caring," says Julian.
On the flip side: leaders who do not prioritise trust inevitably contribute to uncertainty, inconsistent communication, and lack of collaboration during challenging times.
Some vital questions that every HR professional should ask right now include:
When did I first begin to notice employees' mental health take a dip during lockdown? Have we done enough to improve mental wellbeing since then?
Do I know how people are feeling? Is this based on my own assumptions or on direct feedback received from our employees?
Many employees are currently experiencing a spring of 'toxic productivity' – the unhealthy compulsion to work longer hours or avoid taking sick leave even when feeling mentally and emotionally drained – stemming from a lack of job/financial security, or loss of work-life balance amid lockdowns.
And toxic productivity almost always comes from the top.
To support employees in maintaining a healthy balance between their work and personal life, Best Workplaces™ have kept tabs on people's needs with pulse surveys throughout the pandemic.
These surveys took out the guesswork by giving HR leaders valuable insights on how to preserve employee wellbeing. As a result, many of these organisations saw a return to healthy productivity levels and employee wellbeing after they'd experienced a dip in these areas in previous months.
Our team was recently inspired by a global data analytics provider who immediately broadened the company's emergency assistance policy to address hardships created by the pandemic. The plan provides no-interest loans up to $10,000 per employee (or of comparable economic value in the country where the employee is located) to address expenses including but not limited to food, housing, clothing, transportation, health or medical services, childcare or eldercare, or costs associated with employment.
You can read more best practices and insights here.
In these unpredictable times, our Great Place to Work® team will continue to support and remain close to the organisations that are committed to listening to their people and caring for all segments of their workforce.
We believe that before, during and beyond Covid-19, a culture of trust is the basis of any organisational success.
Now it's your turn.
Whether you're in need of a bespoke workshop, leadership coaching or holistic wellbeing strategy, our consultants can help you adapt your culture to best fit the post-pandemic working world.
---
Recommended for you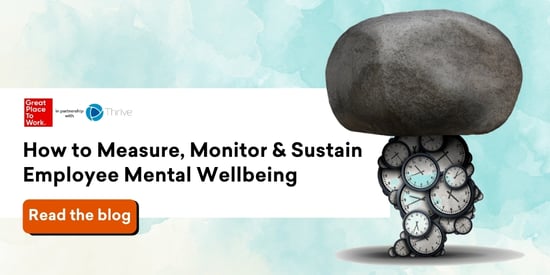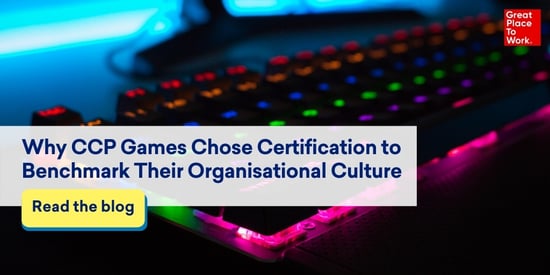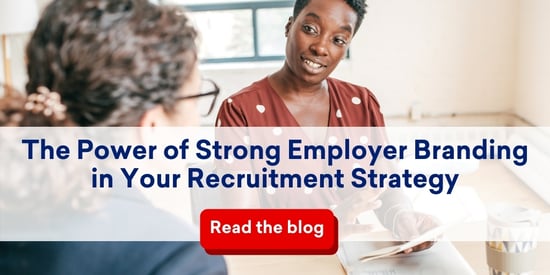 This feature has been adapted from the original article by Chandni Kazi, Data Scientist at Great Place to Work®.
Great Place to Work® specialises in helping organisations build impactful workplace cultures. We are here to help support our clients during this period of uncertainty. If you are a client, please reach out to your Account Manager who can share the tools we have in place to enable workplaces to measure and understand their current employee sentiments. If you are not a current client, stay tuned to our blog posts, Twitter, LinkedIn and publications for people practices, advice and thought leadership on how best to navigate this unprecedented time.
To learn more about our employer recognition programme, please click here.