For HR leaders, only a few milestones hold as much pride as becoming Great Place to Work-Certified™. This signals to the world that they have created a company culture their employees love. And when you become Certified, you earn more than just a shiny badge. Does your manager need some convincing? We're here to help you get the case for culture over the line.


1. Recruit Cream of The Crop Talent
Today, a great workplace culture is a prerequisite for job hunters. Certification signals that your employees approve of your organisational culture and your company's leadership. It tells candidates that people love showing up for work.
2. Use Actionable Survey Results
Certification depends mostly on the results of your Great Place to Work® employee survey – the gold standard for measuring employee engagement. After you collect your employee survey responses, you'll receive the results. This data gets you inside the heads of your people to understand your company culture's strengths and weaknesses. Our consultants are also on hand to guide you through areas needing improvement, providing bespoke action steps and sharing best practices obtained from over 30 years of research.
3. Earn That Shiny Badge
Every Great Place To Work-Certified™ company earns a Certification badge. You can use this throughout the year to remind employees, partners and the public of your achievement. Many organisations include their badge on social media profiles, print it on company swag and proudly display it on their online job postings and in their office buildings.
4. Be In The Running For Best Workplaces™ Recognition
Once your company is Great Place to Work-Certified™, you will automatically be considered for our Best Workplaces™ lists. These include national recognition opportunities such as UK's Best Workplaces™, UK's Best Workplaces™ for Women, and UK's Best Workplaces™ in Tech. In addition to this, eligible organisations will also receive automatic entry into the Europe's Best Workplaces™ and World's Best Workplaces™ lists.
5. Be Featured on Our Website
Every Great Place to Work-Certified™ company that also earns Best Workplaces™ recognition will receive a Great Profile page on our company website, www.greatplacetowork.co.uk. Here, you can share company details (such as your company values), connect your social media accounts, advertise live job openings, and share other recognition you've earned on our other Best Workplaces™ lists. Recognised organisations often link to their profile from their careers page to provide third-party validation of their exceptional company culture.
6. Build Pride
Employees want to be part of something special. Earning Certified status builds pride among your workforce. "One of the best things about working at Salesforce is the opportunity it provides you to continuously learn and explore different roles. The support and encouragement from my managers has been amazing and my career has gone from strength to strength." – Charlotte, Corporate Marketing Senior Manager at Salesforce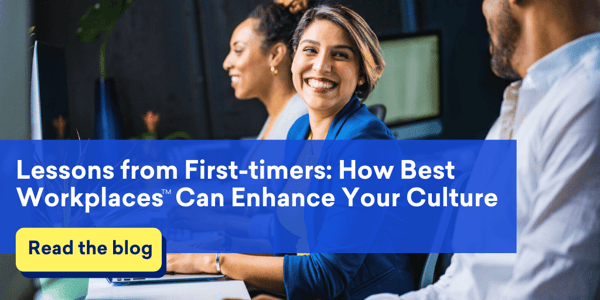 7. Join A Community of Other Great Workplaces
When you get Certified, you get to join our For All Community. Celebrate your people and get insight into the culture of like-minded companies dedicated to fostering an exceptional workplace culture for all.
8. Celebrate As A Team
When your company meets the Certification criteria, it's time to pop the champagne! Rally your team around this win and celebrate, we've got 18 ideas for you.
9. Understand What's Working
The results of your Trust Index™ survey will show you what programmes you should continue to fund and where others may not be meeting expectations. By understanding what's working and what's not, you can invest resources where they're needed most.
10. Set the Right Goals
No company is perfect. Great Place to Work® Certification allows you to benchmark the current state of your company culture so that you can set goals and put plans in place for improvement.
11. Share Your People Practices
As part of your submission for Certification, organisations with 20+ employees will complete a Culture Audit©, which captures the people practices that make your workplace unique. It's a great way to tell your story and position your company as a thought leader when it comes to innovative work practices.
12. Create Goodwill
Many companies find that asking employees to participate in a survey about their workplace experience creates goodwill in itself. Employees appreciate being given the opportunity to voice their opinions. When the executive team is clearly focused on creating a great workplace culture, employees know that their happiness and wellbeing is a top priority.
Being Great Place to Work-Certified™, you can recruit top talent, find gaps in your HR policies and get one step closer to Best Workplaces™ recognition. For more information on how to be awarded Certification, fill out this short contact form and one of our consultants will get back to you.