Certification provides companies a recruitment advantage by helping great workplaces attract more candidates and lower the time it takes to fill positions than unaccredited employers.
We recently spoke to Jenny Temenu, HR Director at Ayming UK, to find out how the company has incorporated their Great Place To Work recognition in their recruitment.
The Company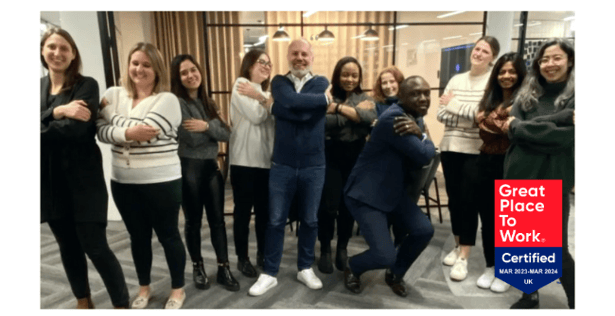 Ayming UK is part of a global consultancy comprising around 1,300 employees operating in 15 countries across Europe and North America.
They use their highly specialised knowledge on a range of fields to help their clients improve business innovation and people performance.
Take a look at some of their most recent survey results and you'll quickly realise why Ayming has earned repeat recognition as a great workplace:
100% of employees at Ayming say "I am offered training or development to further myself professionally" and believe that "Management is honest and ethical in its business practices"
94% of employees agree that "Management shows a sincere interest in me as a person, not just an employee"
92% of employees say they feel "proud to tell others I work here" and agree that "this is a fun place to work".


The Challenge
Employees are an organisation's greatest asset, so it's vital for any business to attract the best possible talent.
That said, staffing costs are understandably one of the largest overheads for companies of all sizes. This is especially true when working with external recruitment agencies who have, among other benefits, access to a larger pool of high-quality applicants, and resources to provide a smooth, speedy interview process.
After earning Great Place To Work Certification, leaders at Ayming UK realised they could use their strong employer brand in recruitment to help the company switch to hiring new employees directly.
"This seems like a simple task, but it really isn't," says Jenny. "We knew that we had some internal homework to do – about what will attract talent. A healthy environment is something that a lot of jobseekers were actively looking for after the lockdown. People were really revaluating what happiness looked like to them, and the kind of environment they were looking to work within."
Considering most working people spend around a third of their life at work, leaders at Ayming UK knew they'd need to highlight their great culture to get jobseekers excited about their potential "life at Ayming" if they were to join the company.
The Solution
"We started off by showcasing Ayming's culture via LinkedIn and clips of what life at Ayming looked like (incorporating Tiktok clips and Instagram)," explains Jenny.
"Importantly, we included our Great Place To Work Certification and Best Workplaces badges, as well as the percentages of our employees who are happy here at Ayming, on all of our job advertisements (this is something that other Ayming entities have also incorporated)."
By showcasing their employee value proposition alongside their company culture awards from Great Place To Work, Ayming UK saw an increase in job applications, with most of the applicants referencing the social posts and recognition badges as additional reasons for applying for a role within the company.
"Certification™ is an excellent recruitment tool and has shown an absolute ROI in terms of attracting top talent to Ayming UK. Over a 12-month period, we have saved £173,300 and counting in Recruitment Agency fees via direct hires mentioning our Great Place to Work recognition when applying for jobs."
It starts with culture.
Recruitment branding of your great culture in job ads will only work well when current employees' experience of their workplace actually lives up to the hype.
Ayming UK continues to survey their workforce, taking onboard the feedback from previous assessments to continuously improve 'life at Ayming' for all its Aymers worldwide.
Jenny continues:
"The last time we took the survey, the results were centred around our employees wanting better accessibility with our benefits (to understand them more), improving data around our remuneration bandings (salary and profits), and some of our Aymers felt there was favouritism within the team.
We have since created remuneration banding documents that set out our salary bandings transparently – in addition to linking our employees' yearly objectives closely with the company's annual targets – so that employees can clearly see how their bonus can be increased and achieved."
In addition to the weekly team meetings at the UK branch, during which all employees can voice their opinions, Ayming also runs quarterly global HR surveys to allow their full workforce to share their views anonymously and confidentially.
"We have also been able to evaluate our previous surveys' results against our 2023 survey results, and this has provided us with useful insight," Jenny says. "I truly believe we have an amazing Leadership and Management Team here at Ayming – who truly put the needs of our Aymers at the forefront of all decisions."

"We support Aymers on every level, right from the beginning of employment through to continuous learning development," she continues.
Take for instance our Sales Director, Fran, who began his career as a Business Development Manager; or Annabel Luxton, who started as an Associate Consultant, and is now a Manager and has been nominated for the Rising Star category within the Tolley's Taxation Awards for 2023.
Our 'promote from within' culture here has really helped our employees see that Ayming is a place where you can grow and stay for many years."
Continuing the Journey
An impressive 9 out of 10 employees at Ayming UK agreed with the survey statement "Taking everything into account, I'd say this is a great place to work".
So what's next for the Ayming culture?
"We really want to focus on creating action points with management from this year's results," says Jenny. "With this, we can make the necessary changes for the health and betterment of the team. Great Place To Work has done wonders for Ayming, and all companies should indeed consider the Certification process as a tool and aid for uncovering underlying factors, and a way to improve the overall success of the team."
Great starts here.
Elevate your brand with the globally-recognised, research-backed Certification™ that's based on what your people have told us about their employer.