Distilled from hundreds of employee surveys in 2020 and 2021, here are the key themes and data insights around workplace wellbeing that every HR should know.
Needless to say, 2020 and 2021 will go down in history as years like no other. But as with most times of crisis, radical change, adversity or difficulty, there are silver linings to be found - and a newfound focus on employee wellbeing is certainly one of them.
In fact, HR leaders we surveyed across the UK noted employee health and wellbeing as their single biggest HR priority in both years.
The Best Workplaces™ for Wellbeing realised long ago that providing adequate support for their people meant more than just a package of impressive perks on a careers website – it's a much broader and integral notion, intertwined into the fabric of the organisation.
So, how can you support your employees as the pandemic changes the world around us? Keep scrolling to find the answers...
NEW REPORT!
WELLBEING NOW: Key Shifts in Employee Wellbeing Since 2020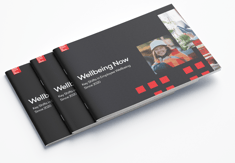 Access more data insights and best practices in our Wellbeing Now report!
Integrating Wellbeing & Culture
For some organisations, the Covid crisis necessitated a real focus on how employees were coping and feeling for the first time. But many of our Best Workplaces™ for Wellbeing had long since been delivering a culture of wellbeing, where everything the organisation does is conducive to psychological, physical and social wellbeing. That is: tasks and workload, working hours, communication channels, opportunities to socialise, physical and psychosocial work environments, as well as benefits and wellness nudges.
The effect of these practices is clear when we look at what employees at top-performing organisations had to say about their workplace, with 95% agreeing their company "actively promotes mental and physical health among its employees."
As one employee from Baringa (ranked no. 1 in the Large size category of our UK's Best Workplaces for Wellbeing list) explains:
"Wellbeing of people is paramount in such an authentic way (at a Baringa-wide level, regular events and communications bring together people, our Head Partner shares a weekly email summarising his musings that almost all reinforce wellbeing, our Partners share what they do to maintain their own wellbeing - tacitly giving approval to others to do the same)."
Reward & Financial Security
From fears of job security and omnipresent uncertainty in 2020, to soaring energy prices, supply chain shortages and heightened inflation in 2021 and 2022, key issues around reward and finances are once again at the forefront of employee wellbeing.

A relatively new area within the broader employee wellbeing field, which many employers have yet to explore, financial support initiatives are a valuable point of focus moving forward.
For employees today, money isn't everything. In fact, it's bottom of the list when asked to rate 'pay and security' against other key factors of wellbeing such as 'work-life balance', 'autonomy and flexibility' and 'people management'.
This suggests that people's sense of financial security, while providing an essential foundation to their wellbeing, is no longer enough to assure happiness or fulfilment at work.
So although financial wellbeing initiatives can help reduce money worries amongst employees, our data still points to more basic factors (such as fair compensation through pay and profit-sharing initiatives, and the provision of unique benefits) as being some of the biggest differentiators between the highest-scoring and other organisations.
As one employee working at Red Hat UK Ltd shared with us:
"In these times of Covid, Red Hat has gone over and above everyone's expectations by not only closing all offices worldwide and moving everyone to work from home status (hence providing safety), but also paying 100% bonuses and commissions ahead of time (so financial support), providing a one-off allowance that associates can use for anything (from childcare costs to home-office setup), having regular comms from the execs on wellbeing and looking after ourselves and our families."
Ultimately, employees are humans with lives, families and fears existing outside of the workplace – so their wellbeing shouldn't come as an afterthought or formality. And while certain wellbeing policies and practices can exist at an organisational level, it's something that's equally important to tailor to individual needs, supporting everyone to be their best unique selves.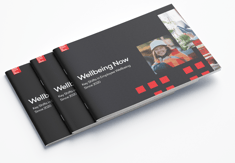 Discover more insights in our Wellbeing Now report!
---
To learn more about our employee wellbeing services, please click here.