We've been inspired by many of the practices and policies UK's Best Workplaces™ have adapted to help employees during these challenging times. Below The Sovini Group, our No. 1 ranked workplace in the Large size category, share how they've supported their teams in response to the coronavirus crisis.
There have been a few things we have done all with the emphasis of keeping people connected, valued and recognising their contribution in these challenging and difficult times. These include a card to all employees from the CEO and EMT with a heartfelt message inside to keep both themselves their families safe.
There is a strong emphasis on community spirit and what we can do to help others, sharing stories to encourage others to help out in their communities which links in with our purpose 'creating opportunities and changing lives'. We've also wanted to celebrate those employees who are making a difference in their local communities – our Sovini Superheroes!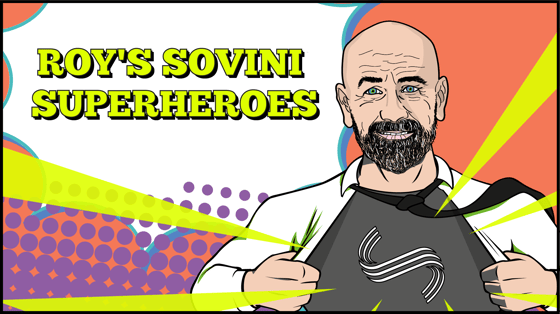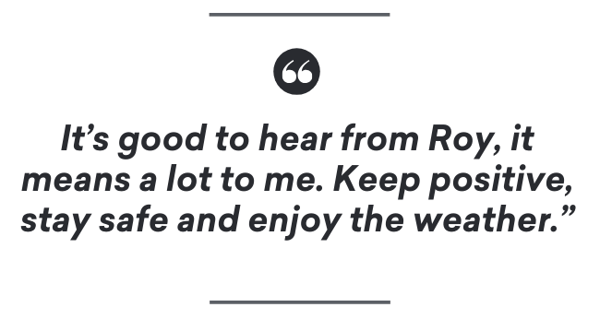 Whether they have joined the NHS volunteer army or helped out a vulnerable neighbour, we want to hear about it and celebrate their Sovini spirit. Employees are encouraged to nominate someone – a colleague or themselves – who's gone above and beyond for their local community during the pandemic. Roy, our CEO, then chooses one superhero every week who will receive a selection of treats to enjoy with their family as a thank you for spreading the Sovini spirit.
Roy has also been doing weekly videos, initially from the office and now from his home, keeping employees updated and wishing them well. This has been posted on our Employee App which can be accessed by all. The reception from staff has been really positive with one employee commenting "It's good to hear from Roy, it means a lot to me. Keep positive, stay safe and enjoy the weather."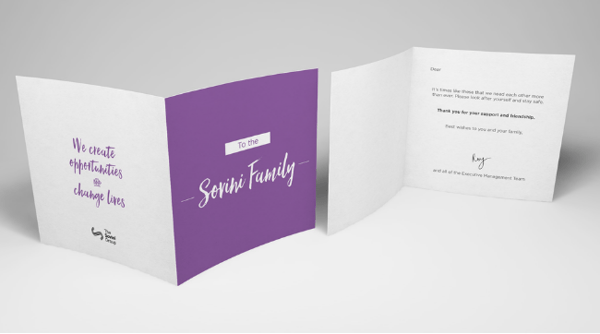 Above: The personalised card sent to all employees from the CEO and EMT
We have also put together a revised health and wellbeing plan encouraging employees to share hints and tips on any good podcasts, books or movies. One of our employees has agreed to post a short workout for staff and their families. We are also signposting employees to online entertainment including home schooling tips and much more!
Visit The Sovini Group's Great Profile to get a sneak peek into their award-winning workplace culture.
---
Resources to help you support your employees during the coronavirus lockdown: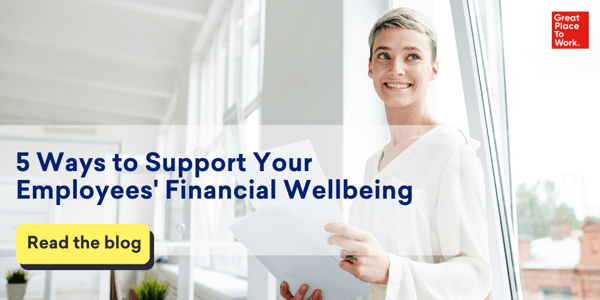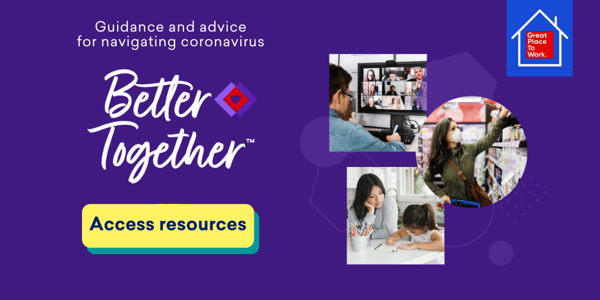 Great Place to Work® specialises in helping organisations build impactful workplace cultures. We are here to help support our clients during this period of uncertainty. If you are a client, please reach out to your Account Manager who can share the tools we have in place to enable workplaces to measure and understand their current employee sentiments. If you are not a current client, stay tuned to our blog posts, Twitter and LinkedIn for people practices, advice and thought leadership on how best to navigate this unprecedented time.