Like all our 2021 UK Best Workplaces™, ServiceNow takes wellbeing seriously.
This means frequently looking for ways to maximise their employee experience, making improvements wherever possible, and spreading the word about why the welfare of their workforce is so important.
"It's one of the reasons we entered the Best Workplaces™ Programme for the first time last year, and we were thrilled to receive Certification with a score higher than the average external benchmark!" says Jordi Ferrer, Vice President and General Manager UK&I at ServiceNow.
And what a year it's been! Despite the challenges of Covid-19, the Large multinational earned 9th place in their size category on this year's list. This is in addition to the special recognition received for being a centre of excellence in employee wellbeing in November 2020.
Some of ServiceNow's highest scoring areas, as rated by employees, include:
94% believe "This organisation actively promotes mental and physical health among its employees"

95% say "I am given the resources and equipment to do my job"

98% agree "Our facilities contribute to a good working environment"

96% say "I am able to take time off from work when I think it's necessary."
For Jordi, the company's success is down to its amazing people, great technology and tailored business initiatives.
Keep reading to learn how this global leader in digital workflows earned such remarkable Trust Index© scores and employer accolades in just one year.
Using Tech to Improve Wellbeing
Brand advocacy is one of the key benefits of having a happy, healthy workforce. In fact, over 93% of Best Workplace™ employees would highly recommend their organisation's services and products to others.
At ServiceNow, it's no different. One of the reasons for the company's astonishing 99% customer retention rate is that their employees feel proud to be part of the brand's purpose as a business.
As Jordi explains:
"There's a genuine love for the work we do for our clients, and it's clear to see the positive impact our technology is having. For example, we released our four new emergency apps just weeks after the arrival of the pandemic to keep people safe, happy, and well at work. Our Safe Workplace Suite followed not long after, to ensure a safe return to offices, when possible. And now, our Vaccine Management - to get citizens vaccinated and life back to normal."
In recognising their employees as "customer zero", ServiceNow ensures that their technology benefits their people as well as being able to deliver great service to their clients every day.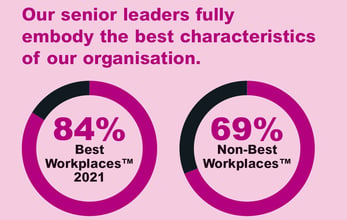 When onboarding new colleagues, for example, the company uses a single platform, delivered via mobile, which provides new starters with:
Access to all necessary new-starter forms;

The ability to choose the tech they want to use for work;

Complete the necessary learning journeys they need;

Get their logins sorted;

…and much more!
"Using our own technology to support employees has seen an overwhelmingly positive response," says Jordi. "25% of our employees in EMEA have now been hired entirely virtually, and 95% would recommend the experience. Not to mention, with employees seeing the value of our platform in their everyday lives, working for ServiceNow becomes that bit more inspiring."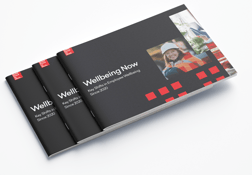 NEW REPORT!
Wellbeing Now: Key Shifts in Employee Wellbeing Since 2020
People and Culture
Leaders at top-performing organisations understand that, to be truly effective, great tech needs to sit alongside a high-trust, people-centric employee experience.
At Best Workplaces™ like ServiceNow, employees actively contribute to provoking change and fueling growth within the business. This helps to create an environment where everyone feels accepted, supported, and enabled to do great work - boosting trust, camaraderie and wellbeing across their workforce.
Individuals at every level at ServiceNow often work together to set up initiatives (incl. weekly quizzes, virtual coffee mornings, and mental-health check-in sessions) that help their teams to thrive, even in challenging times.
"More widely, our Culture Champion teams are constantly thinking of creative ways to give back," says Jordi. "Our NextGen initiative is one example, helping to identify previously undiscovered talent and equip people with the skills for tomorrow. On top of that, our strong culture of diversity, inclusion, and belonging helps ensure we fully integrate everyone into the team, whatever their background, career path, or identity.
"All of this makes a huge difference, because you can only perform at your best if you're allowed to be your authentic self. The pandemic is a case in point: we've had to deal with noisy kids, disruptive pets, bad internet, and much more besides. We've all had days where we've struggled."
Tailored Business Initiatives
As a business, ServiceNow has committed to do everything possible to treat customers and employees in the same way. As a result, business initiatives are tailored around helping staff to find purpose and excel.
'Enjoy the journey', for example, is one core principle the company is working hard to deliver by making employee wellbeing a huge focus for the business. "After all," says Jordi, "we spend much of our day working, so we should at least enjoy it!"
This is not to say that delivering on values is always easy for award-winning organisations. During a crisis period, even the best companies in the UK experience significant challenges when navigating a rapidly changing world of work. But with the right combination of culture and tech, ServiceNow has enabled employees to maintain a healthy work-life balance throughout the pandemic.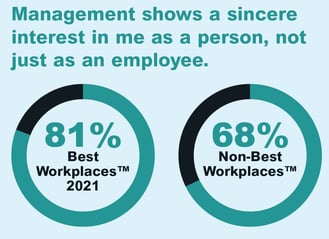 "We even set up the Emergency Self Report app to help keep tabs on employee health and wellbeing, so we can support staff straight away if they're struggling or recovering from illness," says Jordi.
The same goes for financial wellbeing: "Our no lay-off pledge was a commitment to protect the jobs and salaries of our 11,000+ employees for the whole of 2020. We also provided a £250 stipend for every employee to spend on work-from-home essentials, as well as a £500 allowance to invest in perks like childcare, sporting equipment, nutrition support, and home-schooling resources.
"We know we won't always get it right, though. That's why gathering employee feedback is a vital, ongoing process for us."
Continuous Listening
In addition to their bi-annual employee voice surveys, ServiceNow has also run a monthly wellbeing survey during the pandemic. This allows managers to respond quickly to employees' changes in behaviour and requirements to help ensure people are kept happy and healthy in these extraordinary times.
"We don't have all the answers, but a simple formula has served us well thus far. Hire talented people and enable them to thrive with the right tech; give them a job they can be proud of and offer them the support they need to bring their authentic self to work. If you can get that right, your employees will transform your company."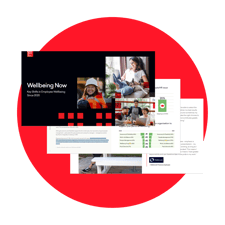 Wellbeing Now: Uncover key shifts in employee wellbeing since 2020
---
To learn more about our employer recognition programme, please click here.