Like many of our clients and Best Workplaces™, our GPTW UK family has been working hard to sustain and continuously improve our great workplace culture – especially in a year when we were mostly apart. Here's a sneak peek into how we've come together to help support each other's work-life balance, financial wellbeing and celebrate our people throughout 2020.
Sharing is Caring
Within the first few days of our organisation shifting to remote working in March, our teams' use of Microsoft Teams was in full swing!
From organically grown backyard crops and freshly baked breads and cakes, to long-distance cycle routes and snapshots of our local surrounds…we've had countless photos, videos and even drawings shared on our "Internal Wellbeing Matters" channel on Teams.
Sharing parts of our lives during lockdown helped us feel closer to one another despite working from various countries in and outside of the UK. Our colleagues were able to get to know one another better by discovering hidden talents within the team and learning from each other. We learnt the value of mindfulness and self-care; tried each other's recipes in our own homes; met new furry members of some of our families; and travelled vicariously through holiday photos posted on the channel throughout the year.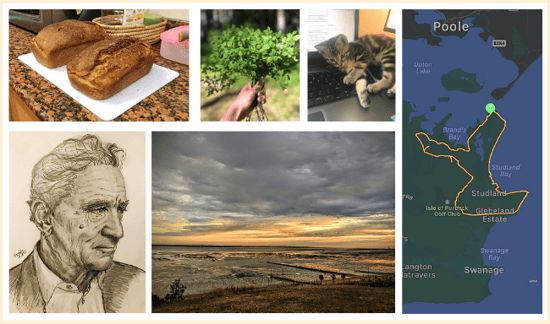 Above: Photos our staff shared on our 'Internal Wellbeing Matters' channel.
A "UK_All" channel was also created to make it easy for our senior leaders and fellow teammates to share work-related news, ask questions, or post recordings of meetings (such as our bi-weekly update from the MD) to everyone in the business. In our busy period towards the end of the year, colleagues also used the "UK_All" channel to alert everyone of upcoming annual leave days, so that people had foresight into when and for how long colleagues would be away (and, if necessary, whom they could contact instead).
Taking the Pulse
Using our own Emprising™ survey platform, our leaders created unique pulse surveys that were sent out throughout the first few months of the pandemic.
These weekly and monthly pulse surveys provided employees the opportunity to make their concerns and feelings known, which then gave managers invaluable insight into which issues and business areas needed to be prioritised.
Some of the open-ended questions in our pulses also allowed employees to share their own ideas around possible solutions to specific issues, nurturing innovation from within.
One example was the idea to use Mentimeter during all-staff meetings to allow employees to pose anonymous questions or comments on topics covered in our all-staff meetings. These posts could then be addressed by the MD in real-time, and recordings of the meeting shared on our "UK_All" Teams channel afterwards to maintain transparent, open communication throughout lockdown.
Flexibility for All
Since March, our team has had to adapt quickly and regularly to new challenges and the ever-changing lockdown measures implemented across the UK.
"Flexibility", for us, meant time as well as location – and having a high-trust culture meant we could provide flexibility in many forms. Here are a few examples:
Working parents with home-schooling or childcare responsibilities were given the freedom to revise their working hours for

better work-life balance

whenever schools were closed.
During the summer, we identified a need for our office to be made COVID-secure. The "Shifts" tool on Teams was activated so that those employees who needed a break from working at home could book one day per week to work safely from the office.
Employees who needed to travel abroad in 2020 were able to do so, having worked with their line manager to ascertain the most appropriate timeframes, and, in some cases, create a mix of annual leave days and working days from their destination.
The last quarter of every year is typically our busiest period at Great Place to Work® UK. With every department head-down in delivery mode, our MD announced a 'no meetings' period to be actioned every Wednesday in November between noon-2pm. The comfort of this guaranteed breathing space

decreased employee stress levels

and encouraged us all to

stick to healthy work boundaries at home.
Hawaii at Home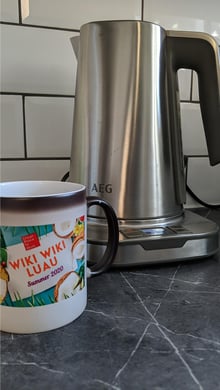 Pre-COVID, our Great Place to Work® UK Summer Party would typically involve an afternoon of outdoor teambuilding activities, followed by dinner with colleagues and any spouses or children who wished to join.
This September, we brought Hawaii into everyone's home with our unique "Wiki Wiki Luau" virtual event. Sporting tropical Zoom backgrounds and dressed in beachwear, leis and sunglasses everyone was invited to end work early and enjoy 2 hours of light-hearted entertainment created by our People Team.
With most of us based in London, magic heat mugs had also been delivered to employees' homes prior to the big day. Each included a personalised message to serve as a happy reminder of the event and help brighten the gloomy weather we knew was soon to come.
Learning Together
Learning is known to help drive employees' psychological wellbeing through one's experience of fulfilment, competence and effectiveness, while counteracting the threat that self-isolation posed to our mental health.
Much of our summer months soon became dedicated to self-improvement and mastering new skills. Whether they be work-related or personal, individuals had free reign on the topics and method of learning they preferred.
Mondays began with 'Virtual Kitchen & Learning Shares' hosted by our MD, allowing employees an opportunity to share how their chosen training and development was going, and to hear from others about their experience. Celebrating small wins together boosted us to keep working towards our respective goals – and often surprised us too!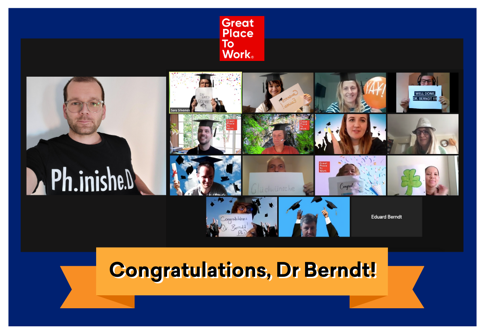 Above: Our team celebration of Dr Eduard Berndt's recent completion of his PhD in Psychology. Eduard works as our Quantitative Researcher at Great Place to Work® UK.
Our Account Management team is a prime example of the variety of learning we discovered was taking place in some departments. While one Director opted to improve his journalism skills, another would soon become a certified Coach, while yet another chose to practice multiple foreign languages via Duolingo (in fact, we had 19 colleagues across our organisation take up languages on the app, competing for the top spot on our weekly leaderboard between March-August).
Festive Finale
Juxtaposed with the Covid-19 pandemic, 2020 was also a year of heightened awareness of racial injustices around the world, which sparked discussions around equality in many workplaces, including our own.
During our 2020 Virtual Christmas Party, it was important to us that space be given specifically to celebrating our diverse workforce.
Prior to the festivities, various employees volunteered to prepare slides showcasing how they would typically celebrate Christmas in their culture and/or country of birth.
The slides – featuring traditional feasts, drinks, activities and clothing from Slovakia, Peru, Germany, South Africa and Finland – were then presented live by each participant taking turns to share their screen during the event.
Feel-good 'news' segments and a special video compilation of colleagues singing lines from a classic Christmas tune would eventually bring a heart-warming, cheerful end to an intensely challenging year.
We hope that by sharing some of our organisation's culture, and best practices by UK's Best Workplaces™ throughout the year, you too will be inspired to continue building a great workplace culture for all.
If your workplace culture looks anything like ours, get in touch to learn how your organisation can be Great Place to Work-Certified™ in 2021.

---
Recommended for you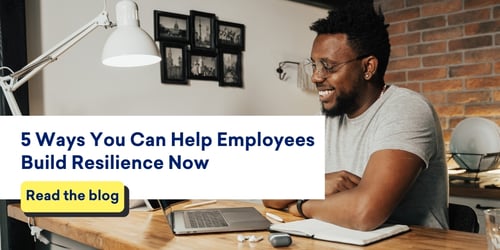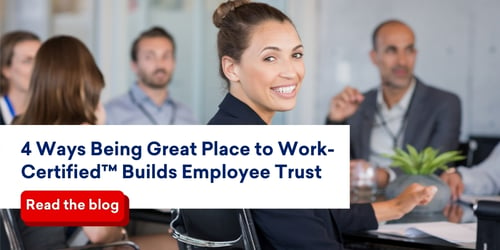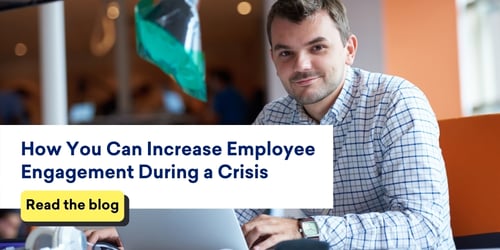 Great Place to Work® specialises in helping organisations build impactful workplace cultures. We are here to help support our clients during this period of uncertainty. If you are a client, please reach out to your Account Manager who can share the tools we have in place to enable workplaces to measure and understand their current employee sentiments. If you are not a current client, stay tuned to our blog posts, Twitter, LinkedIn and publications for people practices, advice and thought leadership on how best to navigate this unprecedented time.