Now is the time for organisations to look after the people who work for them. Build trust, respect, commitment and long-lasting teams with these critical leadership qualities and practices.
It surprised us, too!
Contrary to what many leaders may have expected in a year like 2020, we saw several of our clients' employee engagement scores dramatically increase during the Covid-19 pandemic!
Most of them were UK's Best Workplaces™ who decided to survey during the March-August 2020 period (peak months of lockdown and uncertainty). Yet despite this timing, we saw noticeable improvements in their levels of employee engagement when compared to their pre-Covid survey results.
A case in point is one of my clients in the financial services sector. Their survey was administered in May/June 2020, and of their 2,500 employees, an unbelievable 89% of them decided to take part in our employee engagement survey.
Between their 2019 and 2020 surveys, their engagement levels increased by 12% (organisations of this size tend to achieve yearly improvements of around only 3%!) to an outstanding average favourable score of 82%.
In context, this means that 82% of their employee population are fully engaged with their leaders and organisation - an extremely high employee engagement score indeed! Moreover, before the pandemic, the UK national average score was 62%.
So, how is this increase possible during a crisis?
Empathy leads to an increase in employee engagement.
The Covid crisis has become the ultimate test of business leadership.
Employees have been able to closely assess their leaders' actions in these uncertain times. Leaders had the chance to rise to the occasion with an appropriate response to the crisis. It has offered them an opportunity to shine in the eyes of their employees.
In successful organisations, we saw from hundreds of surveys responses that employees felt their leaders took the right business decisions by putting people first, treating employees with respect and doing their best to protect jobs.
Nothing inspires employee loyalty and engagement like knowing that your senior leaders care about you as a human being; that you are not just another cog in the machine or a number in their financials.
What drives employee engagement?
Clear direction, trust, empathy and compassion quickly are critical leadership qualities during a crisis. And it's these same characteristics that helped my client achieve such an outstanding increase in their employee engagement scores.
Following my client's results, it's not surprising that the survey statements which had the greatest impact on employee engagement were:
"Management is honest and ethical in its business practices"

"Our senior leaders fully embody the best characteristics of our organisation"


"The senior

leaders of my organisation are people I can trust"
"I strongly believe in the organisation's purpose and vision"

"I strongly support the 'operational goals and business direction' of my company"
Moreover, we can see signs of positive leadership and engagement in the comments employees included in their survey response, such as:
"Done the right thing for vulnerable employees during Covid which will never be forgotten by us"

"Not many businesses have taken the steps we have, and it does make me proud to be a part of company that isn't just thinking about profit during this time"

"Always puts its people before anything else. The Covid-19 pandemic has absolutely confirmed this in every way."
Key action areas
In this successful organisation, the most improved survey statements since 2019 were linked to communication effectiveness:
"Management keeps me informed about important issues and changes."
"Management makes its expectations clear."
"Management delivers on its promises."
"I believe management would lay people off only as the last resort."
"Management does a good job of assigning and coordinating" people."
With effective, open communication, leaders reinforced transparency and trustworthiness across the organisation.
Here's what some of my client's employees had to say:
"During Covid-19 we were given daily updates from our CEO to give us reassurance"

"Great communication about the Covid-19 pandemic and the steps that the company has taken due to the situation"

"The way we dealt with Covid-19 was amazing, no redundancies, or wage reduction. Took away a lot of worry and stress."

"The recent approach to manage the impact of Covid-19 situation has been absolutely first class, I don't believe the staff could have asked for anything more"

"The way the business has looked after its people during the Covid crisis speaks volumes."
Prioritise people and purpose
Globally, there's been a clamouring for companies to be more socially conscious, and for businesses to go back to their most fundamental purpose: Making a positive impact on people's lives and society at large.
Many organisations who decided to continue putting profits ahead of people or purpose have found their cost-cutting and personnel reduction tactics resulting in dire consequences on their people's long-term engagement levels.
In some cases, it's sadly meant the end of their business.
As an HR leader, not daring to survey your employees in times of crisis can have devastating consequences on the success of the organisation – even when we foresee negative feedback or potentially problematic comments and scores.
Something as simple as a monthly pulse survey will allow you and your senior leadership team to monitor, evaluate and quantify any potential engagement risk in the organisation.
Especially when your workforce is remote, the data obtained from your employee engagement survey can be an invaluable resource for navigating uncertainty and taking the appropriate action in real-time.
Employees will remember for a long time how they were treated during a crisis. Leading with empathy, respect and support is not only the humane thing to do, it's also a powerful way of reassuring your people that yours is an organisation worth working at for the long-term.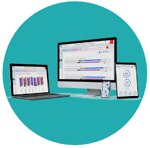 Need help improving employee engagement?
Easily administer employee surveys and see your results, analysis and actionable insights with Emprising™
---
This feature has been adapted from the original blog by Dr Gonzalo Shoobridge, former Director at Great Place to Work® UK.