"Leaders should approach the transition as an opportunity to evolve and enhance workplace culture, making our shared new normal better than the old ways."
With the majority of adults in the UK currently vaccinated juxtaposed alongside a significant rise in cases of Covid-19, the newest challenge facing HR leaders is when (if at all) their business should welcome employees back to the office.
But more importantly, do employees even want to go back? Does the thought of returning to the office and "old normal" inspire a sense of long-awaited relief, or induce a feeling of dread?
The answer: It's complicated.
And because the stakes are high – we're talking trust, retention, even people's health and lives – this must be given due consideration.
Why Hybrid Working is Here to Stay
According to an Envoy Return to Workplace report, 4 out of 10 employees say they would be willing to take a job with a lower salary if their company offered a hybrid work model, while nearly half (47%) agreed they would likely leave their job if their employer didn't offer a hybrid work model once the pandemic ends.
In our own survey of thousands of Great Place to Work® e-newsletter readers, returning to the office brought mixed results:
Only 30% are eager to return to their office of pre-pandemic times;
91% strongly agreed they enjoyed some parts of working remotely;
and 88% want to continue working remotely some of the time.
A premature or poorly handled return to work can be make or break for your business, so it's worth getting a few things right.
Here are 5 key considerations to keep in mind during your planning:
1) Take an individualised approach
A good starting point is the acknowledgement that everyone is different. Already in the summer of 2020, based on responses to the Covid-19 Care Survey run by Great Place to Work® UK, it became clear that employee opinions split into three broad categories:
Firstly, there are those distinctly apprehensive – or outright reluctant – to go back to the office at all, instead wishing to work from home indefinitely.
On the other extreme end of the spectrum, there are those employees who are exasperated with remote working and longing for the buzz of the office.
And finally, there are those somewhere in between, seeing the benefits of both remote and office-based work in even measure, and wishing for a truly hybrid model going forward.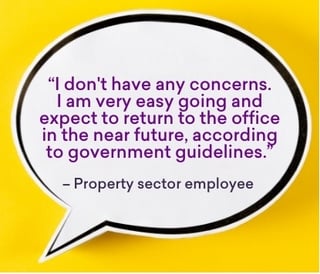 Given wildly varying individual circumstances, concerns and attitudes, a person-centric and compassionate approach must be used in supporting employees during a transition period.
Offering flexibility based on individual needs is always a good thing. But at the end of the day it needs to be balanced with the organisation's operational and cultural needs. It's therefore up to leaders to articulate high-level boundaries (when, how and where people can work), then empower their employees to decide exactly what works best for them within those boundaries.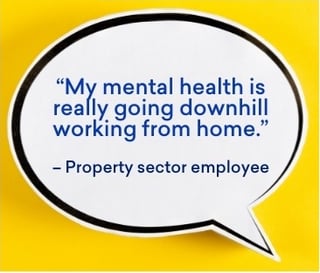 F
or

example, to accommodate varying work schedules we've seen several organisations implement core working hours that ensure meetings and collaboration can take place daily. Some have also stipulated specific in-office weekdays for all staff, with the remaining days available for people to choose where they will physically work.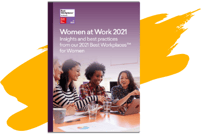 Closing the Gaps for Your Female Employees
Read top data insights, based on feedback from female employees!
2) Ensure two-way dialogue
It's important to understand that communicating safety precautions is as important as gauging employee opinions about them.
Perhaps the most obvious hurdle right now for bringing employees back to the office is ensuring the workplace is protected from Covid-19 health risks. This requires more than just implementing health and safety protocols – employers also need to check in on whether employees actually feel safe under such measures.
According to our reader survey, while 63% of employees said their company designs return-to-office policies with their safety in mind, only 35% reported actually feeling safe enough to return.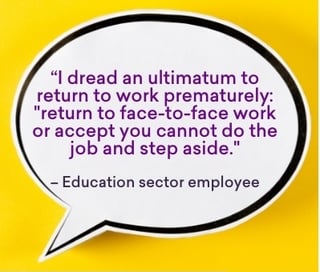 Re-opening safely is about more than supplying masks and hand sanitizer. It is about showing empathy, collaborating to create safety measures that work for all.
Provide employees an opportunity to voice their concerns so that these can be taken into account in developing your return strategy - such as via an anonymous employee pulse survey to uncover people's feelings regarding a return to work.
Next, explicitly acknowledge these concerns and share how they will be addressed going forward – giving people a chance to participate in the dialogue along the way.
This same two-way approach should also be used to refine the overall model for your working culture going forward.
3) Leverage the benefits of different working locations
A multitude of studies continue to demonstrate that working from home can yield the same, if not improved, individual productivity. At the same time, it's difficult to deny the benefits that come from being together in a shared space, such as smoother collaboration and more efficient group brainstorming, not to mention all those spontaneous informal interactions that underpin our sense of social connectedness – a major contributor of employee wellbeing.
In formulating your hybrid model, consider the benefits of activity-based working whereby specific types of work and tasks get done in the most fit-for-purpose environment.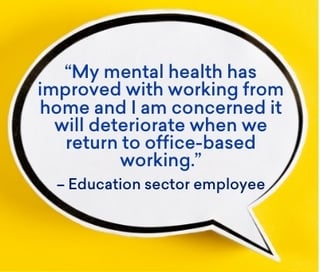 For example, this could mean employees spend a couple of workdays per week in the office meeting rooms working with other teams, then drilling down on more focused tasks individually at home on the other days of the week.
Or perhaps the best method for your workforce involves ad hoc hotdesking anytime people feel the need to be in-office, without a specific formal agreement between employees and the business for when those in-office days must occur.
Whichever shape your strategy takes, blended working will involve geographically scattered employees, so organisations will need to deal with its logistical and technological implications.
Sophisticated, collaborative IT platforms should make both meetings and work social events as inclusive as possible, allowing everyone in the business the full opportunity to participate and contribute, regardless of their location.
But it's also important to keep in mind that location is only one dimension of hybrid working. Other aspects such as working hours, patterns and even work arrangements and contract types will all come into play here. Converting to a hybrid model requires considering not just where people work, but also when and how they will do so in a way that can facilitate effective collaboration.
Ultimately, a successful hybrid model of working will take into account job tasks and workflows, as well as employee preferences and fairness.
4) Reflect and build on positive learnings from the past year
While exact preferences for working habits may vary, most employees can unanimously agree that some small form of good has come from over a year of adapting to remote work.
Whether this is regular time spent outside, more time for exercise or quality hours spent with family, learning to become more stringent with screen-time…a work from home culture has opened up unprecedented possibilities around work-life balance, healthy daily habits and nurturing various facets of our wellbeing.
Equally, this is a good time to evaluate what didn't go so well (such as the difficulty many people have switching off at the end of workdays or while on annual leave) and then consciously attempt to correct these going forward.
A holistic return strategy must factor in such improvements across employee wellbeing. And since these tend to be personal habits, individuals should be encouraged to reflect on what works for them, and how such tweaks could be integrated into enduring working patterns.
Where habits overlap amongst employees, promoting these best practices within the organisation will consolidate a genuine culture of wellbeing – such as an organisation-wide 'wellness break' in the middle of a given day as a designated time to leave your screen, or going as far as to introduce 'Zoom-free Fridays' or daily meeting bans after 4pm.
5) Be agile, ensuring an ongoing feedback loop with employees.
In reality, no matter how meticulous a return plan may be, circumstances can change. Some individuals may think they feel a certain way or have a level of readiness for in-office working, but then suddenly change their minds after one commute to the office.
It's important not to set your plans too much in stone. Instead, retain a level of flexibility in order to adapt to potential changes.
The only way to understand the myriad of employee experiences between the office and working from home is through careful and ongoing listening. Individual check-ins (possibly best done as informal conversations between line managers and team members) need to occur regularly to allow staff to convey feelings about the situation. An organisation-wide pulse survey is another great tool for gauging high-level attitudes, which will refine policies going forward.
Key takeaway
"Moving to an anywhere, anytime hybrid model will succeed only if it is designed with human concerns in mind, not just institutional ones."
– Harvard Business Review
Just like every individual has varying levels and types of concern, the 'right' way to approach a return process will look different across organisations – as Josh Bersin characterises it, "a huge, multi-dimensional, and constantly evolving topic without a single one-size-fits-all solution".
The strategy behind, and subsequent implementation of, your return to office process can't exist in a vacuum, nor should it be viewed as a purely logistical or operational challenge. Approach the transition as an opportunity to evolve and enhance your workplace culture, making your shared new normal better than the old ways.
The notion of 'work' will continue to becomes less and less rooted to a specific place, and increasingly characterised by a culture and community – no matter when or where it exists.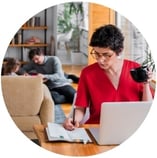 Need Help with Your Hybrid Working Strategy?
Our consultants can help you adapt your culture to best fit the post-pandemic working world.
---