During their first year participating in the Best Workplaces™ Programme, UNiDAYS achieved both accreditation as a Great Place to Work-Certified™ company and ranked among the 250 companies on this year's UK's Best Workplaces™ for Wellbeing list.
A quick look at their latest employee survey scores and we can easily see why. After all:
94% of employees agree with the statement "I am able to take time off from work when I think it's necessary";
93% of employees have a genuine feeling that "I can be myself here";
and 91% of employees believe that "People care about each other here."
Keep reading to find out how UNiDAYS are succeeding in making their employees experience high levels of wellbeing throughout the pandemic.
The Company
With over 22 million verified members across 115 markets, UNiDAYS is the world's largest Student Affinity Network, inspiring Gen Z to discover and connect with 800 brands and services globally.
Whether in college or university (or even sixth form in the UK), students in the network are provided opportunities to get more while spending less on everything from fashion and food to music and tech.
The Challenge
Since first opening in 2011, the UNiDAYS' UK branch has grown to over 200 employees.
After being forced into a sudden work-from-home environment when the pandemic began, leaders at UNiDAYS wanted to ensure they could maintain a healthy, sociable and fun workplace culture while people were separated. It's a challenge many businesses were faced with – and one that some unfortunately never got right.
"Being a sociable company, we were already organising activities and events for our employees on a regular basis," explains Caroline Abercrombie, VP of People at UNiDAYS.
"However, the idea for consolidating these and making them accessible to all in a remote world was initially developed by a group of employees, who were extremely passionate about maintaining our company culture and keeping these much-loved activities going."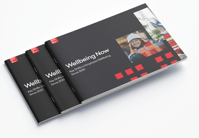 NEW! Wellbeing Now: Key Shifts in Employee Wellbeing Since 2020
Uncover 4 key areas of employee wellbeing workers across the UK are seeking from their employer.
The Solution
Good Vibes
Over the next few months, UNiDAYS would adjust their social activities and culture of wellbeing to meet the needs of their dispersed workforce.
Their 'Good Vibes Programme' is a prime example of how social activities are able to continue regardless of everyone's physical location. And to ensure the company can deliver what people actually want, leaders collaborated with employees to develop the framework for the Programme itself, rather than prescribing what it should entail.
As Caroline explains:
"The employee experience team switches up the events regularly and asks for feedback in surveys and discussions to give people the opportunity to input ideas. There is always a range of different activities that can meet people's requirements so that as many people can get involved as possible.
On occasion, we like to send out surprise gifts to people such as sweets for Halloween. The festive season is always the most popular, with activities such as gingerbread house and wreath-making, along with our Christmas Quiz. "

Above: Some of the Good Vibes Programme gifts and crafts activities enjoyed by UNiDAYS employees.
As a way of linking the Good Vibes Programme to their DE&I initiatives, UNiDAYS also hosts special guest speaker events for employees. "One example was a keynote by Shaun Wallace (a 'Chaser' from 'The Chase') during Black History Month, in which he talked about appearing in a documentary on racism and his experiences," says Sophie White, People Operations Manager at UNiDAYS.
"We were also honoured to host a keynote by Richard Whitehead, a four-time Paralympic gold medallist who shared with us his experiences of overcoming adversity. In combining these sorts of events with the fun gifts and activities within the Programme, we're able to go further in helping our people build meaningful connections with one another even when we're all remote."
As one UNiDAYS employee shared with us in their anonymous survey response:
"The fact that we are regularly able to take time out of doing work tasks to learn about something new whether that's a talk from an expert or an art and crafts session or a mindfulness session. I think that really shows how much the company care about wellbeing and the staff experience."
Flexibility For All
Acknowledging that employees are humans, with lives, families and commitments outside of the workplace is a key characteristic of our UK's Best Workplaces™ for Wellbeing
UNiDAYS already has policies surrounding flexibility in place, such as core hours, which are reviewed regularly, to support the work-life balance of their people.
"Giving people the freedom to walk their kids to school in the morning, or quickly pop out to attend a personal appointment at various times of the day, is another way that we're showing our employees we trust them," says Sophie.
"We know that, as long as they communicate their plans with their manager beforehand, they'll get the job done."
Continuing the Journey
Allowing people the flexibility to incorporate non-work activities into their working hours has been embraced by UNiDAYS team members on a global scale. As a result of this, the company recently made the decision to move permanently to a distributed workforce while also granting the opportunity for people to meet-up in person if they wish.
"We have retained our campuses (offices) to give people the choice of where they want to work, and they remain well-used, particularly for team meetings for better collaboration," says Caroline.
"We also introduced a new Employee Assistance Programme and access to mental health services in 2021 to increase the support available outside of work where people may feel more comfortable to talk."
-----

-----
UNiDAYS has also introduced a Mindful Charter as a support tool for how best to work remotely. The Charter outlines the standards expected of everyone and shares tips on 5 key areas: Effective Communication, Respectful & Open Collaboration, Rest Periods & Wellbeing, Mindful Delegation, and Smart Meetings and Emails.
To further support work-life balance post-pandemic, UNiDAYS is currently implementing a policy to allow all employees to make formal flexible working requests from Day 1 of joining the company.
As Caroline explains:
"Our focus is to make our working environment truly inclusive. We are in the process of reviewing our employee benefits package to ensure it is still fit for purpose now that ways of living have significantly changed for our team members.
"We currently have five trained Mental Health First Aiders, working in a range of job roles and departments, to support individuals across the business. And since the GPTW survey, we have trained 44 People Managers as Mental Health First Aid Champions, equipping them to better support their team's mental health and wellbeing….We will continue to run our own internal quarterly surveys to gather feedback to shape the way we support our employees post-pandemic."
In receiving UK's Best Workplace™ for Wellbeing recognition, UNiDAYS has proven that their people love where they work and feel trusted and supported by their employer.
"Competition for talent is fierce, and as a fast-growing company we need to stand out if we're to attract and retain our best people. The Great Place to Work® accreditation, and now being included in the UK's Best Workplaces™ for Wellbeing list, demonstrates we're a people-first business with a great culture and fantastic team."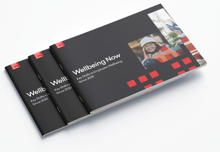 NEW! Wellbeing Now: Key Shifts in Employee Wellbeing Since 2020
We examined hundreds of employee surveys to uncover the 4 key areas of employee wellbeing workers across the UK are seeking in 2022.
---
For information on our employee wellbeing services, please click here.