It's an employee's market. Employers need to step up their game to beat the competition and the crunch.
The crunch
For much of this year, living in the UK has felt like every other week a strike is happening. Whether it's transport services, junior doctors, or postal workers, there is no denying the public sector is currently at odds.
We haven't seen industrial action like this in decades; catalysed by the pandemic, cost-of-living crisis, and years of employees feeling undervalued.
One thing is for certain: job satisfaction in the public sector is at an all-time low.
But a yearning for improved work-life balance, flexibility, fair compensation, and purpose has contributed to a seismic shift in the bargaining power of employees working in the private sector, too.
Quiet quitting, the Great Reshuffle, and other countless buzzwords have evoked anxiety within many business and HR leaders.
In fact, employees across sectors are leaving their current jobs in droves, with the level of job-to-job resignations in the UK having increased from 105,000 in Q3 2020 to 322,000 in Q1 2023.1 Additionally, every day in the UK 9.8 million employed people are job hunting.2
The most common reasons people report wanting to leave their jobs are lack of salary increases (26%) and/or a lack of career progression opportunities (22%).1 However, there is a plethora of reasons why an individual may be looking to leave their current role, including feeling undervalued or wanting a better physical work environment.
The most important thing to note is that this isn't just about a competitive compensation package. Job satisfaction and retention encompasses the whole employee lifecycle and the organisation's culture.
SMEs are the most at risk
Despite the massive population of employees looking for a new role, multiple businesses are struggling to fill empty positions. While this is true for companies of all sizes, SMEs have been particularly affected.
For example, even with a 94% increase in job vacancies in Q2 2022 from March 2021, 8 in 10 SMEs report struggling to fill their vacancies3 – in stark contrast to the UK's Best Workplaces™ who average a fantastic 40% more applications per job opening.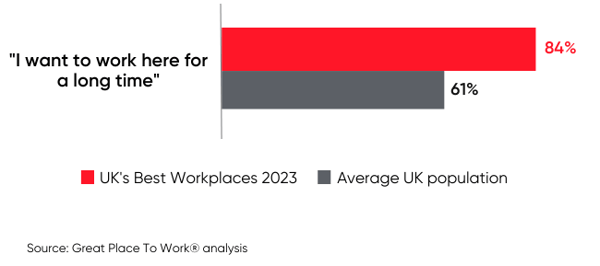 But what impact could this have?
In 2022, UK SMEs accounted for most of the employment and half of UK turnover in the private sector.3 These businesses are a key part of the economy, growing at a rate at which recruitment efforts cannot keep up.
Without SME employers effectively tackling the hiring challenge, we may see a broader impact on the wider economy.
What HR can do
1. Get a competitive edge
Candidates are evaluating organisations as much as companies are evaluating them. When jobseekers see an employee value proposition that showcases an engaging and exciting culture, they are more likely to apply to those companies.
Competitors and Great Place To Work Certified™ companies with a stronger employer brand, holistic benefits offering, fair pay, and more flexibility will therefore stand out from the crowd and hinder those organisations who don't do the same.
In fact, a recent population study found that two-thirds of UK employees say they'd "be more likely to apply for a job at a company officially recognised as a great place to work."4
Increasing benefits (where possible in the current economic climate) could help create a competitive edge. Other tactics such as offering varied career opportunities, flexible working hours, or extra paid leave can also be implemented to make the organisation more attractive.
Surveying your workforce is a useful place to start so that HR leaders can make informed decisions about what areas of their company culture they should focus on or prioritise over others to improve their employees' experience and help increase talent retention.
2. Review hiring processes and resourcing
If you want to get candidates through the door, start by easing the journey to get there. Strict hiring criteria (e.g. tight specifications within job descriptions) can prevent valuable candidates from applying for roles. There is a skills gap currently within the workforce, so re-evaluating requirements and opening discussions for on-the-job training could help get more talent coming in.
Take the time to review your hiring processes and reevaluate your hiring criteria to uncover what barriers may arise for potential applicants.
This also provides a great opening to look at your own workforce and see what opportunities are available for internal mobility and promotions. One of the biggest resources an organisation has is its workforce. By looking internally before externally, you open the opportunity to fill positions and enhance your employees' career development.
3. Regularly monitor and adjust areas of focus
Employees live and breathe your workplace culture, and therefore have a perspective like no other, providing invaluable insight into the organisation and its leaders.
The Best Workplaces don't just survey annually. They seek employee feedback regularly throughout the year, often using targeted pulse surveys to help address specific business issues that were identified previously.
For example, consider conducting onboarding surveys to get an idea of what the hiring and recruitment experience has been like for new starters, then optimise to provide an even better experience for subsequent hires.
You can take this further by connecting with your Employee Resource Groups, which can help identify how you can ensure equitable and fair processes by reducing barriers to entering the workforce.
Lessons from the Best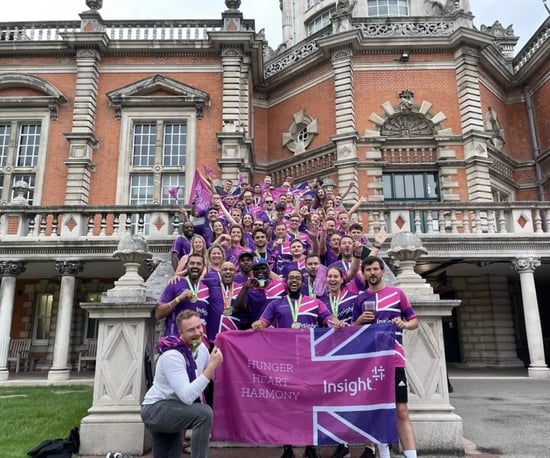 When new employees join Insight Direct (UK) Ltd, they receive 'Stay Interviews' in the 1st, 4th, and 7th months from starting. This aims to address any issues or concerns they may have, and creates an environment where people feel comfortable and empowered to raise issues or bring forward new ideas.
NVIDIA offers prospective new joiners the opportunity to have an 'Insider Interview' with a member of an Employee Resource Group. This isn't a formal part of the recruitment process, but rather provides a way for candidates to learn what it's like to work at the company.
Key takeaway
In the UK, 67% of employees say they are "more likely to trust a company officially recognised as a great place to work".4
It is no longer enough just to advertise a vacancy and say 'our culture is great'. Leaders looking to hire the best talent and tackle the crunch will need to optimise the candidate experience, and get trusted third-party validation of their people proposition to obtain a competitive edge.
Beat the crunch, get Certified™
Prove to potential hires that your company offers a great experience. Start the journey to validate your people proposition with Certification.
---
Great Place To Work (2023) UK Population Study