We recently analysed anonymous survey responses from over 190,000 UK-based employees at Best Workplace companies. Here are 4 key reasons why they say they genuinely love working for their employer:
1. They're excellent communicators.
Best Workplaces recognise that communication goes two ways.
They ensure everyone in the organisation receives regular interaction from the leadership team. And each person – no matter how junior their role may be – is provided sufficient opportunities to share their views and ideas on how the business can be improved.
Upon receiving feedback, Best Workplaces then take it a step further by acting on it in a timely manner, and they get their people involved in discussions around what the best method would be for driving the change.
We also see evidence of frequent collaboration across teams when analysing survey comments. Employees often describe how they value when their employer helps people find ways to work together, rather than in silos, whether they are on site or working remotely.
As one employee told us:
"We are a remote-first organisation, but I don't feel isolated or forgotten about – we are actively encouraged to create hubs to enable meetups with other colleagues in our local areas."
2. Their leaders are respected and trusted.
Strong leadership was one of the key characteristics of the No. 1 companies on the Best Workplaces List.
Qualities that employees mentioned about their great leaders include:
a willingness to be open, inclusive and empathetic;

upholding the values of the organisation;

demonstrating credibility and fairness;

inspiring trust;

and taking accountability.
Visibility of top tier management was also a common theme across all organisations ranked on the list.
3. They give people enough flexibility.
Best Workplaces championed flexible working long before the Covid pandemic, and have continued to evolve their approach to flexibility to suit the changing needs of their people and business.
In many companies, we saw mention of 'email curfews' (such as between 7pm and 7am, for example) during which time people cannot send non-urgent messages. This empowers employees to create clear boundaries between work and personal time during remote working.
Across the myriad ways Best Workplaces have decided to practice flexible working, it all comes down to high levels of trust.
As one anonymous survey comment explained: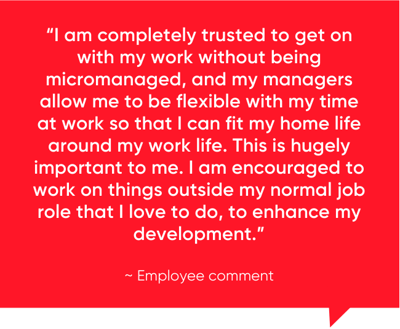 4. They are for all.
Equity in the workplace is not just about fair pay – it's also about enabling all employees to reach their full potential.
The best companies to work for offer inclusive working methods that cater to the varying needs of their people.
For example, to help their people feel supported in all work environments, one organisation gives employees an 'Office in a Box' – a collection of tools and equipment that allows employees to work at home, in the office, in the field, or a blend of all three.
Several Best Workplace companies have also recently updated their benefits policies to cater to people's modern life experiences (such as menopause, endometriosis, or having a baby in a same sex marriage), while others have taken a fresh look at how they can ensure a consistently great experience for every age group within their multigenerational workforce (e.g. through initiatives like reverse mentoring).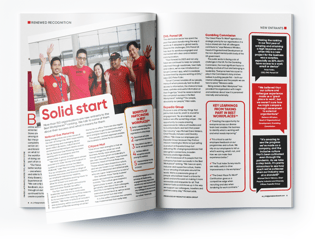 Unlock more best practices and data insights in the Best Workplaces Magazine 2023!