Empowering your employees to better understand and speak about their financial worries boosts trust and decreases stress - helping them live healthier lives and deliver better business outcomes.
What 'financial wellbeing' really means
Financial wellbeing, a relative new kid on the workplace wellbeing block, has been receiving increasing attention since the start of the coronavirus pandemic – and for good reason. Contrary to what some may believe, financial wellbeing is not determined by generosity of salaries, and there is no need for the business to know intimate details about how employees use their pay. At heart, financial wellbeing is really about how individual employees feel about their personal financial situation.
Within workplaces, a culture of financial wellbeing (linked to the six key aspects of employee wellbeing) is reflected by the initiatives, visibility and empathy around financial support. Therefore as an employer, it's about how you can support your people towards feeling more secure, in control of and even unconstrained by their financial situation.
"Money really is the last great taboo. Less than half of people are comfortable talking to anyone apart from their partner about their personal finances."- Salary Finance
"How openly can we or do we talk about money here?"
This question is central to building a healthier financial wellbeing culture for your employees. There has never been a more relevant time for reassurance, open communication, sharing of resources and practicing compassionate, active listening to the individual financial concerns of your people.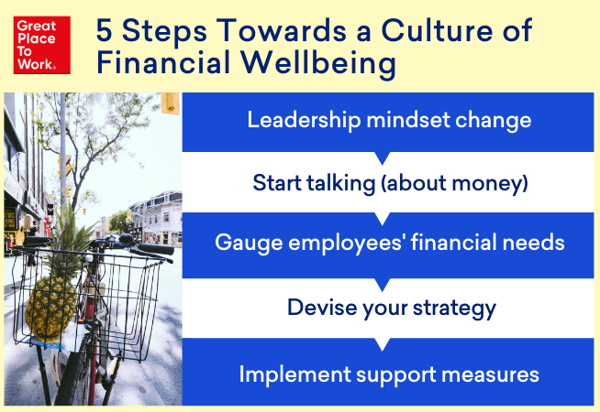 Employees' sense of financial wellbeing doesn't occur in a vacuum. It influences and is influenced by several areas of our wellbeing, most notably mental health.
Here are 5 key steps towards creating a more open and collaborative culture of financial wellbeing:

Leadership mindset change
A mindset change within leadership is the first critical step and a prerequisite for any financial wellbeing measures – especially where attitudes have been more aligned with the belief that employers should have nothing to do with their employees' personal finances. This is not the case. Leaders need to embrace employee financial wellbeing as a component of overall workplace wellbeing, acknowledging that the organisation has a valuable role to play here.
Start talking (about money)
Actively invest in a finance-friendly culture where it's okay to talk about money (and to feel worried by it). This should be backed by senior leadership and role-modelled by line managers and wellbeing champions within the organisation.
Gauging employees' financial needs
Gauge the financial needs of your workforce – what level of need do people have? What kind of initiatives, benefits or support would they benefit most from during the coronavirus crisis?
Devising your strategy
Devise a financial wellbeing strategy (informed by these needs), linked to your overall wellbeing strategy which will likely touch upon other areas including social, physical and mental wellbeing.
Implementing support measures
Implement financial support measures based on your strategy. This could include financial education on benefits (such as savings and budgeting tools), apps, insurance policies, financial planning services, or salary-linked benefits such as loans. Remember to continuously monitor and measure their effectiveness.
With natural instincts to protect one's personal finances during this uncertain time, organisations have a real opportunity to embrace financial wellbeing measures.
During the pandemic, there has been a continued sense of urgency and awareness around our financial security. Early on, a YouGov poll commissioned by The Food Foundation had found that over 1.5 million adults in Britain were unable to obtain enough food, with 6% of respondents having borrowed via personal loans to make ends meet.
Fears around impacts of the prolonged crisis – including a global recession, stagnation of entire industries, lack of job security, cuts to salaries, pensions, investments and other savings – have touched most of our lives in some way.
That's why our Great Place to Work® UK team partnered with Octopus MoneyCoach to provide all employees the option to have 1:1 sessions with a qualified financial coach free of charge. During the height of lockdown in 2020, Octopus MoneyCoach published invaluable Covid-19 resources at no cost to the public.
We were also greatly inspired by the work of Salary Finance, encouraging all our employees to use the brand's Financial Fitness Score calculator to gain insights and awareness into one's individual financial situation, and have offered support accordingly.
But beyond these benefits, we practice transparency, openness and compassion when talking about finances in our biweekly company all-staff meetings – addressing the organisation's finances and acknowledging individuals' concerns.
Financial wellbeing is a major contributor to stress and overall wellbeing. There's never been a more appropriate time to acknowledge the personal financial issues experienced by your employees.
In doing so, HR and leadership teams will cultivate trust and ultimately develop a better employee experience for all.