Photo: Prima employees celebrate their Great Place to Work Certification™ amid the COVID-19 lockdown.
In recent months, we've talked a lot about how COVID-19 is affecting companies and teams around the world, and how the Best Workplaces™ are responding. We've touched on supporting employees' mental health, how to keep remote teams engaged and how to create conversations around sensitive topics such as employee financial wellbeing, gender, race and more.
It would be easy to look at our COVID-19 resource hub and think that the only things a company can do during this time are about survival — minimising negative effects of the pandemic and living to fight another day. But while it's true that some companies are still figuring out how to keep the lights on, the reality is that now is also a time to invest in the future of your organisation.
Certification™ by Great Place to Work® is a powerful way to give your people something to celebrate while helping you attract and retain the best talent.
Here's how Certification benefits your organisation:
1) There has never been a more critical time to find out what your people are thinking.
In 2020, our understanding about what our company, people and customers want or need, and how they behave, has changed dramatically. The best way to find out what they're thinking: our Trust Index© employee survey – the first step in earning Certification.
There are real costs to waiting until things get better to listen to your people:
You lose out on key insights about what matters most to employees now
You become blind to how employee needs are changing in response to crisis
Your best people might not wait around for you to ask later – and instead find a company where leaders care now
By giving employees opportunities to express their experiences and ask questions in your survey, leaders provide a sense of ownership and influence during changes, which can greatly lower employee stress and fear. As one employee from certified company Brown-Forman UK shared: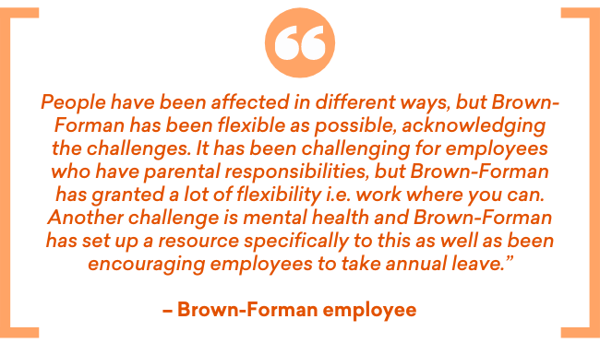 In addition, surveys unlock a rich source of data and solutions for managing change. After all, your people are the key to revealing ideas that have the potential to transform your business and culture.
2) Great Place to Work® Certification signals that you are truly a people-first organisation.
Unfortunately, many companies say they put their people first, regardless of whether or not their actions actually back up these claims. So how do customers and jobseekers know which companies really care for their employees?
That's where Certification comes in. It's not something companies can fabricate. It's not anecdotal. It's a trusted stamp of approval, backed by quantitative and qualitative data from real employee survey responses.
Certification shows potential candidates and others that you consistently work on developing and improving your employee experience, and are committed to building and maintaining a high-trust company culture. Here, Hilton – a 2020 World's Best Workplace™ – provides an extraordinary case study in being people-first during COVID-19:
CEO Chris Nasseta had stopped receiving his salary in late March and, together with other company leaders, made the difficult decision to cut about 22% of its total corporate workforce; extended previously announced furloughs, reduced work hours and decreased corporate pay. To support furloughed team members globally, Hilton created a partnership with leading companies with no job openings. The worldwide initiative connected displaced Hilton employees from hotels and corporate offices to more than a million short-term jobs created by the pandemic.
As of mid-September, Hilton had placed thousands of team members in temporary positions around the world. Some of the partner companies include Albertsons, Amazon, CVS, Lidl, Wegmans, and Walgreens.
"Our company's spirit has always been grounded in a culture that supports our Team Members and delivers hospitality for our guests," explains Nassetta. "We will keep that spirit alive, and when the world begins to travel again, we will be ready to welcome them back."
As Hilton employees attest, their company never wavers from caring for them. And they're ready to help it get back up.
-----
Start Your Journey to Certification!
Does your organisation have 10 or more employees? Are you proud of your workplace culture? You could be the next Great Place to Work-Certified™ company!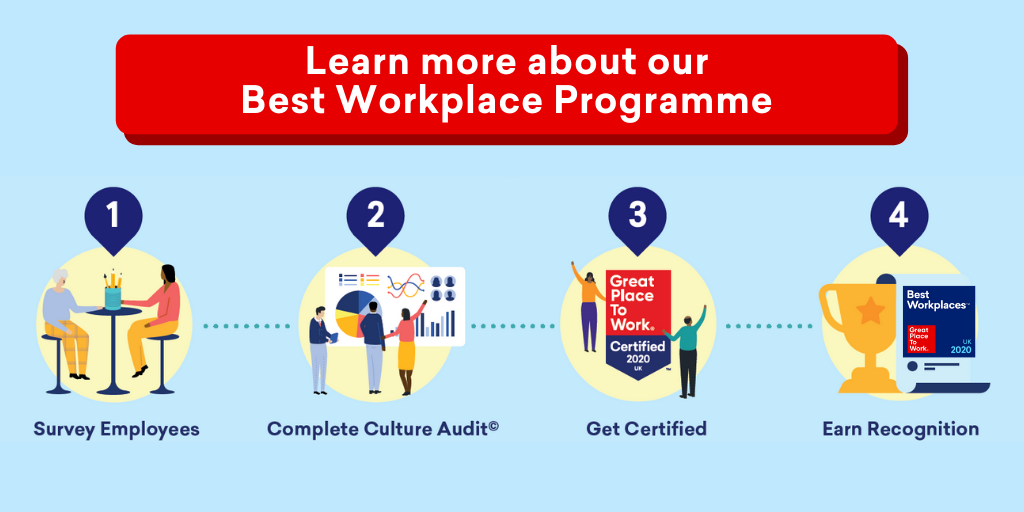 -----
3) Certification builds trust, camaraderie and pride at a time when your employees need it most.
We are all searching for things to celebrate these days. Earning Certification is good news that your whole team can celebrate together – even if you are remote.
Here are some examples:
Give the gift of time

–

Work-life balance has never been more important (and, for some, more difficult) to sustain. A great way to say 'thank you' is to offer employees some extra time to pause, relax, and take in what they've accomplished. Some workplaces choose to close early on the day of their Certification announcement. You can also go a step further by offering for everyone to work reduced hours every day during the week of the announcement.
Surprise and delight

–

Celebrate employees as they enter the office or join an all-staff video call on the day of the announcement. If meeting virtually, create custom Zoom backgrounds for your People or HR Team to utilise and share with employees on the day of the announcement. You can also select the 'share with audio' or 'share computer sound' options available on many video conferencing software to include music when sharing your screen. Some clients use this as an opportunity to highlight positive data from their survey results as part of their celebration.
Celebrate line managers

–

Ensure your managers know the difference they make in the lives of your employees. One healthcare company held a pinning ceremony in which chief leaders presented a commemorative pin to each manager. Create a gift or special recognition that fits in with your unique culture.
Send a care package

– Have a wellness pack or a branded care-based gift sent to employees' homes. If everyone is returning to work, arrange for sanitised decorations to be placed on desks for people to decorate their workspace when back in the office. Don't forget to showcase your Great Place to Work-Certified™ badge on those decorations!
Use what others have done for inspiration – we've got 18 ways to celebrate your Certified status

here

!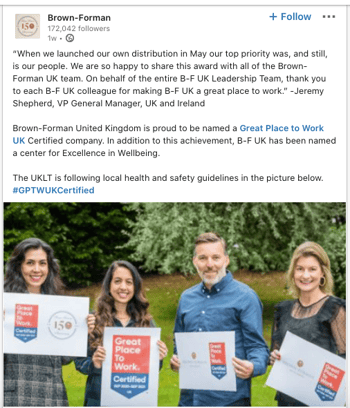 Above: Brown-Forman celebrating their UK Certification on LinkedIn.
4) Certification tells employees that you care about them and their future.
To follow leaders, particularly through challenging times, people must believe they can rely on their leaders to deliver on promises and match actions to words. They fundamentally need to believe that their leaders care for them and their future.
Getting Certified sends a clear message to employees that you care about their experience and wellbeing. And when people feel like their company invests in them, they'll put in their best for their company.
Now is the perfect time to show your commitment to being a people-first organisation – and to shout it from the rooftops!
Certification provides you and your employees an opportunity to smile and celebrate one another when those moments are harder to come by.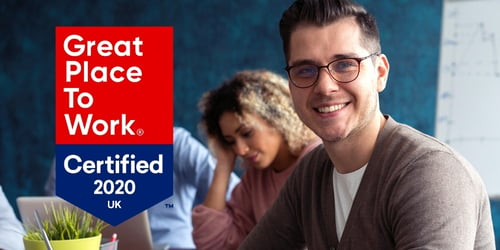 Get in touch to book a slot in our next 'Get Certified' webinar using the button below.
---
Recommended for you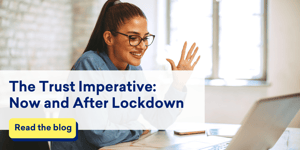 One unchanged element, in 2020? Trust – still an imperative to business success. Read more >>>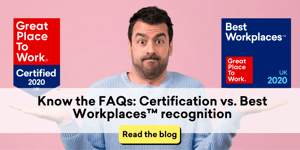 You asked, we answered. Read more >>>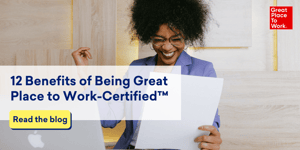 Certification is more than just a shiny badge. Read more >>>