Having internalised how to conceptualise the pillars of employee wellbeing, and what kinds of survey questions best capture its most fundamental elements, the next step is to develop an employee wellbeing strategy – or refine this where one already exists.
What is an employee wellbeing strategy?
An employee wellbeing strategy, quite simply, refers to the plan of action that an employer creates to safeguard or improve the wellbeing of its employees. Typically, it exists concretely as a document outlining the goals, objectives and rationale behind employee wellbeing, as well as the specific initiatives and actions that will actualize these.
How to develop an employee wellbeing strategy
At its best, an employee wellbeing strategy is rooted in data, i.e. measurements of employees' current sense of wellbeing at work, and any gaps in this experience. Such data can be gathered by various quantitative and qualitative means, including anonymous surveys with open-ended questions - like our employee survey allowing for richer data, focus groups, or one to ones.
Once a data-driven strategy has been built, and action plans have been implemented spanning across various initiatives, further measurement is warranted to assess the effectiveness of these. This is best done through more targeted pulse surveys zoning in on specific parts of the employee experience, while tracking high-level outcomes (job satisfaction, daily subjective wellbeing, stress and burnout risk etc) to track changes over time. Where new issues or priorities become apparent, strategies need to be adapted accordingly – as per the cycle of continuous improvement, shown below.
Employee wellbeing strategy examples
An employee wellbeing strategy can, for example, be built on the back of the Great Place to Work wellbeing model (shown below).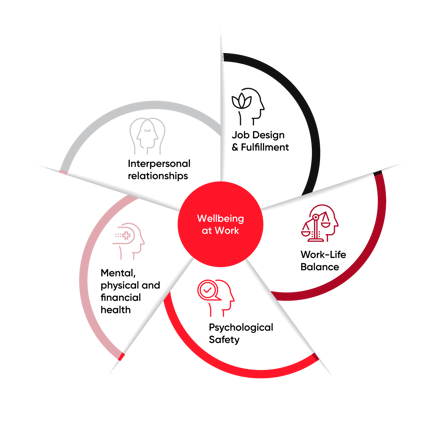 As the foundation for understanding the five main pillars of wellbeing at work, the model allows organisations to compartmentalize the five areas of employee wellbeing to measure and improve. The Extended Wellbeing Index, available as part of our employee survey platform, in turn offers a methodology for measurement, allowing gaps to be spotted. Finally, an employee wellbeing strategy document can be written detailing the challenges, priorities and initiatives for each of the five areas – Psychological Safety, Mental, Physical & Financial Health, Work-Life Balance, Interpersonal Relationships as well as Job Design & Fulfilment.
Ultimately, an employee wellbeing strategy will look and feel different across various organizational contexts. Crucially, whilst an this reflects a snapshot of a moment in time, it should be a constantly evolving representation of what wellbeing outcomes are important for an organisation, and how these are to be actioned.
If you want to build or improve an employee wellbeing strategy, our data-driven insights and solutions can help.