As more UK businesses prepare to reopen, HR teams and employees are faced with new challenges in bringing people back to work safely.
This goes beyond deciding how much budget should be allocated to installing appropriate screens, temperature checks, sanitisers and other safety measures that may help decrease the risk of COVID-19 transmission. Managers are also constantly trying to keep up with the ever-changing government guidance, which is subject to change at any time, possibly with little to no warning.
For many employees, a long-distance commute by public transport may evoke more fear and anxiety than being back in their office, factory, retail store or other working environment which management has made COVID-secure.
So what should businesses and employees be doing in preparation for a return to work?
Legal Advice for UK Organisations
Answers by Fergal Dowling, National Head of Employment Services Group at Irwin Mitchell LLP.
Great Place to Work® UK: What steps must every UK organisation take, no matter their size or industry?
Fergal Dowling: "All employers must take all the reasonable steps to ensure that their colleagues work in a safe environment. If risks are identified, they must take steps to reduce these to the lowest practicable level.
Before re-opening, employers must carry out Covid-19 risk assessment which involves:
Identifying what work activity or situations might cause transmission of the virus
Thinking about who could be at risk
Deciding how likely it is that someone could be exposed
Removing the activity or situation, or if this isn't possible, controlling the risk
Each of these 4 steps need to be carefully considered and documented, and employers should follow any relevant recommendations set out in sector-specific guidance produced by the government and any other relevant approved trade/sector guidance.
Therefore, if employers have altered the way in which they do things to comply with the Covid secure guidance, they must make sure that the new procedure is also safe. If it isn't, then they are potentially liable for the injury."
GPTW UK: What is the most important guidance that HR leaders should take note of when drawing up new policies and practices during this time?
FD: "Communication is really important. Colleagues will need reassurance that their employer has put in place all the necessary measures to protect them.
Employers that explain why they have put in place new policies and practices, and address individual concerns are more likely to encourage colleagues to support them, building trust and confidence and increasing engagement and support for new policies and practices."
GPTW UK: How can companies prepare for a potential second wave or sudden re-implementation of strict lockdown measures?
FD: "If work can be done from home, then make sure that IT systems can continue to support this. If the work can't be done from home, then employers may have to consider whether they will be able to continue to ask colleagues to come into work, or will operate on a skeleton staff, and/or rotate staff.
Companies may also want to protect the more vulnerable people in the organisation, in line with any new rules on shielding, etc. The furlough scheme is due to end on 31 October 2020, and there's no financial help available to employers to help retain staff. It might be sensible to look at colleague contracts and agree layoff clauses and start to think about electing representatives in the event redundancies are necessary. Workplaces that don't recognise unions or have elected representatives must elect them if they are planning to make 20 or more redundancies within a 90 day period. The election process can take longer if people are not in work and communication has to be undertaken remotely."
GPTW UK: Some companies will be fortunate enough to hire new employees during the pandemic. What legal considerations should businesses consider if things change and they feel they can no longer afford a salary offered to a new employee?
FD: "All new joiners must receive a written statement which sets out information about the work they are employed to do, and the benefits they receive, on either their first day of work or earlier.
However, the parties will enter into a binding agreement once the employee has accepted an offer of employment. Generally, an employer won't be able to reduce the salary offered or make any other significant changes to the terms and conditions offered without the colleague's agreement. If they don't agree, then the employer can terminate the agreement on notice in accordance with the terms of their contract (minimum notice periods apply once someone has worked for a month or more)."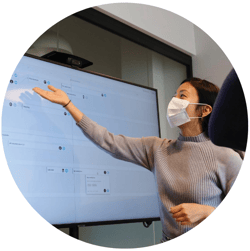 NEW! 'Return to Work' Employee Survey by Great Place to Work® UK
Get in touch to learn more about our Return to Work survey and how we can support your organisation during COVID-19.
The Employee Experience at Irwin Mitchell
GPTW UK: How have you ensured employees' safety and kept people engaged throughout the crisis?
FD: "We've moved as many tasks as we can to be undertaken through home working. Where this is not possible, we have ensured that we have minimised the number of colleagues on site and ensured we can support with compliance on the Government, NHS and Public Health advice.
We also developed a mechanism of ensuring we were able to keep colleagues updated with information and the way in which processes have changed through our intranet, emails and a series of virtual events. We have found that teammates' engagement in virtual events has increased significantly and has opened up a mechanism to receive feedback and questions. Throughout the virtual events we have maintained accessibility to the senior leadership team to support with questions and sharing of information.
At Irwin Mitchell, we continue our ongoing focus on wellbeing. Having already had healthy mind advocates and a huge amount of resource available to our colleagues, we have maintained this focus and momentum throughout the pandemic. For our colleagues who were shielding, we put in additional mechanisms for contact and telephone support to ensure they were engaged and able to share any concerns.
"Risk assessments have been developed in relation to site access and activity and we are developing generic risk assessments for other face-to-face activity which colleagues are keen to engage with, such as attending court.
We are now working on enabling a small fixed team of colleagues to work from site but working in very different ways to those we've been used to previously, ensuring we maintain social distancing of at least 2 metres and we have put in additional measures in accordance with the risks identified in our risk assessment.
Most recently, we have developed a home working guide and a hub on our intranet pulling together all the information in an easy to find, digestible manner."
GPTW UK: Can you share some key practices your HR team has implemented recently?
FD: "Very early on we ensured there was active engagement with colleagues and accessibility, as well as a central point of contact for the sharing of information, questions and reporting any symptoms. This enabled us to have a standard way of responding to colleague queries and also a way of tracking self-isolation periods and supporting those employees who might have symptoms.
We also reviewed our policies and introduced changes to support colleagues who were caring for family members, home schooling or had other caring commitments. It was imperative for us that our people could embrace flexibility to work best for them and their personal situations.
Setting up mechanisms for shielding colleagues to be contacted on a regular basis to just check in and find out how they were doing has been very important and well-received. Supporting on all wellbeing activity and sharing information, access to support and a focus on wellbeing and mental health is something that we already had in place and now has an increased focus and opportunity during the past few months and this continues.
Very quickly we converted our learning and development proposition from face-to-face delivery to remote delivery to ensure that our colleagues continued to be supported. For our leaders, we introduced a number of modules including leading through uncertainty and remote leadership ensuring that we are developing and equipping our leaders to support our people.
For more advice on managing the employee experience during COVID-19, visit our dedicated 'Better Together' resource page:
---
The views and opinions expressed in this feature are solely those of Irwin Mitchell LLP and do not necessarily represent those of Great Place to Work® UK and its employees.
About Irwin Mitchell LLP: The 11th largest law firm in the UK, Irwin Mitchell ranked in the top 20 places for both UK's Best Workplaces™ and UK's Best Workplaces for Women™ (Super Large category) in 2020. The firm offers a broad range of legal services to national and international organisations and institutions, small and medium-sized businesses and private individuals. Operating out of 15 UK offices, including a consulting office in Middlesbrough, Irwin Mitchell also has one of the five largest Private Wealth teams in the country.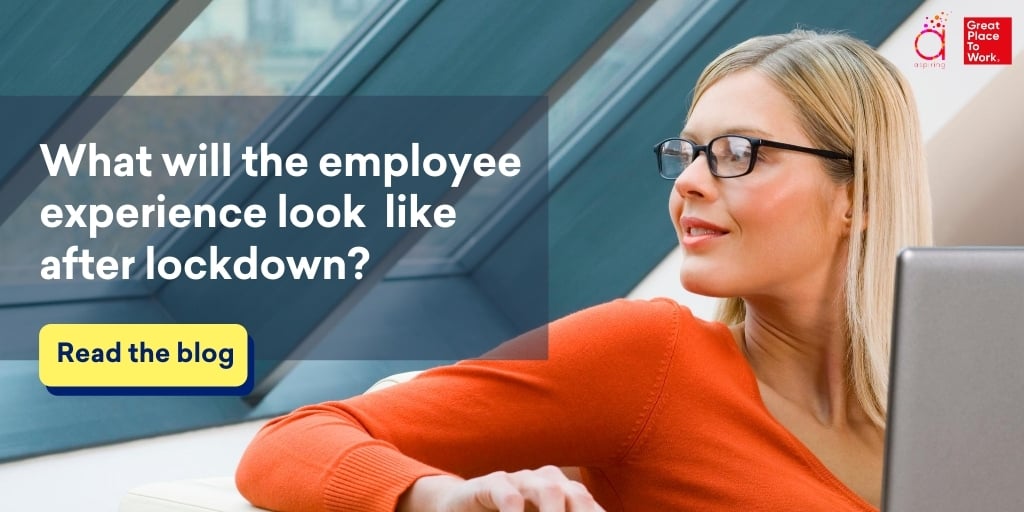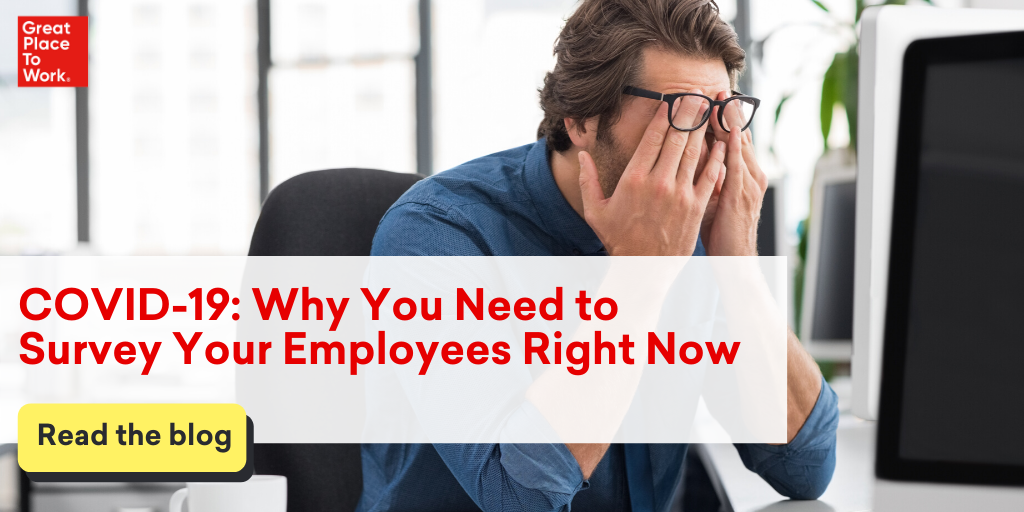 Great Place to Work® specialises in helping organisations build impactful workplace cultures. We are here to help support our clients during this period of uncertainty. If you are a client, please reach out to your Account Manager who can share the tools we have in place to enable workplaces to measure and understand their current employee sentiments. If you are not a current client, stay tuned to our blog posts, Twitter and LinkedIn for people practices, advice and thought leadership on how best to navigate this unprecedented time.