Our Best Workplaces recognition lists are extremely competitive. Here are a few tips to help increase your chances of ranking on next year's list.
Earning Best Workplaces™ recognition is no easy feat – especially as more and more organisations have become focused on creating a great employee experience post-pandemic.
If this was your first year entering the programme, don't be disheartened. Many companies take a few years of trying before they acquire the scores needed for recognition.
And if you're a company who was previously ranked but not successful this year, that's normal too. Remember, our lists are extremely competitive, and 'great' is a continuous journey.
As the adage says: 'What got you here, won't get you there.' You already have the foundation of what makes a great workplace for all. Now it's time to look towards the next steps in making it even better.
Here's what to do if you didn't rank on our workplace recognition lists:
Tip #1: Don't sweep it under the rug.
Delivering disappointing news is tough, but worth doing.
After all, your employees took time out of their busy day to answer the anonymous Trust Index™ survey. They'll be waiting to hear what came of it – and the good news is, you've got the data to do this.
So, when sharing your news, be honest about the outcome while conveying optimism as you look to the future.
Remind everyone of the areas where you did get high scores and celebrate those small wins you've made thus far.
Then recap key areas for improvement you've identified for the short and mid-term, and the specific plans that your organisation has already put in place to make yours an even greater place to work.
Not only will this honest sharing boost trust within the organisation, it also increases the likelihood of employees participating in future surveys.
We've created a printable checklist to help you get started.
Tip #2: Reignite excitement around your Certification™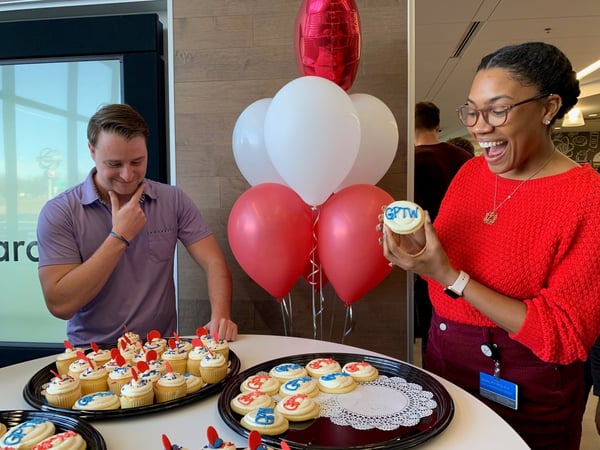 Every company hoping to be ranked on our Best Workplaces lists first had to earn Great Place To Work-Certified™ status.
Unfortunately, many companies fall into the habit of only celebrating their Certification once when they receive their badge.
But the beauty of this first recognition milestone is that you can use your Certification badge, royalty-free, everywhere and as many times as you like throughout its 12-month validation period.
Struggling to think of what to do this time around? Here are 21 ideas to help you get started.
Tip #3: Evolve your employee experience.
You've figured out the core of what makes your unique culture and celebrated those small wins. Now it's time to focus on your employee experience.
This means looking at each stage of the employee lifecycle – from how you recruit talent through to how people exit the company – and improving the experience at every stage.
Perhaps it involves interviewing new starters to see if they're getting everything they need during their onboarding. Or maybe it's about revisiting the comments from employees' survey responses to see if you've missed any potential opportunities for fostering inclusion or belonging.
Ultimately, what Best Workplaces all have in common is extremely high levels of trust. If your chosen strategy fosters trust and empowers people to contribute to the business in a meaningful way, you're on the right track for earning recognition.
Tip #4: Upskill your leaders
Upskilling managers and directors is as important as developing employees.
Ask yourself: When was the last time our C-suite executives turned on their out-of-office and enjoyed some bespoke training?
Leadership coaching is an effective tool for maximising one's potential, accelerating organisational performance and increasing personal effectiveness.
The right coach would partner with leaders in a thought-provoking, creative and hands-on way; listening, asking powerful questions and providing constructive and supportive challenge when needed.
Some Best Workplace organisations have also made use of psychometric assessments during coaching, to gain insights that can help drive meaningful action.
In search for a great coach? We may have just the person you're looking for here.
Tip #5: Send out regular pulse checks.
We don't check our bank accounts only once a year, so why would we only check on employees annually?
Pulse surveys provide a quick, simple method to monitor how you're doing along your journey, allowing you to isolate and measure key factors that are most important to your business.
Taking these sorts of temperature checks shows employees that you are a listening organisation, and that they have a voice that counts and could make a real difference to their workplace.
This regular monitoring of your progress means you can keep following up on and diving deeper into issues at strategic points throughout the year.
Just be careful not to create survey fatigue with too many checks. Once a quarter is a good limit for most organisations (incl. the more comprehensive Trust Index as the survey for one of the quarters).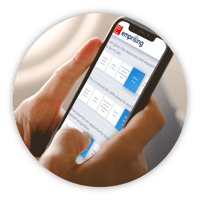 Tips for creating the perfect pulse survey:
Keep it short – pulse surveys should comprise around 10-15 questions
Keep it simple – it should take people just a few minutes to complete the entire survey
Keep it focused – include a few outcome questions and at least one open-ended question that's action-oriented, giving you ideas from employees for what action you can take after collating everyone's feedback.
Don't forget to share the feedback from your pulse surveys, just as you would with the annual Trust Index survey.
You don't have to do it alone.
Even if you didn't make it onto our Best Workplaces recognition list this time around, next year could be yours for the taking.
Remember, every ranked company currently on our lists will also have to work harder to ensure they can earn repeat recognition.
The great news is: we're always here to help.
Our Great Place To Work Consultants can help you clarify underlying root causes of issues within your employee experience, and where your organisation should focus its change programme to achieve your objectives.
So don't give up.
And if you ever need us, know that we're just a call away.