We share best practices for creating a disability inclusive workplace.
The value that a diverse workforce, inclusive of disabled employees, brings to your organisation is no secret.
Broad perspectives offer exciting opportunities for innovation and collaboration. So how can you promote disability inclusion in your workplace? Keep reading to find out.
The Disability Employment Gap
According to government statistics, 16% of working age adults in the UK are living with a disability. Of those, only 53.2% were in employment as of 2019.
Whilst this is a significant improvement on previous years, it's still a long way off from the number of non-disabled people in employment - 81.8%.
Organisations have a legal duty not to discriminate based on disability, but ensuring equity in your hiring process goes beyond that. Practical policies like making your job adverts accessible and making reasonable adjustments during the interview process will ensure that differently abled applicants are not at a disadvantage.
Being a genuinely inclusive workplace, however, is about more than just hiring diverse staff. Establishing practical support and creating a culture of inclusivity are vital to truly support employees living with a disability.
Practical Support
Making adjustments to certain processes, allowing flexibility and providing equipment that disabled employees may require will ensure they can thrive at work.
For example, using live captions in video calls can help deaf or hard of hearing colleagues to stay in the loop. Allowing disabled employees to work flexible hours can also help relieve stress by ensuring they can work when they are feeling their best.
Whether they're on-site or working from home, making sure that colleagues living with a disability have access to the equipment they need is vital.
Here's how one of our UK's Best Workplaces™ for Wellbeing support one of their disabled employees:
"As a disabled employee, I receive support here that I have never received anywhere else - if I need adaptive equipment, such as a magnifier or large print keyboard, then the company fully support me with providing it."
This level of practical support is a must for all organisations to support their disabled employees, but there's something else that's potentially even more crucial:
Creating a culture of inclusivity means that differently abled employees will feel comfortable, safe and able to ask for any reasonable adjustments they may need without fear of judgement. This is especially important when we consider invisible or hidden disabilities which may not be immediately obvious.
A Culture of Inclusivity
Fostering a culture of openness, where differences and diversity are acknowledged and celebrated, will help all employees - including those with physical and mental disabilities - feel welcome and supported.
Giving employees the opportunity to disclose any disabilities and ask for reasonable adjustments during the hiring process will instill a sense of openness and inclusivity right from the induction stage.
Asking for employee feedback by conducting pulse surveys can also help ensure colleagues feel they can speak up about any issues they may be having.
In addition, making sure managers feel they know how to support disabled employees practically and emotionally will go a long way to creating the inclusive culture you're looking to achieve.
As one employee employee from Places for People (another UK's Best Workplace™ for Wellbeing organisation) told us: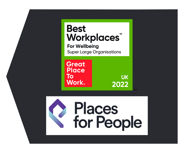 "Both my Area and Line Managers are extremely considerate towards me and always find ways of making my working life easier as I have a physical disability."
The Bottom Line
When employees feel safe, comfortable and supported in their workplace, they thrive both emotionally and professionally.
By offering the support needed to ensure disabled colleagues flourish, you unlock the full potential of your workforce and help your organisation flourish too.
Need Help on Your DEI Journey?
Our Insight Consultants can support you in measuring and improving equity and inclusion in your workplace.