In May 2021, it was reported that businesses in the UK and Ireland were at risk of experiencing a £16.9bn talent exodus as thousands of employees look for a role change post-pandemic.
This means one thing for HR leaders: right now is a critical time to think about your employer brand.
Retention is also a key reason why so many companies looking to hold onto their talent see Great Place to Work-Certified™ status as a must-have for their organisation.
We recently spoke to Finola Pierse, HR Director (International) at Discover Financial Services, to learn how investing in the Certification process has helped their leadership team uncover key insights about their great workplace culture – and where they're headed next in their journey to possible Best Workplace™ recognition.
Why Certification Matters
Before, during and beyond the pandemic, retention is a constant on every HR's to-do list.
Our GPTW data analysis shows that employees working in high-trust cultures – where people feel supported, appreciated and empowered to do their best work – have a longer tenure at their employer than those who don't.
Rather than waiting until after the Covid crisis, leaders at great workplaces like Discover recognised the pandemic as the perfect time to gauge how their people were feeling.
"It's always important to hear from our employees about their experiences and this was heightened during the pandemic," explains Finola. "We participate in our enterprise-wide engagement surveys, but taking part in the Great Place to Work® survey was a first for the UK.
"It has been a hugely proud moment for all of our employees in Discover UK to become Certified™. It has benefited us both internally in showcasing our UK organisational culture, and externally, we believe our certification will accelerate our employer brand in the UK."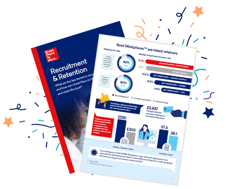 Recruitment & Retention in 2021
See how top-performing organisations hold onto their talent (incl. best people practices)
Knowing What Employees Want
Earning recognition as a 'great place to work' is based on direct, confidential feedback we receive from employees. By asking the right set of questions, managers can identify exactly what employees love most about their workplace and which areas of the business need improvement to create an even better work experience.
At Discover, 76% of employees agreed "we have special and unique benefits here" – less than ten percentage points away from the score needed to be recognised as a Best Workplace™. As such, the company is working to improve how they communicate benefits to UK employees to ensure everyone knows what is available to them.
In addition, leaders performed a review of the company's benefits offering. "For example, since Certification we have announced significant improvements to family friendly policies and developed new materials to better showcase our entire benefits offering for our UK employees," says Finola.
The same Trust Index© employee survey also uncovered a need to make sure more of their workforce feels informed by management on important changes and issues within the organisation. Supplementing regular local leadership communication with direct communication from their CEO & President, Roger Hochschild, directly to all employees, regardless of location, is one way in which Discover maintains trust across their global remote workforce.
"All key business communications are recorded to ensure all employees, regardless of location and time zone, have the opportunity to hear these communications. Beyond that, we are all encouraged to live onto our Discover Behaviours by taking responsibility to provide feedback on what is working well and what can be improved so that, together, we succeed," Finola continues.
"We will continue to test and learn which communication channels are most appropriate to use to ensure that all employees feel up to date with the latest company news [and] make sure that our goal setting process enables employees to have clarity of what is expected of them."
A Great Experience For All
Discover is proof that large companies can be great places to work for all employees across many locations and demographics.
Here are some of the impressive employee survey results that enabled this multinational digital banking firm to earn their UK GPTW Certification:
94% of employees regard Discover Financial Services as "a great place to work"

89% say "this is a psychologically and emotionally healthy place to work"

97% agree "people are treated fairly here regardless of their gender."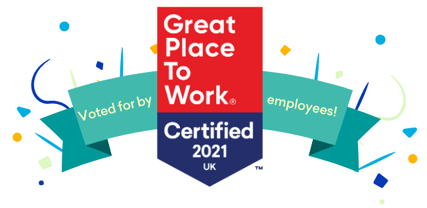 Now It's Your Turn!
Organisations with 10+ employees will be Great Place to Work-Certified™ with a Trust Index© employee survey score of 65% or higher. Get in touch to learn more.
---