In their latest survey, 89% of employees at Irwin Mitchell LLP felt they were enabled to work flexibly and remotely supported by a smart working environment on both a team and individual level. Other high scoring areas for the law firm in 2020 include:
93% of employee say "People here are treated fairly regardless of their race or ethnic origin"
91% of employees agree "My manager/supervisor treats me with respect."
88% of employees agree that "My manager/supervisor is someone that I can trust."
Keep reading to find out how this award-winning Super Large law firm has been able to develop and sustain a truly people-first workplace that serves their colleagues, clients and communities.
The Company
One of the largest law firms in the UK, Irwin Mitchell LLP sits among the top 20 rankings in both our 2020 UK's Best Workplaces™ and 2020 UK's Best Workplaces for Women™ lists for the Super Large category.
The firm offers a broad range of legal services to national and international organisations and institutions, small and medium-sized businesses and private individuals. Operating out of 15 UK offices, including a consulting office in Middlesbrough, Irwin Mitchell also has one of the five largest Private Wealth teams in the country.
The Challenge
Over the past five years, Irwin Mitchell made the shift towards putting clients, colleagues and communities front and centre of their business.
With 'colleagues' making up a third of their strategic focus, leaders sought an effective way of ensuring the firm could continue to attract and retain the best talent and grow the business. They would do this by placing sufficient emphasis on becoming a truly 'great place to work' for all.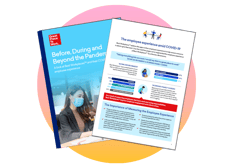 Before, During & Beyond the Pandemic
Gain insights and best practices from the employee experience at Best Workplaces™
The Solution
Work was undertaken to develop the firm's people strategy, aptly called 'Colleague Commitment', which included the shape of their leadership programmes and defined the company DNA (or 'what it means to work at Irwin Mitchell').
Already a client since 2015, the HR team had access to benchmarks and invaluable employee feedback and data from Great Place to Work®. These insights helped managers to understand their progress and identify priority areas to make sure their 'Colleague Commitment' remained on track.
From employees' feedback, Irwin Mitchell was able to implement programmes on a national, regional and team-specific level to improve the colleague experience across every facet of working at the firm.
This work included:
improving the gender pay gap;
implementing more flexible working options to improve employees' work-life balance;
enhancing the firm's recognition schemes and making bonus policies easier to understand;
focusing on ensuring their communications were clear at all levels;
and investing in new technology.
"Being recognised as a 'great place to work' is an important achievement for the whole firm," said Andrew Tucker, Group Chief Executive. "Our colleagues want to know we will do as we say, and trust that we will take action on their feedback."
Tucker continues: "Our results over the past few years show that we are listening and have taken clear steps to address any challenges directly. The survey offers us a greater understanding of what colleagues think about working at Irwin Mitchell, what they are proud of and, crucially, what things we can improve on when deciding future policy."
Continuing the Journey
This approach to continuous improvement, and using their annual survey to monitor progress, has helped leaders at Irwin Mitchell to hone in on the areas that matter most to their people.
In response to the Covid-19 pandemic, for example, the firm worked hard on creating tools supporting colleagues to manage their wellbeing throughout 2020. And this work, alongside the other focus areas identified as a result of feedback from employees, still continues today.
As Tucker explains:
"We understand that you can't fix everything at once. A great culture can take years to build, but we are very clear about what it means to work at Irwin Mitchell and how we can embed this vision further across the business."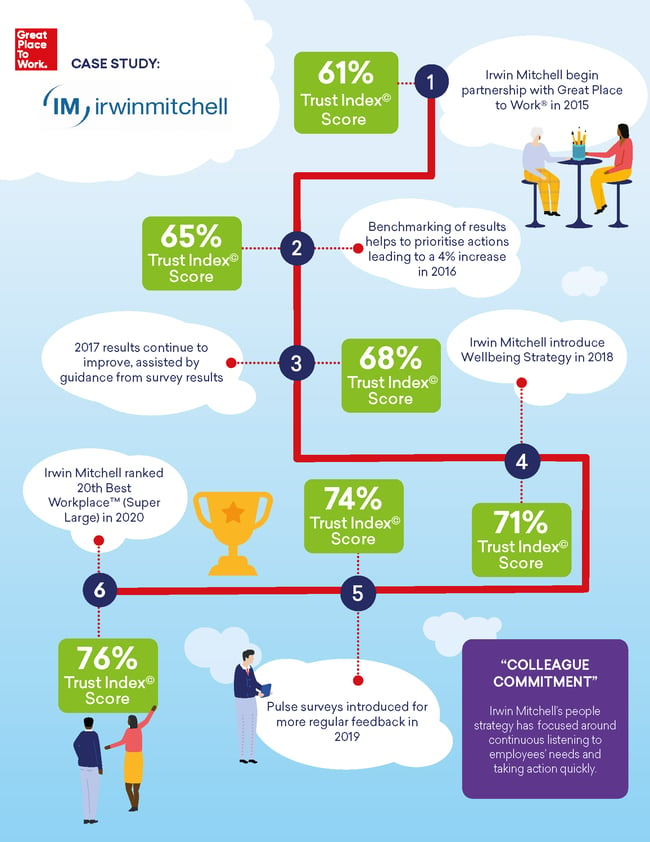 Validate Your Employee Experience
Organisations with 10+ employees will be Great Place to Work-Certified™ with a Trust Index© employee survey score of 65% or higher. Get in touch to learn more.