In their March 2020 pulse survey, 98.8% of employees at Ombudsman Services said they were getting the support they needed from their line manager. This is just one of many impressive achievements the social services non-profit has made within the last year.
Other leadership accolades include:
94% of employees agree "People here are treated fairly regardless of their race or ethnic origin"
91% of employee say "My manager & I have open and honest conversations about work"
85% of employees agree that "My manager gives me valuable feedback that helps me improve my performance."
Keep reading to find out how Ombudsman Services have role-modelled empathetic leadership and supercharged trust between management and employees throughout the pandemic.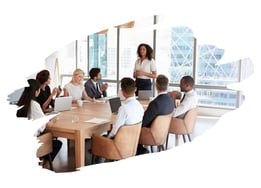 Need Help Assessing Your Culture?
Gain employee survey insights, improve wellbeing, and get access to leadership & team coaching through our consulting services.
The Company
Founded in 2002, Ombudsman Services provides independent dispute resolution across a range of sectors, including energy and communications.
Rather than acting as a watchdog or regulator, their aim is to resolve complaints and put consumers back into the position they were in before the issue occurred. The company also works to help businesses understand their customers, so that they can serve them better and resolve problems faster.
The Challenge
Simon Palmer, Managing Director, joined the business to work with Matt Vickers, CEO, in 2018. "It was clear through the Great Place to Work® survey that there was a need to reengage with our people strategy and direction and establish a renewed level of trust in the organisation."
Palmer appointed a new senior leadership team and together with Joanna Jepson, Director of People and Purpose, agreed that key to this was bringing the organisation's purpose and values to life for every colleague in a consistent and meaningful way.
As Jepson explains:
"Amid a renewed focus on our values, our leaders knew that working with Great Place to Work® would enable us to monitor the impact of our engagement work, particularly for wellbeing and inclusion, as we sought to become a truly great place to work."
The Solution
Already a client prior to the pandemic, Ombudsman Services had previous Great Place to Work® scores which helped them to understand where their engagement challenges existed. This insight was particularly useful in enabling the business to flex their approach during lockdown to respond to the changing needs of colleagues and the organisation.
"Lockdown and the switch to remote working meant every aspect of the way we worked needed to show a step change in keeping colleagues motivated, engages and supported in their wellbeing", Jepson continues.
"This meant being even more consciously open, balanced, empathetic and courageous in how we worked – in line with our values. By focusing on our ethos that 'Together we are an Ombudsman', we were able to remain engaged and connected together through difficult circumstances, and as a result, continued to move the business forward."
Some of the ways in which Ombudsman Services delivered this include:
Launching a series of virtual talks by inspirational guest speakers, including Colonel Dame Kelly Holmes
Introducing a 'daily update' on their internal communication channel
Giving colleagues greater access to and visibility of the senior leadership team through regular company-wide virtual 'Town Halls', coffee catch-ups in smaller groups and an 'Ask the MD' feature
Offering colleagues free access to both an independent wellbeing consultant and the Unmind wellbeing app, helping them cope with the challenges of lockdown
Setting up regular one-to-one wellbeing calls in which colleagues could have an honest and open discussion with their line manager and a HR representative.
Employees who required additional IT equipment or office furniture for homeworking were given access to these items in a further effort to ensure every individual would continue to be invested in, supported and enabled to do their jobs to the best they can.
In addition, colleagues were treated to a series of surprise care packages, including Easter and Christmas hampers.
As one employee commented: "There's a real sense that the CEO and Managing Director really care about the people. I feel like they care and are trying to make this place a great place to work."
Continuing the Journey
"We're incredibly proud of the improvement in our Great Place to Work® survey score, but this is just the start of our journey to becoming an employer of choice," says Jepson.
"We're a people business – consumers come to us for help with complaints – so it's vital that our colleagues can be the best version of themselves at work and feel equipped to offer the necessary support. Our engagement work is about creating a culture of openness, inclusion and empowerment, but it's also about shaping and defining our purpose so our colleagues have that sense of mission that comes with being part of something important and meaningful."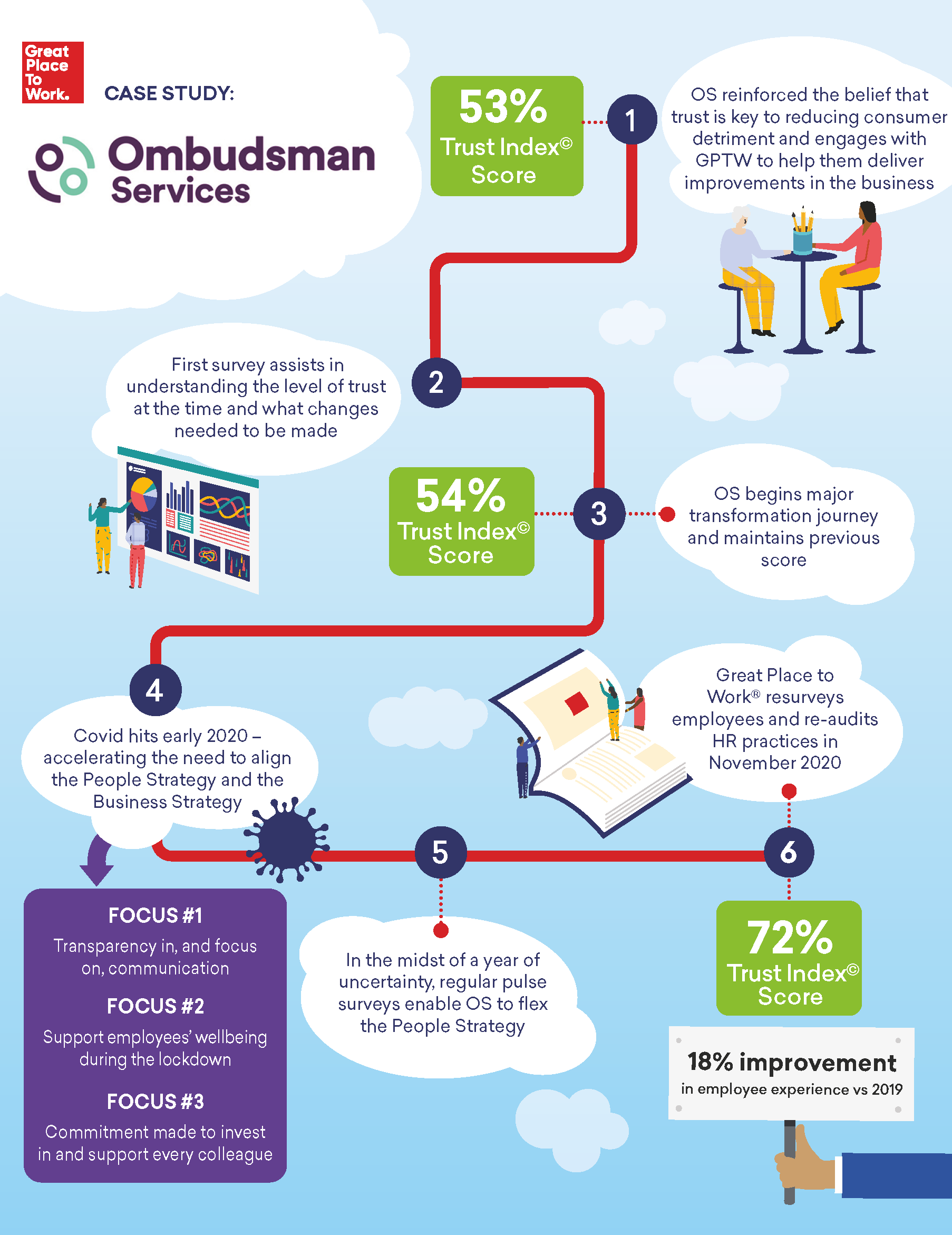 Now it's your turn!
Our Consulting Services allow organisations to dive deeper into understanding their employee experience through post-survey feedback presentations, workshops and focus groups.