Many of us acknowledge the need to create a more inclusive and representative environment, but don't always know where to begin. Here are a few ways in which the UK's Best Workplaces and Best Workplaces for Women are cultivating a culture that creates fairer opportunities for all.
In our latest Women at Work report, we explore how organisations have put practices and programmes in place that build their pipeline of female talent and convert that pipeline into opportunities for growth and development. This includes women-focused mentorship opportunities, campaigns that center around creating a culture of inclusivity, and building channels to identify high-potential female employees.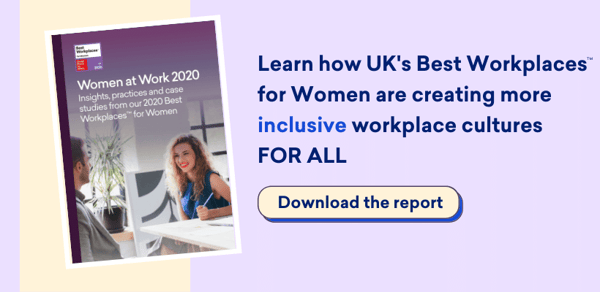 One example of this is the 'Female Innovators Lab' by Anthemis Group. The lack of female founders in the financial technology industry was especially disappointing to this award-winning fintech company. To help alleviate this issue, Anthemis Group developed their 'Female Innovators Lab' as an innovative approach to attract and seed more female entrepreneurs in fintech. You can see the details of their approach, as well as learn about other case studies from the 2020 UK's Best Workplaces™ for Women, by downloading the Women at Work report.
Fairer parental leave
Parental leave has significant impacts for all genders within your workforce. Our research found that UK's Best Workplaces™ offer flexible options for both mothers and fathers when it comes to parental leave. In 2020, 86% offered maternity leave and 77% offered paternity leave above the statutory minimum.
Better support for working parents can lead to better employee retention. Ensuring that mothers have access to new or continued full-time roles allows them to take time out, and feel confident that they can return to work without damaging their career progression, once they're ready. Similarly, fathers offered extended and flexible paternity leave will be empowered to improve their work-life balance while remaining in full-time work for their employer.
Gender pay gap
In 2019, we saw the UK's highest recorded level of female employment (71.8%). But women are still experiencing unfair practices at work, such as unconscious bias, unequal pay and under-representation in senior management positions.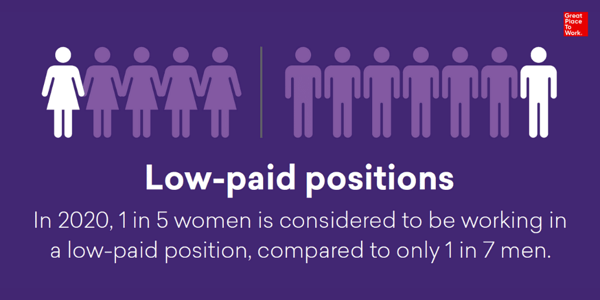 Read more insights in our Women at Work publication
Over the last 20 years, we have seen many UK organisations moving in the right direction. For instance, the number of women who hold senior leadership positions at UK Best Workplaces™ has steadily increased from 17% in 2000 to 30% this year. In 2020, the differences in gender pay gap between women and men in Best Workplaces™ for Women is 2%, compared to 6% in other organisations. But while these numbers are encouraging, they also reveal that there is still a way to go in terms of truly achieving fairer gender representation.
Examples of how to become a more gender-inclusive workplace:
Actively promote that good work is defined by quality and not hours spent in the office;
Integrate flexibility in senior roles to allow women (and men) to balance ambition with caring responsibilities;
Create avenues for more female entrepreneurs and talent to enter traditionally 'male sectors' and professions;
Enable flexible progression that provides more equitable career development for part-time employees (e.g. working mums); and
Offer parental leave for mothers and fathers above the statutory minimum.
This list should provide HR leaders with a good starting point for creating better pathways towards a more inclusive, supportive and fairer employee experience for all.
Using insights to drive change
Our Women at Work annual publications offer insights into why so many working women in the UK continue to have a different employee experience than their male colleagues. But combining these insights with those gleaned from the data in your own employee surveys can be even more valuable.
To survey your employees now is not only an act of compassion, it's a source of essential business intelligence. Employee comments in your survey responses provide a crucial source of information because they can reveal employees' concerns around gender, diversity and equality, but also allow people to share what they love most about the organisation, or how they really feel about their leaders.
Get in touch to learn how your organisation can track your employee experience and be recognised as a UK's Best Workplace™ for Women
---
More key insights and best practices to help you improve your culture: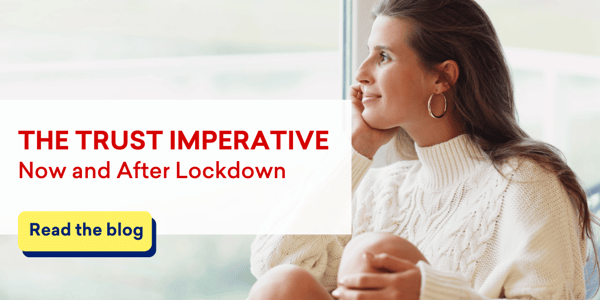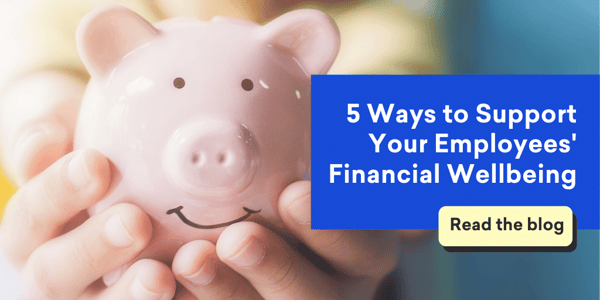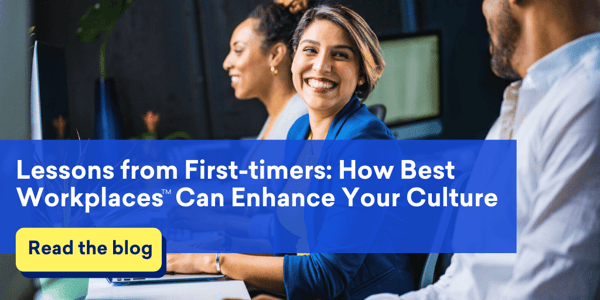 Great Place to Work® specialises in helping organisations build impactful workplace cultures. We are here to help support our clients during this period of uncertainty. If you are a client, please reach out to your Account Manager who can share the tools we have in place to enable workplaces to measure and understand their current employee sentiments. If you are not a current client, stay tuned to our blog posts, Twitter and LinkedIn for people practices, advice and thought leadership on how best to navigate this unprecedented time.
To learn more about our Best Workplaces™ Programme, please visit this page.