Employers face stiff competition for top talent.
And let's face it: for many candidates today, life is too short to work for a company that doesn't walk the talk when it comes to their workplace culture.
The solution: boosting your employer brand by earning Great Place to Work-Certified™ status.
Just ask NOVOS, whose company culture earned the small tech start-up a Top 5 spot on the 2021 UK's Best Workplaces™ in Tech list after they received Certification as a 'great place to work' in the same year!
"Our Certification has helped reinforce Company Culture as our unique brand proposition – setting us apart from our competitors in the industry. We're a culture-first organisation!" says Olivia Royce, the company's Head of Operations and Culture.
One of NOVOS' stand-out characteristics is their consistency in the employee experience – regardless of what seniority level or in which department employees work.
In fact, NOVOS is among very few companies whose survey results showed 100% of their people agreeing with multiple statements: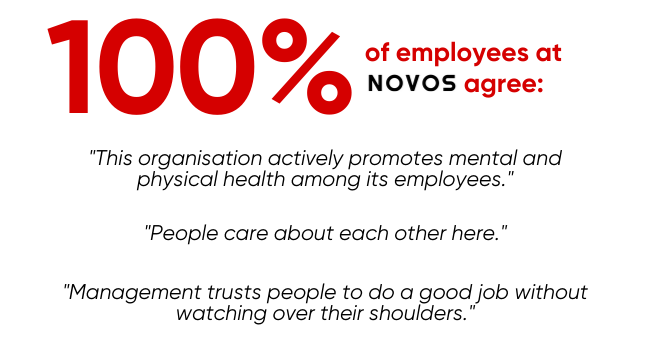 Helping SMEs Compete Alongside Big Brands
For small or medium-sized companies like NOVOS, recruiting to plan can be especially difficult when larger, better-known brands offer a tempting array of benefits and perks.
To even the playing field, smaller businesses today are focusing on building their employer brand, as well as crafting a narrative that highlights the strength of their organisational culture so prospective employees know they have something great to offer.
At NOVOS specifically, culture does not comprise a long list of initiatives that look impressive on the company site and tick all the boxes.
"Our culture is about our people – it is for them and shaped by them," explains Olivia. "It lives through aspects of our organisation and influences everything from hiring to customer acquisition. Our mission is to serve as a vehicle for the holistic growth of our team, and it gives us immense happiness to see our people thrive."
Kriti Spinoff, Marketing and Communications Manager at NOVOS, agrees:
"As a startup agency, we have witnessed tremendous growth over the past year and our culture has played a key role in our success. Our company values are as important to us when we are a team of 37 as they were when there were only 5 of us. We know that we sincerely tried to invest in our culture and we see our people thrive here.
"Our Certification badge sits on the homepage of our company website and our careers page. We also mention it in all our job ads. It has definitely helped us in the recruitment process because candidates often notice it, and we actively promote it during our interviews. We're proud of it!"
Improved Retention & People Practices
One of the benefits of the Certification process is that it inspires companies to take a closer look at their people practices and codify their policies around wellbeing, DEI, benefits, and other areas that can provide a competitive edge.
"When we were looking to get an independent culture audit of our organisation and a detailed understanding of our strengths and areas of improvement, Great Place to Work® was the perfect solution!" says Olivia.
"The GPTW survey is the most comprehensive survey in the market that covers all aspects of an organisation's culture. It also offers an elaborate view of where a company stands against other companies with a benchmark feature – and their team of top-notch culture experts help you to understand the survey results."
With their new, more data-based approach NOVOS were able to create new team wellbeing initiatives while the wide range of questions in the survey provided valuable insight into what their people think of the organisation as well as their expectations.
With 97% of employees agreeing NOVOS is a truly 'great place to work', it's no surprise that the company currently enjoys a 90% retention rate, and plans on getting Certified™ every year to continue monitoring and enhancing their company culture.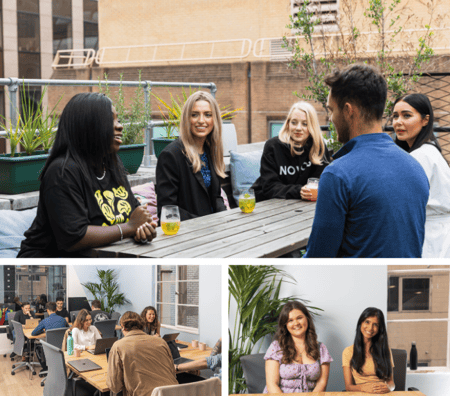 Consistency Leads to Success
Recent controversies surrounding the working conditions of HGV drivers and Amazon factory workers are proof that investing in the employee experience matters – for your people, business and customers.
Becoming Certified™ is a company's first step towards earning Best Workplace™ recognition, which brings about even more benefits.
For example, Best Workplaces™ enjoy 2x more applications per vacancy, and 27% more employees agreeing with the statement "I want to work here for a long time."1
"We have always stood by our values irrespective of our team size or revenue," says Olivia. "It's been an important and widely recognised Certification that makes us look more authentic as a culture-led organisation."
For career opportunities at NOVOS, visit thisisnovos.com/careers.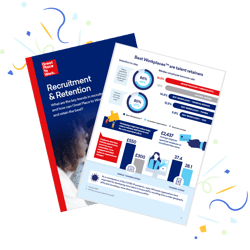 Recruitment & Retention Report
See how top-performing organisations hold onto their talent (incl. best people practices)!
---
1Source: 2021 Recruitment & Retention Report by Great Place to Work®.
To learn more about our employer recognition programme, please click here.