Earning UK's Best Workplaces™ recognition allows top organisations to celebrate their unique workplace culture and strengthen their employer brand for better hiring and retention. Here, the multi award-winning TopLine Comms, shares how they've been able to apply the learnings from their Best Workplaces™survey to shape their great workplace culture.
---
Outstanding people are the single greatest asset to a service business. That's why at TopLine Comms, our digital PR and SEO agency, and TopLine Film, our video production agency, we invest heavily in our people strategy and continually look for ways to improve it.
We decided to take this one step further by working with the employee survey and recognition provider Great Place to Work® UK, the name behind the prestigious Best Workplaces™ awards. GPTW UK's Best Workplaces™ programme is not only an excellent platform for recognition of your people efforts and approach – but it is also a valuable tool when it comes to attracting new talent.
According to Glassdoor, 84% of job seekers would consider leaving their current employer for a company with an excellent reputation. And since PR is incredibly competitive, we make every effort to let our company stand out; to keep the great people we already have, and to attract the best clients to work with.
We are extremely proud that TopLine Comms ranked sixth in the UK's Best Workplaces™ 2019 small business category – the award has pride of place in our office, right by the entrance. We are also grateful that we have been recognised as a UK's Best Workplace™ for Women; and received the 'Excellence in Wellbeing' accreditation for two years running.
As we wait for the 2020 results, here's what we have done to earn our GPTW UK awards, what we learned through the process, and how we have applied the learnings from our team.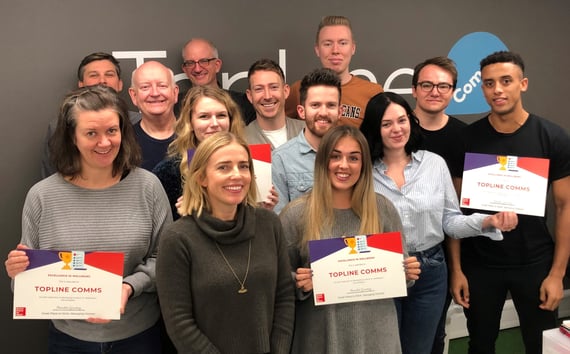 Above: TopLine Comms celebrates their 'Excellence in Wellbeing' recognition
Preparing for the Best Workplaces™ survey
Encouraging two-way dialogue has always been a part of our culture at TopLine. We know how important it is to create an open and honest culture where feedback of any kind is welcomed. We want to understand how our employees feel, what they like and what they want to see change, which is why we have been running a monthly 'start, stop, continue' survey for years.
A few months before entering the Best Workplaces™ programme, we got together to look at the types of benefits, reward, and praise that we offered, and how they stacked up against other companies. Once we had a long list of current and potential future benefits, we ran a workshop with the entire team to discuss what people really valued.
Collecting this information allowed us to make several improvements. For instance, we found that the ability to work from home, and flexible working hours, were benefits that the team really cared about – so we continue to actively encourage both today. Then, in search of deeper, more specific data on where we are succeeding and where we can improve, we turned to the GPTW UK's Best Workplaces™ survey.
Launching the GPTW UK Trust Index© survey and Culture Audit© assessment
As a first step in entering the Best Workplaces™ programme, we worked with our GPTW UK project manager to select a 2-week period to conduct the Trust Index© survey with employees. The Trust Index© measured the level of trust and engagement within our organisation, considering factors such as values and ethics, leadership effectiveness, inclusivity, wellbeing and innovation. For the assessment, it was critical that we got the whole team on board so that the data was accurate. We did this by building excitement about what ranking could do for our agency and reputation, which helped to ensure that everybody pitched in and completed it honestly.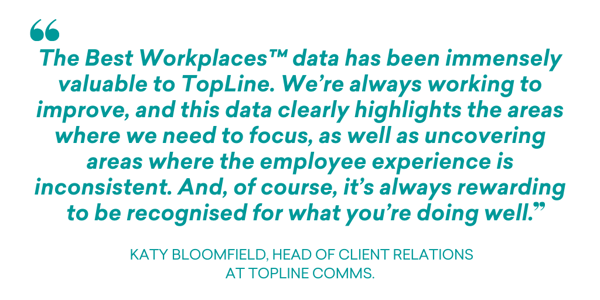 We then completed the Culture Audit© assessment, to provide GPTW UK with deeper insight into the policies and practices at TopLine. This was an extremely detailed piece of work which involved getting information from relevant department heads and presenting our policies, processes and results. Completing the process for the second time this year, we have found it worthwhile to file away useful observations and examples throughout the year, as this makes the application more straightforward. The combined results of these assessments determined our success and ranking as a 2019 UK's Best Workplace™.
Using the Trust Index© survey results to make an action plan
One of the great benefits of the Best Workplace™ programme entry is that you are provided with a detailed employee engagement report that highlights key areas of strength and areas for improvement. After receiving our Trust Index© survey results, we wanted to ensure that we were open about our performance, including areas where we didn't score as highly. We shared our results in the form of an all-company presentation, email and lots of great content – and thanked the team for being an integral part of making TopLine a great place to work.
Using feedback to guide changes
We then conducted one of our all-company brainstorms on our GPTW UK results. We split the whole company into three teams to look at where we did well, where results appeared inconsistent, and where we fell short. Each team discussed the results and contributed their ideas for achieving and maintaining a high score, and we collated the feedback to inform our action planning.
One area that the results highlighted, for example, was that employees wanted greater control over their bonus. So, we designed an entirely new, completely transparent system based on internal marketing objectives. Tasks are assigned to teams of three, each of which includes one expert. The rules are clear and set out for all to see, and we set monetary targets for each goal. The results have been great – the team feels much more in control of their bonus, and the initiative injected a healthy dose of competition!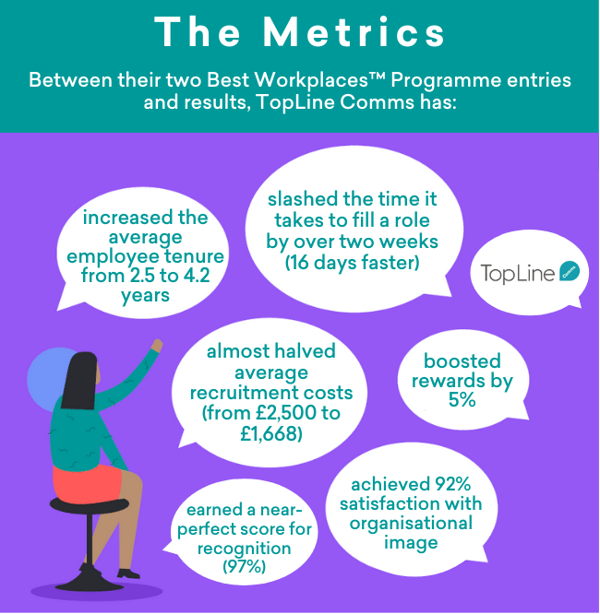 Next steps for us
We're always looking for the next steps that we can take, and currently, that means taking on further CSR and engagement initiatives. We're considering ways to give back to our communities, including implementing volunteer days later this year. We're also looking to further improve engagement, which is why we recently established a management committee to help build greater transparency across the business.
"The Best Workplaces™ data has been immensely valuable to TopLine. We're always working to improve, and this data clearly highlights the areas where we need to focus, as well as uncovering areas where the employee experience is inconsistent. And, of course, it's always rewarding to be recognised for what you're doing well." – Katy Bloomfield, Head of Client Relations at TopLine Comms.
The metrics
Between our two Best Workplaces Programme entries and results we:
increased the average tenure of our employees from 2.5 to 4.2 years
almost halved average recruitment costs (from £2,500 to £1,668)
slashed the time it takes to fill a role by over two weeks (16 days faster)
boosted rewards by 5%
achieved 92% satisfaction with our organisational image
earned a near-perfect score for recognition (97%)
If you would like to learn how Great Place to Work® UK can help your organisation achieve greater insight into your employee experience, and ultimately receive recognition as a UK's Best Workplace™ for your great workplace culture, please Contact Us today.