Like the rest of the world, our team at Great Place to Work® UK has been keeping a close eye on the evolving devastation in Ukraine. We stand firmly with the people of Ukraine and our hearts go out to all those affected.
In times of crisis, it's easy to feel helpless. But the solidarity and compassion that people across the world have shown is a light in the darkness.
We are incredibly proud that many of our Best Workplaces™ have been helping in any way they can.
Keep reading to discover some of the amazing work they, and other organisations, have been doing.
Astound Commerce UK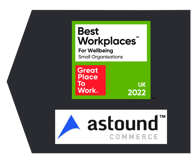 Astound Commerce are a global company, but with a significant Ukraine-based team and Ukrainian founders, the current conflict has hit close to home.
Since late January, the company has been "offering relocation support, as well as providing guidance and continuity regarding communications, connectivity, financial services, personal safety, and military duty to [their] Ukraine-based employees," explains Global CEO Michael Kahn.
More recently, Astound's Co-founder and Chief Solutions Officer, Ilya Vinogradsky, Chief Financial Officer, Tom Spellios, and Global Chief of Staff, Roxanne Goldfinch, have all travelled to Košice, Slovakia to offer hands-on help with relocation efforts.
Acknowledging that the crisis will also have a huge effect on those outside of the immediate conflict zone, the company is putting their employees' wellbeing first by offering personal welfare resources to all their staff, including free counselling services.
Santander UK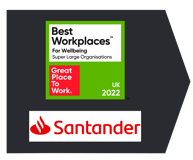 Santander are offering support to those impacted by the crisis by waiving fees on payments to Ukraine. They will also be providing support for Ukrainian refugees wishing to apply for a current account in the UK, as well as donating £1 million to the Red Cross and UNHCR.
On a smaller – but no less important – scale, local branches have been doing their part too, with Santander Shrewsbury raising over £500 in one day, and Santander Wigston organising a collection of vital supplies to be shipped to those in need.
Northumbrian Water Group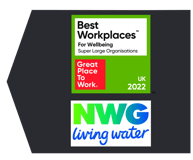 Every year, employees at Northumbrian Water Group organise a sponsored walk to raise money and collect gifts for children in need at Christmastime. In light of recent events in Ukraine, their team has been lacing up their trainers once again – this time to raise money for Ukrainians who have been forced to leave their homes. On 12th March, they walked a half marathon and have so far raised over double their £500 target.
Abbott UK
Alongside a donation of $2 million to support humanitarian efforts, Abbott have also provided vital medicines and diabetes care products to Ukrainian citizens –those still in the country and those who have relocated to Poland.
ASOS, Lush, M&S, Morrisons and Robert Walters
Retail giants Lush, Morrisons and M&S, as well as online fashion retailer ASOS and recruitment firm Robert Walters, are in talks with the UK government about providing jobs and accommodation for Ukrainian refugees when they arrive in the country.
The initiative is being led by well-known businesswoman and journalist Emma Sinclair, who told the BBC, "People are inherently generally good, and people want to help. We [businesses] want people, we need people, and we want to help."
"Look for the Helpers"
American TV personality Mr Rogers once said "When I was a boy and I would see scary things in the news, my mother would say to me, 'Look for the helpers. You will always find people who are helping.'"
If you or your organisation would like to join us and our Best Workplaces™ in supporting the humanitarian efforts in Ukraine, please visit:
British Red Cross Ukraine Appeal
UNICEF
ICRC