The 2023 UK's Best Workplaces™ for Women list represents companies whose employees have told us they work for a place that is equitable and fair for all.
These employees agree their leaders are committed to ensuring a reasonable balance of women and men across the organisation; closing gaps wherever possible; and creating sufficient opportunities for all employees to progress in their career, regardless of who they are or what position they fill.
Spotlight organisation: Active Prospects
Active Prospects is a charitable care provider that offers high-quality supported living and residential care services in South-East England.
Active Prospects supports people with learning disabilities, autistic people, as well as people with physical and mental health needs to live full and aspiring lives.
In their first year of participating in the Best Workplaces™ Programme, the charity has earned multiple recognition awards in the Large size category, namely:
UK's Best Workplaces 2023 (rank #17)

UK's Best Workplaces for Wellbeing 2023 (rank #56)

UK's Best Workplaces for Women 2023 (rank #53

)

Currently the UK's highest-ranked care provider in the Large size category
Some of the latest Great Place To Work survey results proving employees genuinely love working at the charity include:
90% of all employees say "My work has a special meaning: this is not 'just a job'"
90% of employees who selected "female" in the survey say "I am given the resources and equipment necessary to do my job"
An identical score of 88% was given by "male" and "female" employees who agree "People here are treated fairly regardless of their gender"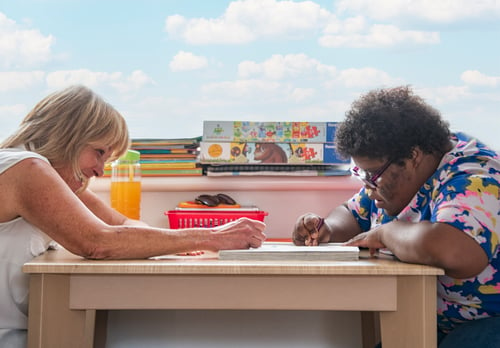 Data
Does your workforce adequately reflect the community in which it operates – and if so, how can you be certain all employees are paid fairly for the work they do?
At Active Prospects, the split in workforce of 69% female to 31% male is widely representative of the Health and Social Care sector, and women are well represented across all levels of the organisation.
In fact, women make up 50% of the charity's Executive Management Team – a stark contrast to the national average of just 26% female board membership.
"We're proud to share that our gender pay gap analysis as of 5 April 2022 reported a positive position across the organisation," says Kaushika Patel, Director of People and Recruitment. "Our mean gender pay level reduced slightly from a positive 3.4% last year to 1.3%, where women are paid slightly higher than men for the average hourly rate."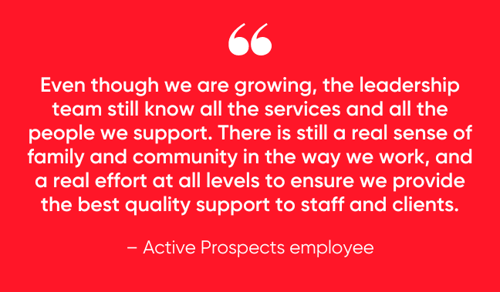 In addition to monitoring and publishing their gender pay gap information, Active Prospects has gone the extra mile by publishing its ethnicity pay gap information too, and are currently moving towards doing the same for disability.
"In 2021, the mean ethnicity pay gap – which is the difference between the average hourly pay between ethnic minority staff and their white colleagues – was 12%, which is a significant reduction from the previous year where it was 15.7%," Kaushika explains.
"As an organisation, we are committed to keep moving in the right direction to ensure we are actively addressing inequalities we've identified, and we'll keep sharing our progress with our workforce and the public to champion equality and inclusion at work."
Development for all
Representative companies don't just focus on the data – they also actively and continuously work to ensure every employee feels included, valued, and has equal opportunities to succeed and grow.
Enabling all staff to progress in their careers in such a way that aligns with the company mission is a key characteristic of Best Workplaces like Active Prospects.
"We've worked hard to ensure that all of our learning content is tailored for different learning styles," explains Kaushika. "Our blended approach combines e-Learning, face-to-face, practical and one-to-one coaching. Our pre-training questionnaire, completed by all candidates, allows reasonable adjustments to be made to font size, format, colour, etc. so that everyone is put at ease from the start.

There are also innovative open forum discussions during induction to help build confidence and ensure delegates support each other, breaking down barriers and creating a more inclusive atmosphere.
"No new starter completes any in-service work without first completing all mandatory elements of induction and shadowing in service first," Kaushika continues.
"We also provide bespoke talent development programmes. One example is sponsoring five managers to complete the Moving Up Skills for Care Leadership Programme specifically designed for staff from a minority ethnic background. We've also invested in individual leadership development for high potential employees, and we monitor attendance for courses to ensure that attendees are representative of our diverse workforce."
The charity has also created paid roles for people they support with learning disabilities and/or autism, including opening their Re.Work.It Charity Boutique in 2019 which offers training, volunteering and paid employment opportunities for employees, as well as on-the-job support and access to job coaches.
"Out of all of our Service Managers, 59% were internally promoted, and 90% of our Assistant Service Managers were internally promoted," Kaushika says.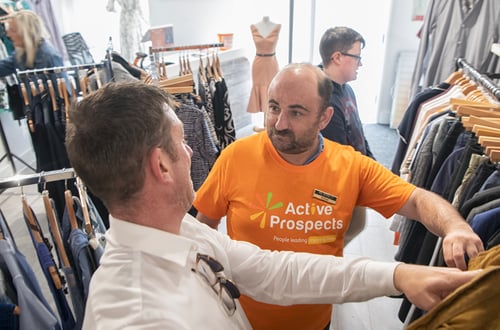 Diversity (Equity, Inclusion & Belonging)
Prioritising DEIB is good for people and for business.
In fact, inclusive companies are more likely to hit financial goals[1] and innovate at a faster rate as diversity of thought powers new product and process development.
Like many of their fellow UK's Best Workplaces™ for Women, Active Prospects continues to find new ways to embed employees' voices in the running and development of the organisation.
"We formed an EDI forum to oversee the delivery of our EDI Strategy," says Maria Mills, CEO of Active Prospects. "Meetings are held on a monthly basis with the whole organisation invited to participate, share ideas and be vocal about subject matters they are most passionate about. For example, the EDI Forum has informed a talent management review, which led to more internal promotions and a higher percentage of management positions filled by colleagues from minority ethnic communities."
The charity recently introduced a new intranet featuring a dedicated EDI section and refreshed photo library that ensures better representation of their current workforce.
Short videos were produced featuring staff talking about one of the protected characteristics to ensure an authentic depiction of each person's story. In one video, a support worker shared their experience of transitioning; another showed a member of the HR team who had returned from maternity leave sharing about their experience of the maternity policy; whilst in another video a young woman supported by Active Prospects gave their perspective of being autistic.
Active Prospects has also achieved Disability Confident Leader status – a Government-sponsored benchmark for employing disabled people – and forms part of a working group of other Disability Confident Leaders from across the country, seeking to share best practice on being a more inclusive employer of disabled people.
Furthermore, their demonstration of good practice in supporting and including people with mental health challenges has also earned the charity Mindful Employer status.
"Making sure every single employee feels included and that they belong is something we've worked hard to achieve and sustain," says Maria.
"At our annual organisational conference, for example, which was held virtually last year, we had 150 attendees from services, people we support, and Board members sharing their learning. It became a great way for us to embed new ideas across all areas of our work and future strategy together."
Continuing the journey
A key trait of the Best Workplaces for Women is their consistent striving for even better, even more inclusive workplace experiences for all their people - no matter how many awards they've earned.
Active Prospects has developed an action plan on the back of their Great Place To Work survey results. One area of focus is increasing the visibility of senior managers and improving connections between different teams.
"One thing we have already introduced is meet and greet sessions for staff and senior managers to get to know each other better, and we have organised several events (including a summer BBQ and Coronation Tea!) to bring staff and people we support together,"

Maria

says.
The company is also due to refresh their EDI and Wellbeing Strategies over the next 6-12 months, and will be looking to continue their progress in these areas in the years to come.
"In particular, we will take a more outward-looking approach around EDI, by seeking to collaborate with other organisations and to share and learn from best practice," explains Maria.
As the organisation continues to grow, Active Prospects will be looking to expand their internal staff networks and potentially give staff access to external networks as well.
"Working with Great Place To Work has given us valuable insights into what we're doing well and what we need to improve – in particular, having this data broken down by service and protected characteristic has been crucial," says Maria.
"It's been a great experience and we look forward to continuing to foster a positive culture this year with the help of Great Place to Work."
Great starts here
Becoming a Certified™ 'great place to work' is the first step towards earning the prestigious Best Workplaces™ recognition.
---