This year's Europe's Best Workplaces™ report is unlike any other. Throughout 2020, Best Workplaces™ have had to adapt quickly to various challenges during the crisis. Their greatest perhaps, is being able to ensure a consistently great employee experience for all their people, not just a few.
So how do they do it?
To find out, we surveyed 1.5 million employees from 3000 organisations across 19 countries in Europe. We asked employees to share how they felt about their management teams; whether their wellbeing was supported by their employer during this time; and what they believe could be done to make their already great workplace even better.
We also took a deep dive into how every organisation's leadership views their own company culture and the people policies and practices they offer to their workforce. This rigorous auditing process enabled us to compare views from both employers and employees for an accurate evaluation of each workplace's culture.
Here are some of the results:
1. CARING
Care is a two-way street and a vital component of success.
In the thirty years that we've been evaluating company culture and employee experience, we've never witnessed a year of systemic upheaval as profound as 2020. It's now more so than ever that managers need to ensure their people are provided a psychologically safe and supportive environment.
Employees who say their workplace is one of the best companies to work for are those who feel trusted and cared for as more than mere cogs in the machine.
When asked about fair treatment in their workplace, 93% of employees in Europe's Best Workplaces™ said they are treated as a full member of the team regardless job position. Even higher percentages can be found for those responding to questions around fairness and respect for one's ethnicity, gender, sexual orientation and age: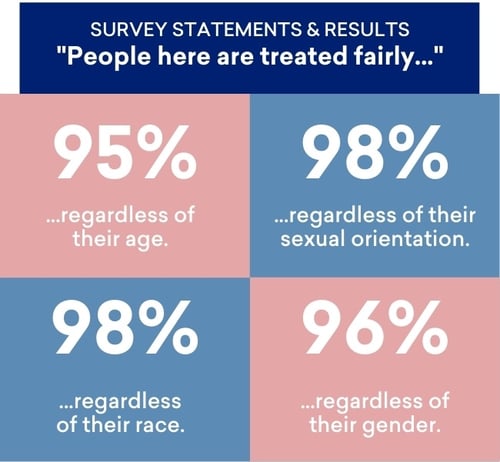 See more statistics in our 2020 Europe's Best Workplaces Report
2. TRUST
Trust is the magic that makes good workplaces great - and communication has been crucial for sustaining high levels of trust within the 125 companies on our Europe's Best Workplaces™ list.
"In the face of a global pandemic, it's the leaders who strike the right balance between optimism and realism who are the ones supported by their employees," explains Benedict Gautrey, MD of Great Place to Work® UK.
"The more leaders can share with their employees, the more trust, appreciation and genuine warmth develops in an organisation, and the more resilient these organisations become…It's talking that builds transparency and transparency that builds trust. Know that people want to hear the real story and believe that if they can help, they will."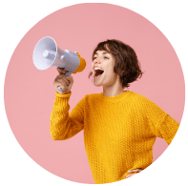 Europe's Best Workplaces™ 2020
See all 125 ranked organisations and discover how leaders of these award-winning workplaces are shaping their company culture amid the Covid-19 crisis.
Our survey data revealed that Europe's smaller enterprises are currently outshining larger organisations in this area of trust-based interpersonal relationships.
While 94% of all employees surveyed said they work for a great workplace, over 99% of employees working at SMEs specifically told us that they work in a great environment.
Regular, meaningful communication fosters stronger relationships. And closer teams create a working environment that encourages trust between managers and employees.
Indeed, Swedish and Danish companies – with their flat structures where managers are more empowered to listen, communicate and act upon their teammates' issues – are shown to be a significant factor for the high trust levels in Europe's Nordic region.
"Sweden is a country with the highest general level of trust in society (together with other Nordic countries)," explains Maria Gruden, CEO of Great Place to Work® Sweden. We have non-hierarchical organisations where transparency, involvement and co-creation is key."
3. INNOVATION
Do leaders genuinely seek and respond to employees' suggestions and ideas in your organisation? Are employees invited to be part of or contribute towards decisions that will affect their working environment, job role or daily schedule?
Great leaders don't just talk, they listen. In all companies that excel at innovation, employees feel respected, involved, and, most importantly, valued by upper management.
At Europe's Best Workplaces™, we see employees feeling as though their voices are heard and their opinions are valued. In fact, our study found that 89% of businesses innovate more when management genuinely seeks and responds to suggestions and ideas from their staff.
How we determine a Europe's Best Workplace™
To be considered for the annual Europe's Best Workplaces™ list, companies must appear on one or more of the national recognition lists by Great Place to Work® (such as UK's Best Workplaces™).
The 19 countries with national lists in the region are: Austria, Belgium, Denmark, Finland, France, Germany, Greece, Ireland, Italy, Luxembourg, Norway, Poland, Portugal, Spain, Sweden, Switzerland, Turkey, The Netherlands, and The United Kingdom.
In 2020, Great Place to Work® analysed survey results representing 1.5 million employees in 3000 European organisations to determine which companies could receive a Europe's Best Workplace™ award.
Get in touch for more details on how your organisation can be recognised on our national, regional and global lists.
---
Read our other key insights and best practices to help you improve your culture: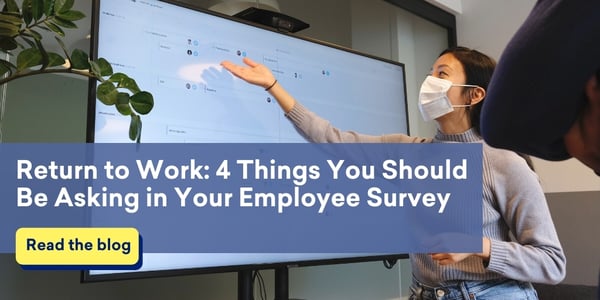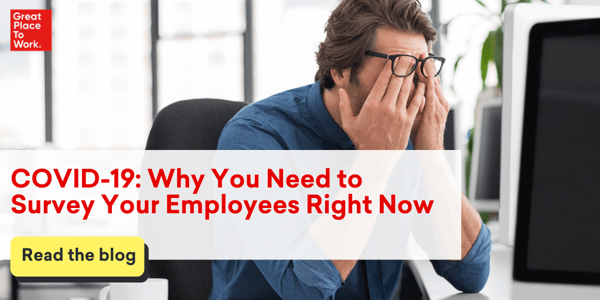 Great Place to Work® specialises in helping organisations build impactful workplace cultures. We are here to help support our clients during this period of uncertainty. If you are a client, please reach out to your Account Manager who can share the tools we have in place to enable workplaces to measure and understand their current employee sentiments. If you are not a current client, stay tuned to our blog posts, Twitter and LinkedIn for people practices, advice and thought leadership on how best to navigate this unprecedented time.