See how the UK's national weather service is accelerating progress towards ensuring every employee is treated with dignity and fairness throughout their Met Office journey.
What are workplace adjustments?
Workplace adjustments refer to changes an employer makes to reduce or eliminate a disadvantage related to someone's ability to work.
The types of adjustments made will depend on the specific needs of the individual, and can cover any area of work.
For example:
making changes to someone's physical working environment

adjusting an employees' work arrangements, such as atypical working hours

enabling an individual to employ different processes or ways of completing tasks

providing additional or bespoke equipment or support based on the employee's needs.
Making workplace adjustments more inclusive
Changes to the UK government's Access to Work funding in 2022 gave leaders at the Met Office an opportunity to review their workplace adjustments guidance and process.
As Susan Ward-Rice, EDI Specialist Partner at the Met Office explains:
"We reached out to Great Place to Work as part our Employee Value Proposition work. We were trying to ensure employees who needed workplace adjustments under the Equality Act were supported in a timely and efficient manner.
We wanted to evolve our culture so that people don't feel like they are different or impacting the organisation in one way or another by having to request a workplace adjustment.
The survey helped us to understand employee's experiences. We know that even making small adjustments can have a significant impact on our people's wellbeing and performance, as well as help our staff to feel more valued and supported."
Workplace adjustments passports
Over the last year, all employees at the Met Office received a workplace adjustments passport – a live document kept confidential between the employee and their line manager.
Employees can use their passport to open the conversation around and record details of any adjustments agreed upon to support the employee's work.
"In launching our new process and passport, we wanted to be more inclusive as we recognise that we all may need workplace adjustments at some point in our working lives," explains Tammy Lillie, Chief People Officer of the Met Office.
"As such, workplace adjustments can also cover temporary circumstances such as a broken leg or observing religious events such as Ramadan or Lent. Completion is voluntary, and since the employee has control over the content, they can include as much detail as they feel is appropriate."
"We also have focused communications to line managers, encouraging them to approach team members on this and use various resources to help the flow of the conversations in 1-2-1's, team meetings, and helping break down the barrier of talking about adjustments," says Lucy Halson, Senior Employee Experience Partner at the Met Office.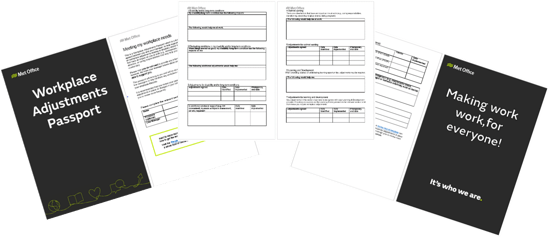 Above: Met Office Workplace Adjustments Passports
Other factors in employee's lives – such as caring responsibilities, experiencing menopausal symptoms, domestic abuse, or transitioning – may mean an employee has to put in place workplace adjustments.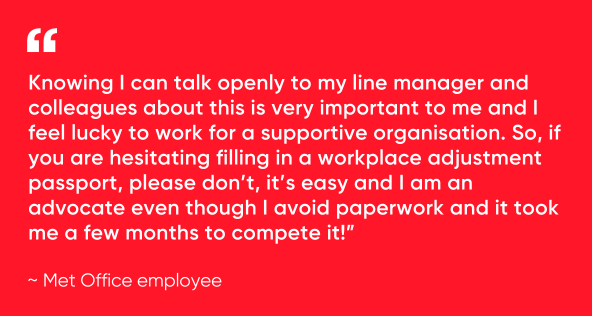 Improved accessibility for all
As part of the drive to improve accessibility, parts of the office have been redesigned to meet a wider range of needs.
"We've also created a quiet zone for focused work, where employees can work without distraction, offering privacy around workstations, and like elsewhere in the office there are different options for furnishings such as sit/stand desks, comfortable seating areas, and circadian lighting to suit the diverse ways people work and concentrate," says Tammy.
The quiet zones were designed in consultation with the company's neurodiversity networks.
A software catalogue has also been produced by the company's tech team to help staff identify which products are available for use on Met Office devices, as well as some key benefits and example uses. These include:
Dragon Software (voice recognition).

Zoom Text (fully integrated magnification and reading program tailored for low-vision users)

Colour Veil (reduces eye strain, supports dyslexia and visual stress)

Work Rave (helps reduce repetitive strain injuries)
"We also have a manager's helpline with the Business Disability Forum, who have been really helpful with recommendations for tech-based items, but also physical equipment," says Susan. "Employees can then work with our Health and Safety team on this type of equipment request as well."
Ensuring fairness across requests
To safeguard fair treatment of workplace adjustments requests across the organisation, the Met Office has implemented a centralised budget, so there is no impact on costs for individual directorates.
"The intention was to remove discussion on "who is paying", which has the potential to delay decision-making, and can impact on colleagues' sense of feeling a burden," explains Lucy.
Cost codes also enable leaders to monitor how the budget is being used (e.g. physical equipment, software, travel, etc.).
"Our approach is to say 'yes' to requests unless there is a genuine business need to decline," she continues. "We encourage managers to make evidence-based decisions as to whether a workplace adjustment is reasonable, and then work proactively and collaboratively with employees to put adjustments in place."
There is no limit to the number of requests an employee can make within a year, reflecting the company's understanding that life can change suddenly.
Many adjustments have no associated costs (such as providing information in advance, using quiet spaces to work, allowing additional time to complete tasks, or altering the start and finish times).
A collective effort
Rather than being the sole responsibility of the HR team, the Met Office created a cross-directorate working group to ensure diverse perspectives could contribute to improving its workplace adjustments offer.
As Professor Anusha Shah, Non-Executive Director at the Met Office shared:
"[We know] it has to be a collective effort from the board to the teams on ground. We are still on our ED&I journey and have made significant progress in the last couple of years, but we know some of the work we are doing will take time to have an impact. It's heartening to see the cross-organisation and local team efforts in driving this culture of inclusion."
Ready to become a Certified™ great workplace?
Get the badge that proves to jobseekers your people genuinely love where they work.