Employees around the world define a 'great' workplace as one where leaders demonstrate credibility, respect and fairness.
As a result, people who feel they are treated well are more motivated to perform at higher levels, and enjoy a greater sense of camaraderie and job satisfaction, which leads to better retention.
Kraft Heinz is one such workplace. Just look at these results from the company's latest global employee survey with Great Place To Work®:
90% of Kraft Heinz employees agree "People here are treated fairly regardless of their race or sexual orientation";
80% of employees say "I'm proud to tell others I work here";
and 8 out of 10 employees feel they are treated as a full member of the team, regardless of their position in the company.
No wonder this much-loved food and beverage brand has been Great Place To Work Certified™ in 12 countries already!
Below, Rodolfo Camacho – Chief People Officer, International Zone – shares some of the ways in which Kraft Heinz is able to 'Make Life Delicious' for all its people.
When your people thrive, so does your business.
At Kraft Heinz, employees are given the space to organise and deliver work in their own way, and leaders make a concerted effort to remove any unnecessary bureaucracy or hierarchy that might slow them down.
"Being a great place to work isn't just an ambition, it's a business imperative," says Rodolfo. "By that I mean, when our people thrive, so does our business - and creating an environment where people feel empowered to take ownership of their growth, thrive creatively and have their voices heard, is central to our company's strategy."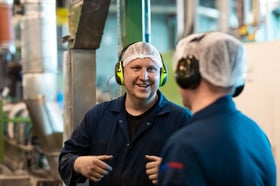 And it's not just the company's leaders saying so. As one Kraft Heinz employee shared with us in their recent survey:
"It does not feel like there is a hierarchy. You can consult with the leadership team on a daily basis and they make you feel equal to them. If you show respect and passion, they will treat you as one of them and trust you to make significant decisions for the business. This truly makes you feel accomplished and valued in the company."
Great companies give people the license to lead.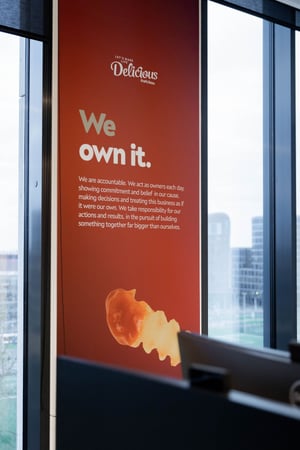 At Kraft Heinz, every employee is encouraged to live out the 'We own it' company value, regardless of level or function, and is given multiple opportunities to grow and feel empowered to contribute to the business in a meaningful way.
It's a high-trust culture that nurtures growth in several aspects. As Rodolfo explains:
"Ownership and meritocracy are at the heart of our unique company culture. We like to say 'we grow our people to grow our business' – the two are interlinked.
Our employees are eager to give feedback and we truly do use this insight in building our strategy. It pays off with talented employees growing with us, as we also grow our business.
I would encourage other organisations to give their people space to test and learn, ask them to help identify the real issues impacting employee experience, and collaborate on solving them."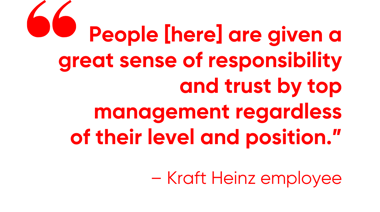 Taking big bets on people is something he feels particularly passionate about, and has seen this reflected across the company's leadership teams too.
"When an employee is driven and ambitious, we give them the runway to grow through stretch opportunities and more responsibility. They have the space to make important decisions, and in turn, make a lasting impact on our company (and their careers). I truly think this adds to the level of commitment and engagement a person has at our company."
Great cultures demand diversity.
To build a truly inclusive and collaborative culture, great workplaces like Kraft Heinz make a sincere effort to prioritise the wellbeing and satisfaction of all their people, not just a few.
It's no easy feat. But the Super Large multinational is embracing the challenge, and has already implemented several key initiatives to help their more than 35,000 employees feel included, recognised, and supported, with a sense of belonging at the company.
Some of these include:
Dedicated BRGs (Business Resource Groups), which include a Gender Equality Network (GEN), The 57 (general cultural awareness and employee connection), and Proudz (supporting LGBTQ+ employees), all helping to raise awareness and drive positive change in the business;
Celebrating cultural diversity through educational opportunities and events throughout the year, including global celebrations for International Women's Day, Global Pride and International Day for Persons with Disabilities;
A recommitment to the LEAD Network (Leading Executives Advancing Diversity) in Europe, which works towards attracting, retaining, and advancing women in the consumer goods industry;
And being a member of Workplace Pride, a not-for-profit foundation dedicated to improving the lives of LGBTQ+ people in workplaces worldwide.
"'We Demand Diversity' is one of our core values and we won't settle for anything less," says Rodolfo. "These values (there are six in total) underpin everything we do, make up our common language, define our shared culture, and reflect the company we're working to become each day.

A big focus on diversity, very vocal on how much they believe in accepting people from different backgrounds, gender and sexual-orientations. A lot of freedom on how you want to do your work and a lot of freedom to propose improvements."
- Kraft Heinz employee
We're already making great strides in these areas but digging deeper into the data will help us benchmark our progress, hold us accountable and provide us with valuable insights on which we can build a framework for turning commitments into action - and ultimately, become an even greater place to work."
Great companies continually pursue excellence.
Employee feedback and independent analysis are what determine whether or not a company can be officially Certified as a great workplace.
This means Certification cannot be bought, it is earned – and deserves to be celebrated, especially when earning the title in 12 countries simultaneously.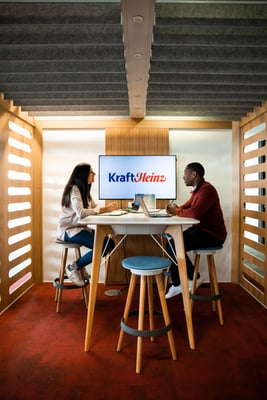 "It is a BIG DEAL!" agrees Rodolfo. "Talent retention and attraction is fundamental to our business operations and it's hugely satisfying to see the team's hard work pay off.
Our teams really have put their heart and soul into making Kraft Heinz an even greater place to work, as well as adapting so readily to our new ways of working."
Yet despite their incredible success, the team doesn't plan to rest on their laurels.
"Our Purpose, 'Make Life Delicious', sums up our unique culture perfectly: we want to make the best possible food for people everywhere, while we also want to do this in the best possible way – whether that is through creating a great place to work for employees, close partnership with our retailers or surprising and delighting our consumers…we want to literally Make Life Delicious for everyone.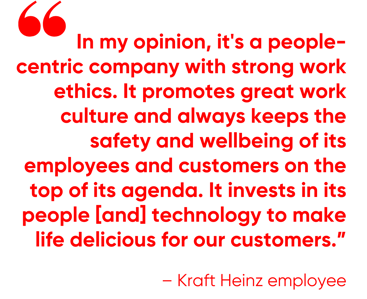 This will continue to be our focus for 2023 and beyond. In other words, championing and building the best people and careers, where a person's growth potential is limited only by the pace of their ambition.
We plan to showcase our Certification badge everywhere we can!
We'll definitely be sharing them internally for employees to share in their email signatures, and have already started sharing our Great Place To Work status on LinkedIn, and we'll make sure to include them in a wide range of recruitment materials and careers info – we want the whole world to know that we are Great Place To Work Certified, especially anyone curious about a career at Kraft Heinz."
Great starts here.
Make your employees proud, recruit top talent and find gaps in your HR policies. Learn how to get Certified™ here.