See what made Adobe UK employees vote their employer as a top 10 UK's Best Workplace™ (Large category) for the third year in a row!
What Employees Say About Adobe
For nearly four decades, Adobe has had an enduring mission to change the world through digital experiences and put their people at the forefront of their workplace culture.
Here are a few key areas where Adobe continues to be a shining example to other large size organisations:
96% of employees say "I'm proud to tell others I work here"
94% agree that "My organisation actively promotes mental and physical health among its employees"
84%

of employees believe they are "developing professionally working here"
"Our people and culture make us who we are, and this past year our team's dedication, passion and resilience has helped us achieve this incredible recognition, which I'm hugely grateful for," says Lee Edwards, Adobe's Vice President for the UK, Middle East and Africa.
"In 2020, our world was thrown into chaos, but our will to keep each other motivated and supported has helped take our team to new heights. The acknowledgment from Great Place to Work® is testament to our employees and their collaborative spirit."
The 'Adobe for All' Culture
Like all our UK's Best Workplaces™, Adobe strives to create the best company culture, where people feel respected and included, so they can be more creative, innovative and successful.
During the last year, the company focused its efforts on expanding their long-standing health and wellbeing initiatives to make sure everyone was supported when adapting to a new way of working and living.
This included:
Initiating flexible schedules and family leave to ensure employees were able to spend more time with their loved ones;
Supporting physical w

ellbeing by offering an extended wellness allowance, alongside online fitness classes;
Nurturing mental wellbeing

by giving employees access to the Headspace app and health behaviour change platform LifeDojo;





Creating the opportunity for employees to hear and learn from speakers within and outside of the company who have experienced their own setbacks and challenges.
At the start of the pandemic, all Abobe's employees were also provided with a working from home allowance, as well as regular company days off so they could use this time to unwind and reflect.
"When I joined Adobe at the end of 2019, the first thing that stood out for me was how kind, approachable and supportive everyone is, and this view has strengthened every day since," Edwards added.
"As a company, we try our best to respect and keep safe our most important asset, our people. Whilst there is a lot more work we can do to improve the experience our employees have, I'm looking forward to celebrating and building on this great success with our team."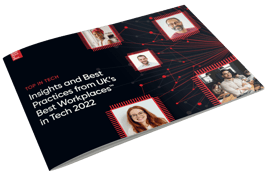 Insights & Best Practices from UK's Best Workplaces in Tech 2022
---
To learn more about our employer recognition programme, please click here.