Designing a comprehensive diversity, equity and inclusion survey is a daunting but worthwhile task.
Here are our key statements and tips to help you get started.
The Business Case for DEI
All of us know – at least in theory – the value of having a diverse workforce.
Just as you invest in and make employee wellbeing a strategic priority, genuinely integrating a DEI (diversity, equity and inclusion) agenda into the fabric of an organisation makes good business sense.
A diverse staff with individuals who feel they are treated fairly at work bring a broader variety of ideas and perspectives to the table. They also tend to feel more empowered to be their true selves with greater discretionary effort, brand advocacy, and loyalty to the organisation.
This improved performance, productivity and innovation means individuals AND their workplace can thrive, even in times of crisis.
In fact, McKinsey's recently conducted global study showed how the business case for diverse senior leadership continues to strengthen. Top-quartile companies for executive-level gender and ethnic diversity outperformed those in the fourth one by 36% in profitability.
Bottom line: the more diverse your ethnic and gender representation in your workforce, the higher the likelihood of outperforming your competitors.
The current junction of navigating a transition back to offices or hybrid working models offers with it a valuable and unique opportunity to further reimagine workplace cultures going forward, including revisiting the fundamentals around DEI.
But where to start such a mammoth process? A strategic pulse survey is the best way to understand where employee experiences stand, offering a robust foundation to inform improvement efforts.
Keep reading for a three-section suggested format for your DEI pulse survey, defining and differentiating each core concept as well as its organisational pillars.
Diversity Statements
Diversity has traditionally been the most easily understood concept out of the three, broadly answering the question: how well are members of different social and demographic groups represented and spread within your workforce, including at leadership levels, given the local context of the organisation?
It's more about metrics, strategies and high-level policies than individual experiences, although survey items should differentiate between different levels of the organisation, across general workforce, team-specific and senior leadership.
Must-have survey items around diversity:
My workforce's demographic makeup represents that of our local area at all levels.
My organisation goes the extra mile to attract and retain diverse talent.
DEI is a strategic priority for my organisation.
These optional items may also be useful for future surveys:
My team is diverse.

From a demographic perspective, I feel personally represented by my company's senior leadership team.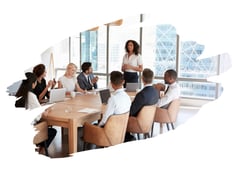 Need Help on Your DEI Journey?
Our Insight Consultants supports leaders in measuring and improving equity and inclusion.
Equity Statements
Equity is a newer addition to the field of D&I, arguably bridging the gap between diversity and inclusion.
Unlike 'equality' (which deals with sameness), equity is fundamentally about fairness.
It's important to ensure inherent fairness across areas of attracting, recruiting and retaining talent, L&D as well as promotion and pay opportunities.
For example: an equal approach to hiring would include identical selection processes for all candidates, whereas an equitable approach would tailor such processes to ensure neurodivergent or disabled candidates were not disadvantaged by such characteristics.
Must-have survey items around equity:
People here are hired based on merit, irrespective of their demographic background

. (Here, the word 'hired' could be changed to 'promoted' or 'paid, depending on what feedback you aim to obtain from your workforce).
My organisation tailors initiatives and benefits to address the needs of specific employee groups.
My organisation considers my unique dietary/cultural/religious/physical needs when planning social events.
Inclusion Statements
Inclusion seeks to understand individual and group experiences of belonging and empowerment within an organisational culture and context.
Does everyone feel that they belong in your organisation, regardless of who they are and what job they do? Are inclusive values and respect clearly embedded in organisational policies?
These are the sorts of findings needed to ensure yours is a great workplace for ALL employees, not just a few.
Must-have survey items around inclusion:
My organisation has a clear policy against discrimination and harassment.
My organisation goes the extra mile to celebrate diverse cultural events.
My company gives us the resources/training to foster inclusive working environments.
Future surveys could include these statements for further examination into the level of inclusion in your workplace:
My organisation empowers me; my ideas are considered based on merit regardless of my background/identity.

My company gives me the opportunity to learn more about my colleagues' lived experiences as members of marginalised groups.
Open-Ended Questions
Any effective pulse survey allows respondents to elaborate through open-ended questions. This is crucial as both a suggestion platform for specific improvement ideas and an anonymous space to share any personal experiences.
Two valuable open-ended questions around DEI might be:
What behaviours should your senior leadership team change in order to create a more diverse, equitable, and inclusive work environment?

From a DEI perspective, have you ever felt uncomfortable at work? Please explain.
Ultimately, progressing your DEI agenda in meaningful ways amid the broader context of redefining workplace cultures needs to begin with a newfound understanding of the concepts of diversity, equity and inclusion – and then measuring your employees' experiences of these.

Rather than sticking to typical D&I questions around fairness and discrimination in your next pulse survey, try breaking down the concept into its three sub-components. This will allow for richer, more targeted insights from which you can build strategies, policies and practices best suited for all your people.
Need Help on Your DEI Journey?
Our Insight Consultants can support you in measuring and improving equity and inclusion in your workplace.
---