Looking at data from more than 100 million employees and over 30 years of research, we know that TRUST is what ultimately makes a truly great employer – regardless of size, industry, or region of the globe.
At its core, a great workplace is one where employees trust the people they work for, have pride in what they do, and enjoy the people they work with. High-trust workplaces are better for people and proven to be better for business. Here are a few performance results you can expect to enjoy when you build a great workplace culture.
1. Superior Financial Results
According to independent investment firm FTSE Russell, comparative cumulative stock market returns among the publicly held Fortune 100 Best Companies to Work For® are nearly 3x greater than the market average. Clearly, workplaces with a high-trust culture have a competitive bottom-line advantage in the marketplace.
2. Lower Employee Turnover
Retaining employees adds up to big savings over time. Research from the Society for Human Resource Management (SHRM) estimates the total average cost of turnover is 90-200% of the exiting employee's base salary, and more than 12% of pre-tax income for the average company.
In our latest study of hiring trends and best practices across Europe, data shows Millennials who experience a great workplace culture are 50 times more likely to plan a long-term future at their company than those who don't. While their competitors continually lose productivity and profits to employee turnover, workplaces with happy Millennials retain their best talent and drive business results year after year.
3. Better Customer Service, Happier Customers
Using Great Place to Work® data, Cornell University conducted an eight-year study which proved engaged, empowered employees deliver better customer service, better products, and higher customer satisfaction rates than their competitors.
Collaborating with customers also enables richer consumer feedback for better business improvements and future profitability. Home Group's 'human library,' for example, is a group of customers and colleagues who identify with different diversity groups and are willing to share their experiences through 'Life Swap' sessions. In these sessions, members openly share stories and answer questions; participate in diversity challenge groups (where members shape specific pieces of work, projects, products and services); and attend workshops and other events. This collection of 'living books' is then utilised for various activities over time.
4. Employee Wellbeing
Healthier and happier employees are typically more engaged, take less time off work due to illness, have a longer overall tenure and are more committed to the business. Annually, it is estimated that UK employers are losing up to £42bn due to employees suffering stress, depression and anxiety.
A four-year research project led by Alex Edmans of the London Business School examined the link between employee wellbeing and financial performance across high-trust companies recognised by Great Place to Work® and Fortune. Edmans found employee wellbeing at these companies preceded positive financial performance, rather than the other way around.
"Simply put: companies that treat their workers better do better. And this fundamentally changes the way that managers should be thinking about their workers," said Edmans in a TedX Talk on the topic.
5. Innovation
Everyone agrees innovation is a crucial competitive advantage in an ever-changing market. But how do you get there? By building an "Innovation by All" culture of trust and inviting all employees into the process. This kind of environment cultivates more quality ideas and greater speed of implementation – all of which result in 5.5 times the revenue growth of peers with a less inclusive approach.
One example of this can be found at RCI, who recently ran an event called "Spark" to foster innovation. Employees were asked to conceptualise ideas for new products and services by submitting a proposal, then pitching their idea. Those with the most support were put forward for a 2.5 day event with over 100 employees globally, using a "Start Up" methodology with mentors from start-up organisations. The ideas were then pitched back to a panel with the best ones winning prizes and being implemented.
Agility
Our research into organisational agility found high-trust workplaces moving faster than organisations not built on trust. In fact, at its best, 33% more employees report "People here quickly adapt to changes needed for our organisation's success." Besides creating an environment of transparency, collaboration and innovation, trust means that companies can make quicker decisions — and then act on them.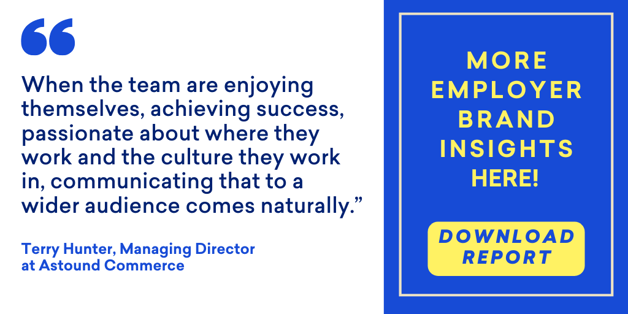 7. Strong Employer Branding
More consumers are looking to brands that align with their values — and job hunting by top talent is no different. Building an employer brand known for treating employees with respect, generosity and flexibility is not only the right thing to do, it's a smart recruitment strategy.
Our recent pulse of Europe found Millennials to be 149 times more likely to strongly recommend their company to friends and family if they feel it is a genuinely great place to work.

To learn more about the correlation between high-trust cultures and business success, sign up to our mailing list for our latest research and events.