Finding the right employee survey partner means understanding which questions to ask and topics to cover. From company background and project management to analysis techniques and post-survey support – there are many elements that come into play. Here are 5 key considerations to help you sift through the fluff and set you on your way toward a more successful employee engagement project.
What expertise do you have with people, not just data?
Background and experience are important factors to consider when bringing onboard a new survey partner. Their team should not only be skilled in employee data collection, but also understand how it can be utilised to suit your organisation's specific goals and needs. The best survey partners will be able to provide examples on a wide range of projects representing an array of markets and survey sizes. Moreover, being at the forefront of technological innovation can only come from understanding how to convert meaningful insights into measurable business change. A survey partner that has expertise in the psychology of people and analysis of employee data is especially relevant today as many organisations entering the HR arena claim to, but often cannot, deliver true proficiency in employee research.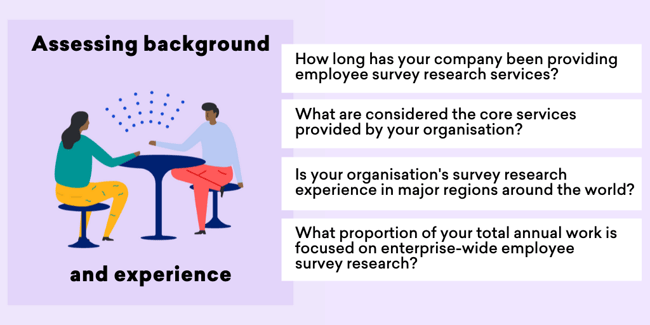 Above: Additional queries you may wish to pose when assessing the background and experience of a potential employee survey partner.
What project management support do you provide?
This pivotal question could mean the difference between success and failure for your employee survey project. When working with an outside provider, it's essential to understand your prospective survey partner's overall approach, plans for communicating with the team, and their capacity and willingness to train your staff. Questions around how they plan to manage and support your different survey teams, what training they plan to provide, and how they plan to manage and coordinate project-related data and timelines can be posed from the first conversation with them.
What are your reporting capabilities?
The best data reporting is user-friendly and easily translated throughout the business. Today's HR professional needs results in real-time to minimise any potential delay in filtering information to lower levels of the organisation. How quickly can the employee survey deliver data? Can your survey partner generate interactive online reports in which you can easily navigate to results, identify the most critical issues specific to your teams and easily export results into various presentation formats? Good reporting tools include data filtering facilities, cross-tabulation functionalities and multiple comparisons of data to various benchmarks simultaneously. Their reporting tools may also contain algorithms which automatically calculate drivers of engagement and retention as well as meet the needs of time-strapped managers and their teams.
What is the robustness of your external benchmarks?
How often does your future (or existing) employee survey partner update their benchmarks? Data which is outdated or which features inaccuracies, such as heavy bias, could result in poor action planning – and ultimately, unhappy employees and an unhealthy bottom line.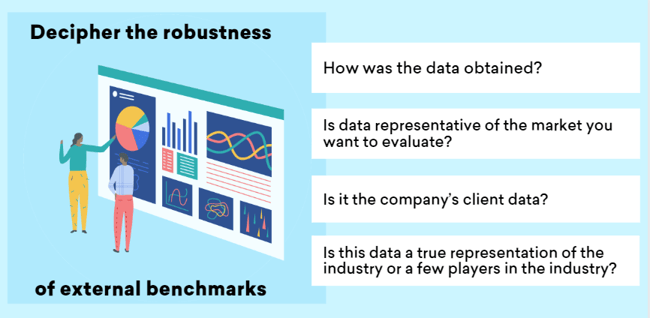 Above: Ask these questions to adequately assess the robustness of benchmarks provided by a potential employee survey partner.
What post-survey support do you provide?
Communicating survey results is only the starting point to making employees feel their concerns have been heard. The next step is taking action to implement the necessary changes most relevant to your organisation. A good employee survey partner will always challenge HR teams to create innovative policies and programmes which create a better workplace for all. They will be able to share insights on current HR processes, celebrating highlights and sharing ideas on which areas to improve. Automated platforms with embedded libraries of best practice suggestions, communications templates and bespoke training programmes are a few examples of post-survey support which can promote consistency in the survey follow-up process and ensure positive organisational change.
At Great Place to Work®, we apply over 30 years of research and insights from approximately 10,000 organisations across the world to benchmark individual performance and support employers in continuously improving their employee experience to build and sustain business performance. Get in touch to speak to one of our experts about your next employee survey.
---
This blog was based on 'Select the right partner for your next employee survey' written by Dr Gonzalo Shoobridge, whose expertise comprises 20+ years in diverse international business development and HR consulting, with an emphasis in the areas of employee engagement, M&A, cultural integration, culture diagnostic, design and implementation of culture change programmes.