What makes the best workplaces better than all the rest? According to the World's Best Workplaces™ 2021 list, three factors in particular stand out.
On average, compared to other workplaces, employees at the World's Best Workplaces™ are:
17% more likely to say they receive special and unique benefits
14% more likely to agree they are offered training opportunities to develop professionally

13% more likely to believe everyone has the opportunity to receive special recognition
How We Determined the World's Best
This year's list surveyed nearly 20 million employees from 10,000 companies worldwide, spanning 106 countries!
To be considered in the top 25, companies must be identified as outstanding global employers by appearing on at least five Best Workplaces™ lists in Asia, Europe, Latin America, Africa, North America or Australia during 2020 or early 2021.
Let's take a look at three of this year's award recipients and how they beat the competition.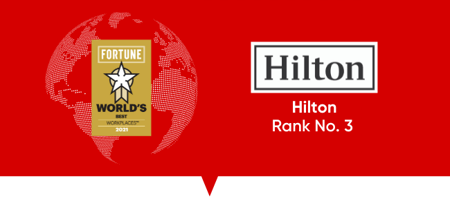 1. HILTON – Special and Unique Benefits: Lean in when there's a crisis.
At the World's Best Workplaces, 85% of employees said they have access to unique and special benefits (compared to just 68% at other workplaces.*
While many companies (especially in the hospitality industry) felt forced to scale back on benefits in 2020 and 2021 due to the financial impacts of Covid-19, hotel chain Hilton (#3 on the list) leaned in and ensured its benefits would suit the times.
Furloughed employees continued to receive healthcare coverage, parental leave at full salary, financial relief through the 401K Cares Act and continued access to the employee assistance program, short-term disability and basic life insurance.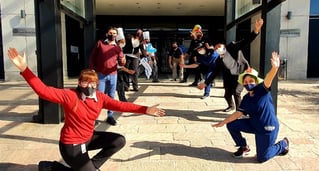 An assistance fund provided financial help with medical expenses, groceries and child and elder care for employees with Covid.
Hilton also built a Workforce Resource Centre to connect furloughed employees with new short-term and permanent jobs at other companies. The initiative now has more than 1 million jobs with more than 150 company partners across the globe.
Finally, with the pandemic pushing employees across all industries to seek out more flexible work arrangements, Hilton is meeting demand. The company is introducing a programme in which US employees can work a four-day week while retaining full benefits, as well as sabbaticals of 30, 60 or 90 days. There's also a "SuperFlex" model in which employees can choose their own schedule and hours.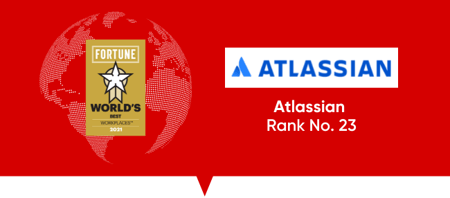 2. ATLASSIAN – Training and Development: It starts before employees even begin.
At the World's Best Workplaces, 84% of employees say they are offered training opportunities to further themselves professionally – that's 14% more than staff at companies who didn't make the list!
Software developer Atlassian (#23 on the list) wants to make sure everyone has the best chance at joining the team — which is why they've put together a Candidate Resource Hub to support candidates as they advance through the interview process.
The hub houses resources for prospective candidates, as well as those who are actively interviewing.
Once candidates are hired, they're brought through a robust onboarding experience that includes product crash courses and individualised 90-day action plans.
When the pandemic hit, Atlassian (like many companies) had to switch its orientation to be entirely virtual practically overnight. To ensure employees felt more connected despite being remote, the team incorporated smaller breakout rooms on Zoom as part of the introduction.
Atlassian is also taking its recruitment expertise into the wider community by offering interview skills workshops. Created in response to Covid displacing so many workers across industries, these workshops give a behind-the-scenes perspective from Atlassian's own recruitment team so that candidates can feel more confident about their next interview — whether that's with Atlassian or elsewhere.
The workshops dive into tips and tricks to help candidates, regardless of craft or profession, including interview basics, question techniques and time management during an interview.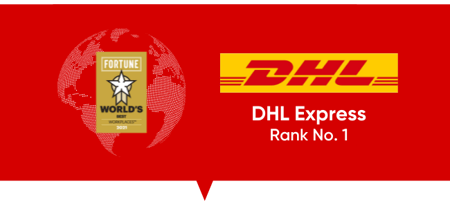 3. DHL EXPRESS – Special Recognition: Staff do more than just work.
At the World's Best Workplaces, 82% of employees say everyone has an opportunity to get special recognition (vs. only 69% at other companies).
At logistics company DHL Express, which took the top spot on the list this year, employee recognition isn't just about how hard you work, but about bringing your full self to work — whether that's through community contributions or developing your own passion projects.
Backed by the company's mission of "connecting people and improving lives," DHL's Got Heart programme is a global initiative encouraging employees to share uplifting stories of any volunteer or fundraising work that they do in their personal time.
Finalists are recognised at an annual Employee of the Year event, with DHL donating to the finalists' causes.
The three-day event, which also recognises top performers, is held in a luxury resort with activities and a gala night presentation. Due to the pandemic, this year's celebrations had to move to a Zoom conference, with winners receiving €25,000 donations for their causes.
Other recognition efforts include:
Can Do Awards, which honours employees who have gone out of their way to help others,

A Festiv-ALL event, a new celebration in which employees can showcase their personal talents — anything from cooking to art to dance — for the chance to win prizes.
---
* "Other workplaces" are companies that contented for a place on our national Best Workplaces lists around the world; this includes both winning and non-winning companies.
This feature has been adapted from the original article by Claire Hastwell, Content Marketing Manager at Great Place to Work® US.