Commemorating your Great Place to Work Certification™ is a great opportunity to pause and allow your whole workforce to take pride in the great company you've built together.

Taking the time to celebrate your workplace wins with employees is important. After all, they took the time to respond to the survey and share their feelings, in addition to bringing their best selves to work every day, and they deserve to feel part of the 'win'.
Over the years, we've compiled a list of the different ways companies on our recognition lists have shared their success with staff.
To help inspire your own celebration, we wanted to share some of our favourites:
1. Start from the top.
To ensure your employees know that workplace culture is one of the highest priorities of the organisation, encourage your CEO to share your Certification announcement video via email, celebrating the exciting news and explaining why it's such a huge accomplishment.
Discuss what this means for your recruiting, retention and business.
Don't forget to thank your people for making the company a truly great workplace. (NOTE: other C-suite leaders can (and should) also reach out to their divisions directly).

2. Surprise and delight.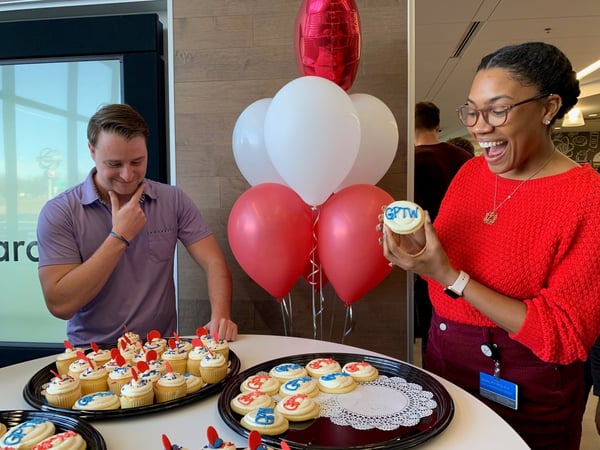 Celebrate employees as they enter the office or join an all-staff video call on the day of the announcement.
If working on site, display signs outside your office/store/factory/building announcing your collective achievement, or get your top leaders to thank and celebrate with employees at the door.
You could even roll out a red carpet for the occasion! Hire a photographer to take photos and send them to your 'Culture Rockstar' employees.
If meeting virtually, create custom Zoom backgrounds for your People or HR Team to use and share with employees on the day of the announcement.
You can also select the 'share with audio' or 'share computer sound' options available on many video conferencing software to include music when sharing your screen.
Some clients use this as an opportunity to highlight positive data from their survey results as part of their celebration.
3. Celebrate managers
Ensure line managers know the difference they make in the lives of your employees.
One healthcare company held a pinning ceremony in which chief leaders presented a commemorative pin to each manager.
Create a gift or special recognition that fits in with your unique culture.
4. Offer a financial reward

Chances are, your employees are feeling the pinch right now.
If your budget allows it, honour their hard work with a pay rise or financial bonus.
Not only does this support their financial wellbeing, it also boosts pride in their workplace and trust in their leaders - both key components to creating a genuinely great workplace.
5. Reward the whole self (and their household)

A great workplace encourages employees to bring their whole selves to work. And with so many employees continuing to work from home, the crossover between home life and work life has never been so intertwined.
Invite employees' families to be part of the celebrations, or send them a card or small gift in the mail.
If you have a benefits programme such as private GP services or shopping discounts for employees, extend this to cover anyone living at their home address so the whole family can benefit.
6. Get social with #gptwCertified
Tell the world about your big win and what makes your workplace amazing!
Create great social media content announcing your Certification and encourage employees to share the news with their friends and family.
Make it easy for them by pulling together come celebratory photos and posts which can be shared on their Twitter, LinkedIn and other social accounts.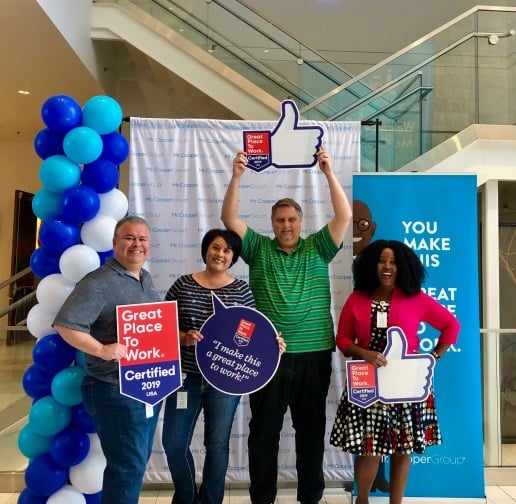 7. Update your channels
Ensure your company website, social media accounts and job board profiles all mention that you are officially a Great Place To Work Certified™ workplace!
8. Email your customers

If you have a customer database that you send marketing emails to, send them the ultimate piece of employer branding: your company culture win.
More and more, customers want to buy from companies that demonstrate values that align with their own. Show your customers that you treat your employees as well as you treat them.
9. Get old-school social
Now is the time to gather everyone together and celebrate - even if you're meeting remotely!
Host a virtual happy hour, throw a 'We're Certified!' party, or provide free meal vouchers for employees to get lunch delivered to their home.
Why not include games where people compete to win prizes by participating in a 'pub quiz' with questions based on the organisation or spinning a digital wheel of good fortune…the sky's the limit!
10. Give the gift of time
Work-life balance has never been more important (and, for some, more difficult) to sustain.
A great way to say 'thank you' is to offer employees some extra time to pause, relax, and take in what they've accomplished.
Some workplaces choose to close early on the day of their Certification announcement.
You can also go a step further by offering for everyone to work reduced hours every day during the week of the announcement.
11. Send a care package
Have a wellness pack or a branded care-based gift sent to employees' homes.
If everyone is returning to work, arrange for sanitised decorations to be placed on desks for people to decorate their workspace when back in the office.
Don't forget to showcase your Certified™ badge on those decorations!
12. Build your employer brand
Develop a #gptwCertified campaign where you ask employees to submit photos or record video messages about the great experiences they have every day.
These posts are ideal for instilling pride in employees and driving interest in the company.
Be sure to include your best videos on your LinkedIn company page.



13. Decorate the office, store, factory - wherever you work!
Brighten up your store entrance, office or wherever you work with branded bunting celebrating your achievement.
Banners and giant balloon letters will also help keep the news top of mind and breathe life into work environments – even when the excitement begins to die down.
You could also host an internal or regional competition with prizes for the branch, department or individual employee who produces the most creative decoration.
14. Provide giveaways
Everyone loves a freebie, especially when it celebrates a huge accomplishment.
Develop custom items employees can use to boast about their workplace to friends and family. Mugs, pins, stickers and notebooks are all popular.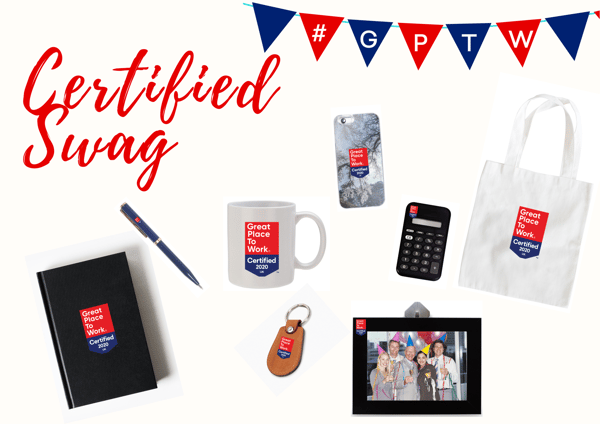 15. Launch an outdoor ad campaign
Earning Certification designation is a brag-worthy achievement.
Ensure your office neighbours know they're in the presence of greatness with a billboard announcement or other signage near your major locations.
16. Get fancy for a day
It's likely your employees have been dressed more casually when working from home.
Get colleagues to dress according to a particular theme or dress code at the next virtual all-staff meeting to add to the celebration.
17. Take the time to make employees feel great
Imagine if on one day, all employees started their day with an email from their manager telling them how they individually contribute to their great workplace.
A small note of appreciation goes a long way towards making people feel great.
18. Showcase comments in shared spaces or on the company intranet
Create an employee comments film loop and share some of the great feedback that was mentioned in your Trust Index™ survey.
19. Update business cards and email signatures
Ensure your partners and customers know about your Certified status by adding your badge to employee business cards and email signatures.

20. Create walking billboards
Add the Certification badge to T-shirts for your employees.
Every time they wear them, they'll be sharing the news that your company is a great place to work.


21. Rally for next year
While everyone is celebrating this year's win, let employees know that there is always room for improvement, and you're committed to continuing this success by following up with an action plan soon.
Greatness never rests.
Go for it!
There are so many ways to celebrate the unique and amazing culture you've created. These ideas are just the tip of the iceberg. We can't wait to see the creative ways you celebrate your wins!