When analysing the results of their July 2021 survey, it was easy for our team to see why 93% of employees at Cisco agreed with the statement "I would strongly recommend my organisation to friends and family as a great place to work".
While many other large corporates continue to focus on profits over people, managers at Cisco have role-modelled empathetic leadership and supercharged trust among their 3000+ UK-based staff.
Evidence of this great leadership can be seen in their incredibly high survey scores for leadership-related statements, including:
94% of employees saying "I get empathy and support from my manager/supervisor when needed";
98% feeling "I am able to take time off from work when I think it's necessary";

and 95% of employees agreeing "Management trusts people to do a good job without watching over their shoulders."
So how has this Super Large business been so successful with creating a family feel at work where employees and managers feel a genuine sense of camaraderie and trust?
We spoke to Jen Scherler-Gormley, Head of HR for UK & Ireland at Cisco to find out.
The Company
Cisco is a world-renowned computer networking company providing hardware, software and service offerings to small and large businesses, service providers and consumers around the world.
Founded in 1984 by a small group of computer scientists at Stanford University, Cisco is known for pioneering the development of Internet Protocol (IP)-based networking technologies. Today, with more than 71,000 employees worldwide, Cisco has proven their commitment to their people, earning a top 3 spot on the prestigious World's Best Workplaces™ lists for 3 years running.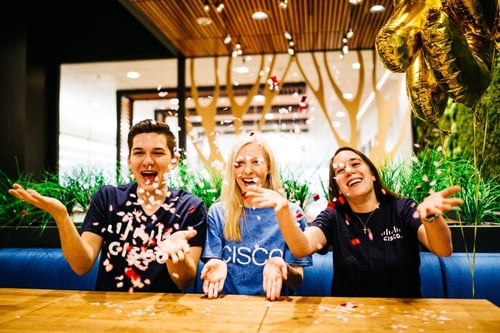 The Challenge: ensuring a consistent employee experience for all.
When employees experience low levels of trust in their manager, it has significant impacts on their productivity and wellbeing. It also often leads to the business experiencing higher staff turnover, lower revenue, and poorer customer service delivery.
Even though Cisco has been awarded the highest recognition as one of the 25 World's Best Workplaces™, their leadership team never stopped working to ensure a consistent employee experience across their myriad offices.
Not an easy task, but one the company knew was worth investing in.
"Employees are at the heart of everything we do – if they feel supported and equipped to perform at their best, then everyone benefits," says Jen.
"Additionally, we operate in a society that's incredibly diverse, and so we must make sure our company internally reflects wider society if we want to take advantage of the unique individual ideas, strengths, perspectives and creativity that true diversity and inclusion can bring."
Identifying those groups within the business who were having a less enjoyable experience at work would be the first step towards developing into a great workplace for all.
"When looking at our 2019 Trust Index [employee survey] scores, we could see that those of an ethnic minority background were having a different employee experience," Jen explains.
"It became crucial for us to be able to create a safe space to understand and support these groups, and to make sure that we were maintaining a constant flow of communication as opposed to just being reactive."
The Solution: taking a sincere interest in people as human beings, not just employees.
Two years later, we're pleased to see 88% of Cisco's UK-based employees say "Management shows a sincere interest in me as a person, not just an employee."
So how did they get to this result?
"We hold listening circles to understand the experiences of those from those backgrounds," Jen continues. "We've also focused on closely working with our Employee Resource Organisations – such as our Connected Black Professionals and CAAN (Cisco Asian Affinity Network) – as those who identify as part of those groups can often have a different daily experience in the workplace."
Alongside these activities, Cisco also looked at the state of their overall workforce's physical, mental, social and financial wellbeing.
"It is a big focus for us as a business. The survey previously told us that financial wellbeing was an area that our employees needed support with, so we put a number of new programmes in place, and amended those that already existed."
One new initiative was Nudge, a financial wellbeing app which sends employees reminders and suggestions for their financial decision-making and financial wellbeing.
"We have also made a conscious effort to have sessions on finances for our employees' children - teaching them about financial savviness which isn't necessarily always covered in school curriculums. We have also worked closely with our pension provider Aviva to set up personalised employee sessions to provide targeted information and education."
By recognising and then acting on employees' concerns, Cisco's leaders proved to their workforce that they genuinely care about those working for them – no wonder, then, that 93% of staff agreed with the survey statement "My organisation genuinely prioritises employee wellbeing" and 95% believe "Management is honest and ethical in its business practices."
Continuing the Journey
"At Cisco, we see our work to create a safe space for all employees as something which is never finished," says Jen.
"As great as the recognition is for current and future employees, for us it's more than that – it gives us a benchmark by which to measure ourselves, assess where we need to improve, and gives us something actionable for us internally."
This attitude towards continuous improvement is one of the key characteristics of Best Workplace™ companies like Cisco. Rather than just celebrating big wins, they take pride in and share the progress they've made throughout their journey.
Jen continues:
"It shows we're on the right path. Company culture is an increasingly important competitive differentiator, and an award of this kind is something that translates to people that do not necessarily understand our industry.
"This work isn't always about the grand public gestures – they can in fact be about much smaller everyday actions, but that make a huge difference to the experience of both prospective and current employees."
Now it's your turn!
Unlock new ways of thinking to accelerate individual and organisational performance with our Leadership Coaching (available for individuals and teams).
---
To learn more about Cisco's great workplace culture, please click here.