Investing in the right office equipment will help, but there's more to making your home an effective, comfortable workspace.
Here are a few key guidelines to help makes your home a great place for remote working: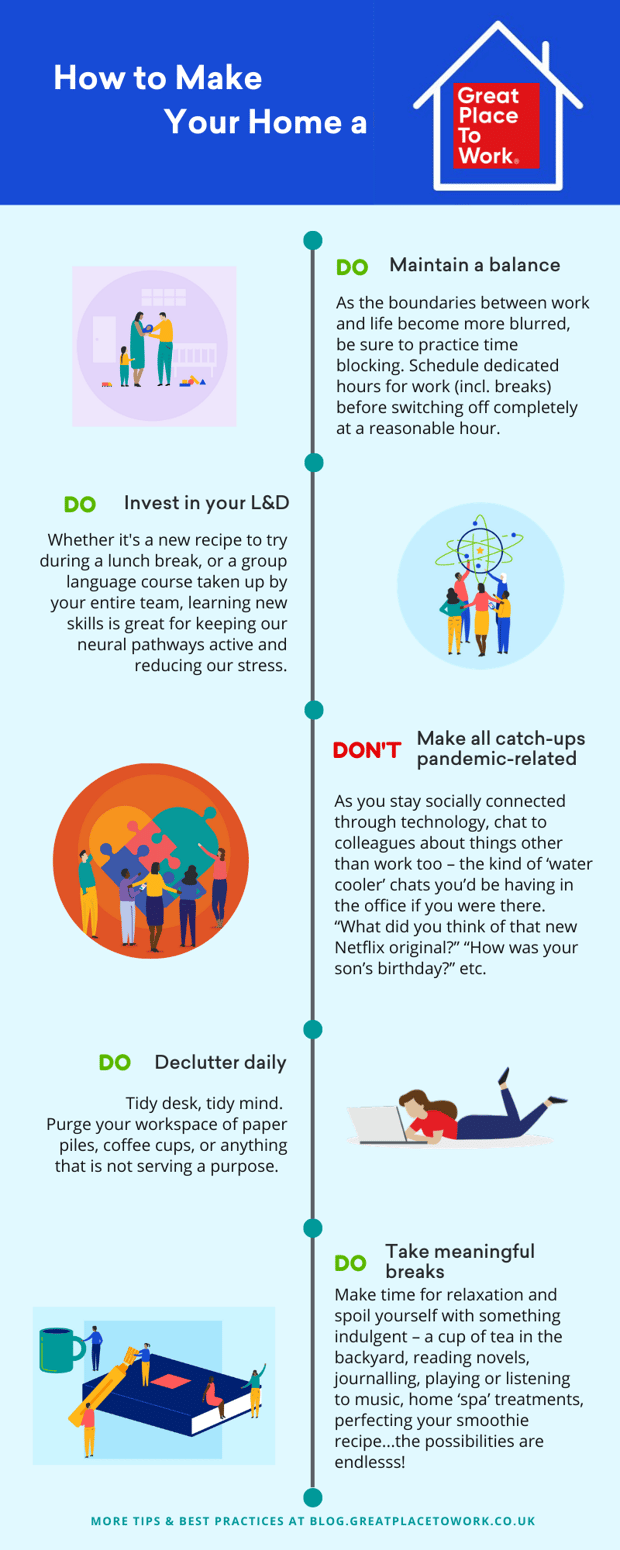 In March 2020, entire workforces were ordered practically overnight to embrace the modern agile trend of working from home. Whilst some employees, and entire organisations, would have been partially or even fully accustomed to this trend, to others it signified a major step outside of their comfort zone.
But even without the luxuries of a fully-equipped, ergonomic home office (which many employees can only dream of) working from home can be made effective and comfortable.
DO: Maintain a balance
Maintaining your personal wellbeing - whether you're a senior leader, middle manager or employee - is vitally important. As the boundaries between work and life become increasingly blurred during and beyond the pandemic, be sure to practice time blocking. Schedule dedicated hours for work (incl. breaks) before switching off completely at a reasonable hour.
DO: Invest in your L&D
Whether it's a new recipe to try during a lunch break, or a group language course taken up by your entire team, learning new skills is great for keeping our neural pathways active and reducing our stress.
DON'T: Make all catch-ups pandemic-related
As you stay socially connected through technology, chat to colleagues about things other than work too – the kind of 'water cooler' chats you'd be having in the office if you were there. "What did you think of that new Netflix original?" "How was your son's birthday?" etc.
DO: Declutter daily
Tidy desk, tidy mind. Purge your workspace of paper piles, coffee cups, or anything that is not serving a purpose.
DO: Take meaningful breaks
Make time for relaxation and spoil yourself with something indulgent – a cup of tea in the backyard, reading novels, journalling, playing or listening to music, home 'spa' treatments, perfecting your smoothie recipe...the possibilities are endlesss!
Our Great Place to Work® UK wellbeing offering has been in full swing supporting clients in their journey towards a culture of wellbeing since 2018.
This year, we look forward to working together with Thrive: Mental Wellbeing to encourage even more businesses to develop a sustainable, effective wellbeing strategy for all.
---
Great Place to Work® specialises in helping organisations build impactful workplace cultures. We are here to help support our clients during this period of uncertainty. If you are a client, please reach out to your Account Manager who can share the tools we have in place to enable workplaces to measure and understand their current employee sentiments. If you are not a current client, stay tuned to our blog posts, Twitter and LinkedIn for people practices, advice and thought leadership on how best to navigate this unprecedented time.