We assessed hundreds of companies to find out how the UK's Best Workplaces™ in Tech are able to experience higher employee retention and attraction during the pandemic and beyond.
During an unprecedented global crisis, the UK's tech sector has had a remarkable impact on the national and global economy.
Some highlights include:
The industry continually increasing its Gross Value Added (GVA) contribution to the UK economy up 7% per year since 2016;
Tech in the UK leading Europe for VC investment, increasing the value of the start-up and scale-up ecosystem to £585 billion (120% more than in 2017);
And accounting for 9% of the UK workforce

.

[1]
It's clear tech companies have overcome numerous challenges facing most organisations this year, with many also radically pivoting their services leading them to thrive despite new conditions brought on by the pandemic.
Keep scrolling to see some of the key ways in which these top-performing workplaces do just that.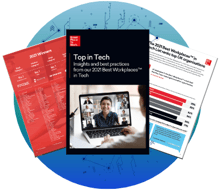 NEW REPORT!
Top in Tech 2021
Access more best practices in our Top in Tech publication!
Innovation & Wellbeing
Across all sectors, Covid-19 has forced many businesses to re-evaluate the way they operate – sometimes resulting in technical innovation or enabling a complete transformation into a tech-based company.
We especially see this reflected in our 2021 UK's Best Workplaces™ in Tech, comprising a record 98 companies recognised!
However, the strong performance of the tech sector also comes at a price.
The demand for skilled workers far outweighs the supply and, coupled with Brexit and the threat of the 'Great Resignation', tech companies need to offer far more than just a top salary to stay competitive.
This includes benefits that consider the specific needs and wellbeing of each employee, contributing to higher retention rates and a positive overall employee experience.
In fact, 86% of the employees at the top 5 best tech companies to work for believe they have special and unique benefits, while 85% feel they are paid fairly for the work they do. This is in stark contrast to 71% and 70% respectively, in other industries.
Additionally, work-life balance and purpose-driven employment have become increasingly important factors of the employee experience as the pandemic became a catalyst for many workers to take a step back and reconsider on what they truly value in their work and personal life.
We see this reflected in our top-ranking companies:
93% of employees of the top 5 Best Workplaces™ in Tech say they are feeling good about the ways their company contributes to the community, while 87% agree their work has a special meaning and is not "just a job".
As the world and the perceptions of what it means to be an 'employer' continue to evolve, it is vital that businesses of all sectors remain innovative – not just with the services they provide, but also in how they attract and keep their most valuable assets: their people.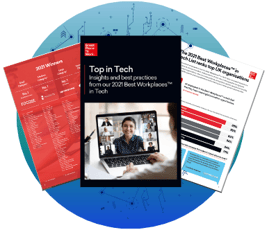 Get Your Copy of our 'Top in Tech' Research Report for Even More Insights!
---
To learn more about our employer recognition programme, please click here.
[1] Tech Nation's 2021 report