The world of technology is wonderfully broad (hardware to software, fintech to biotech, electronics to e-commerce) but one thing seems to be consistent across the sector, and that is its ability to adapt quickly to the constantly moving goal-posts of what makes a 'great place to work'.
In a fast and ever-evolving industry, some key themes have definitely emerged since our first UK's Best Workplaces™ in Tech list five years ago.
Tech has stamped its position as the top sector for nurturing positive employee experience (i.e. ensuring people look forward to coming to work.) The industry has also been a driving force around supporting personal health and wellbeing internally and contributing to philanthropic and charitable causes externally.
Keep reading to find out how the UK's Best Workplaces™ in Tech made the list this year...
Talent
The astonishing growth of the Tech sector and the rising demand of technical abilities in job roles in other sectors makes it ever harder to find skilled employees. What makes the situation worse is that 80% of vacancies in the Tech sector are for senior positions, making it harder for young employees to start their career and acquire the skills and working experience that are so high in demand.
The very Best Workplaces™ in Tech know how important it is to give career starters and emerging talent a fair chance, with 56% of their employees being 35 or younger. And, impressively, 91% of under 35s in the top 5 Best Workplaces™ in Tech agree that they are offered training or development to further themselves professionally, and the same number want to work at their organisation for a long time.
Click to read the full Best Workplaces in Tech Report
Enjoyment
Having fun at work may seem like a trivial idea, but it's actually vitally important to a positive workplace experience. The Best Workplaces in Tech are leading the way here too, with one employee at Code Computerlove noting: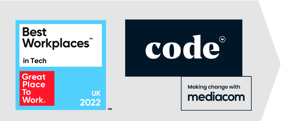 "You can be completely and authentically yourself without any judgements. It's like working with your friends and having fun doing it!"
Care
Best Workplaces™ in Tech know that they need to show their employees that they care – about them, but also about their clients, their product, the community and the world. This means caring internally, by paying their employees fairly, providing opportunities to get recognition and offering additional benefits, as well as caring externally, being well regarded by clients and people outside the company, by giving back to the community and by thinking of the greater good.
Health
92% of employees at the Top 5 Best Workplaces™️ in Tech agree that their organisation is a "psychologically and emotionally healthy place to work." This is especially impressive considering the rate of self reported work-related stress, depression or anxiety has hit record levels in the past few years.
Read the Report to see a full list of the
Best Workplaces™️ in Tech and discover more
insights and best practices.