In our latest research, over 900 European organisations were asked by Great Place to Work® to share their executives' views on stress issues and wellbeing practices – bringing about some fascinating results.
Over the past few years, work-related stress and burnout have become increasingly important issues for HR leaders and line managers. Stress in the workplace (whether job-related or not, and even if that workplace is now at home) is directly correlated with absenteeism and presenteeism, lower productivity, financial waste, as well as poor customer service.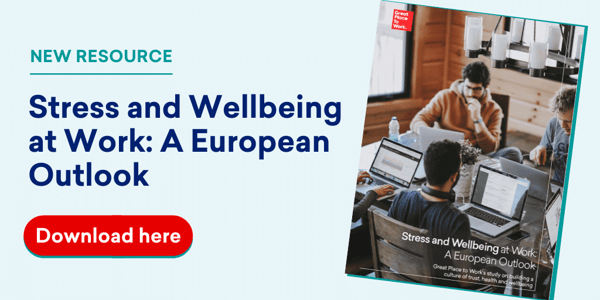 Our data reveals that 65% of Europe's executives say health and wellbeing emerged as a strategic priority for their organisation, and nearly half (47%) of organisations consider stress a key issue in their business.
Excessive worry around a simple unmet deadline can lead to an acute anxiety response – even a full-blown disorder if such concerns become habitual. It's never been a more crucial time for employers to recognise the importance of employee wellbeing, and to put in place measures that help individuals safeguard against chronic stress for a better work environment that helps people thrive.
But before organisations can focus on preventative approaches, we need to first understand how stress works.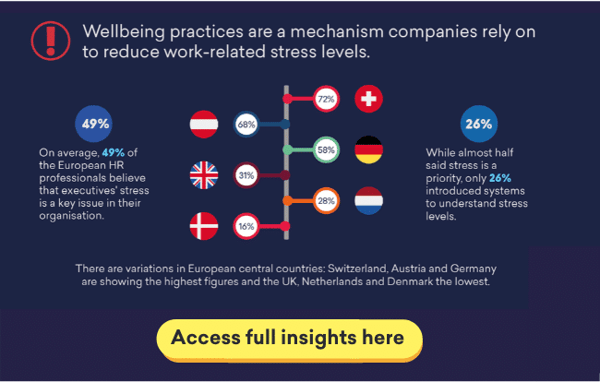 What does stress really look and feel like?
Knowing what stress and burnout look like begins with asking ourselves: How do I think and feel when I am stressed?
Think of an unexpected WhatsApp message from your manager appear in the middle of a family dinner…More than fifty new unread emails waiting for you after you've returned from your 30-minute lunch break…Seeing 80% of your day's 'URGENT' to-do list still pending at 5:30pm…. Such moments are usually accompanied by sensations of a tightening stomach, quickened heartbeat and racing thoughts – ultimately dawning on the realisation: 'I can't cope'.
At least one of these scenarios will sound familiar to most of us. In an environment of heightened competition, austerity and uncertainty, rising stress levels plague ever more of our working population. Technology doesn't always help – in our 24/7 'always-on' society with the added challenges of a work-from-home environment, employees are finding themselves in a situation where it's increasingly difficult, even impossible at times, to 'escape' work.
The surge of agile and flexible working practices has also arguably not always been conducive to mental wellbeing, with the blurring of boundaries between personal vs. work time and space.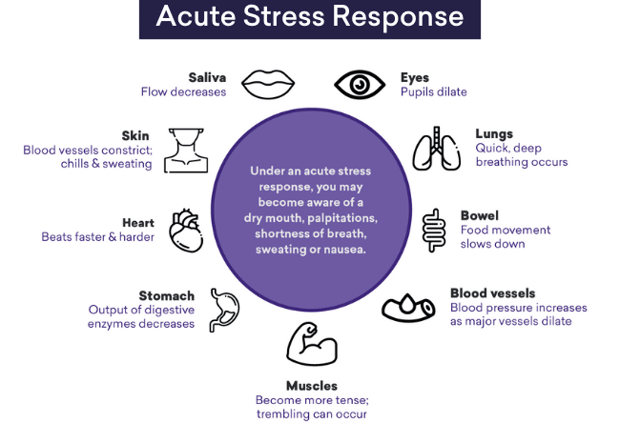 It isn't always clear that someone you work with is feeling overwhelmed
Warning signs of stress – both in ourselves and those around us - can manifest in countless ways, such as irritability, apathy, loss of interest in work, noticeable fatigue, social withdrawal, hysterical outbursts, or other uncharacteristic behaviours.
As the experience of distress is always unique to the individual, its internal and external manifestation isn't predictable. It can be 'silent' both to the employee, who may be oblivious to the long-term health risks of chronic stress, or to the employer, often blind to the everyday struggle of those individuals who are more reluctant to show weakness.
Any single symptom does not of course point to a stress issue. When persistent and/or combined however, they can be indicative of a problem requiring intervention.
How Best Workplaces™ Help Ease Employees' Stress
Our European pulse on work-related stress and wellbeing revealed that 81% of employees in Best Workplaces™ feel their organisation "is a psychologically and emotionally healthy place to work", compared to only 49% in unrecognised companies.
As more employees begin returning to their pre-Covid office spaces, employers now have an ideal opportunity to enhance these areas for better wellbeing as well as the new 'Covid-secure' heath and safety requirements.
Even before the pandemic, Cisco UK created unique zones in their office to help their staff practise positive wellbeing and live the four elements of true health:
a Connect zone, located in their restaurant, which encourages people to eat lunch together
the Eat zone (also in their restaurant) which has introduced more healthy options and a loyalty card
a Sweat zone which includes an on-site gym
and a Think zone, which gives employees a quiet space to unwind, using nap pods and massage chairs
In Italy, Zeta Service offers their employees a corporate butler, with the possibility of support in personal services such as weekly postal fees, postal packages to the company and by courier, managing individual needs related to laundry and ironing, and pharmacy services. They also offer personal car maintenance with same-day pick-up and delivery, as well as having cars washed once a month with pick-up and delivery directly to the company.
Given that work affects people's wellbeing, and that wellbeing is vital for long-term organisational success, guarding the health and wellbeing of employees should be a strategic priority for all organisations. Not only is this the ethically right thing to do, it boosts the daily employee experience as a differentiating factor of great workplaces and ensures that workforce productivity is sustainable.
Get in touch to learn about our Wellbeing Programme and how your organisation can earn Excellence in Wellbeing recognition:
---
This feature has been partly adapted from the original article 'Week 1: Let's talk about the Silent Killer at Work' by Sara Silvonen, Wellbeing Specialist at Great Place to work UK. With an academic background in organisational psychiatry and psychology, Sara is particularly interested in supporting organisations to understand the value of wellbeing-based interventions. She is passionate about mental health, having volunteered extensively in the field, and promoting this agenda in the workplace.